This year basketball fans were able to follow March Madness live from sports bars, restaurants, and other venues across the US thanks to Atmosphere Sports' coverage, supported by Viz Flowics graphics and the Viz Data Connector for Stats Perform.
The coverage of the NCAA tournament was just the beginning of Vizrt's new partnership with Atmosphere, which will use Viz Flowics to feed real-time data-driven graphics to its multiple free streaming channels playing on television screens in over 50,000 businesses worldwide.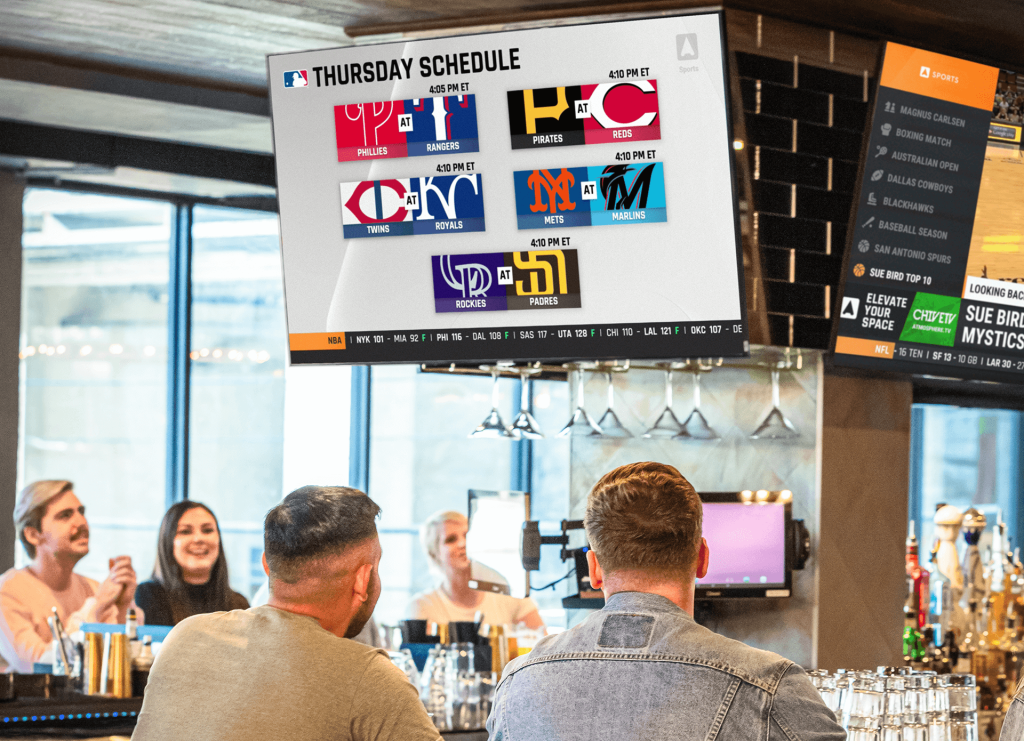 March Madness is a sacred time of the year for basketball supporters full of back-to-back games played by the NCAA college basketball teams simultaneously all over the country. For three weeks, 68 teams fought to survive to the single-elimination tournament and be crowned national champions.
With Viz Flowics' support, Atmosphere Sports added live brackets, live odds, live scoreboards and live box scores. These additional functions helped enhance the viewer experience by providing a non-stop, live sports data experience eliminating the need for a second screen to see live updates.
Viz Flowics has enabled the integration of live scores and statistical updates for Atmosphere since its launch, in March 2022. The combination with Stats Perform for March Madness 2023 helped them achieve outstanding coverage with additional insight of the tournament to over 100 million monthly viewers.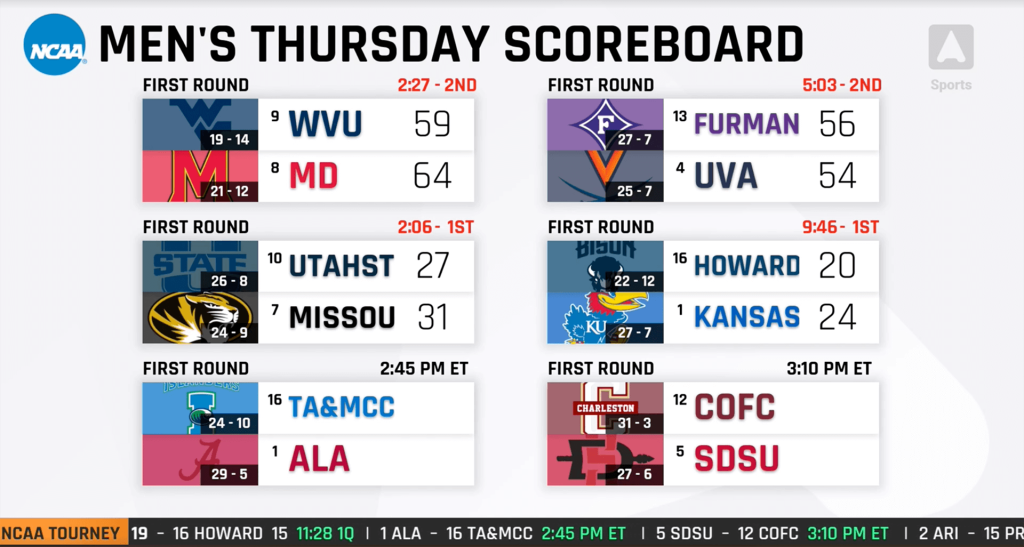 "With Viz Flowics and Stats Perform, we built a unique automated utility that allowed Atmosphere Sports to cover the tournament in real-time. The technology hit its marks on the first deployment; the possibilities from here have us excited about the real-time experiences we'll be able to offer going forward. We're building a new experience for sports viewing audiences in businesses everywhere," Matt Collette, Executive Producer of Sports, Atmosphere.
Viz Data Connector for Stats Perform saved Atmosphere a lot of engineering time, enabling them to plug in Stats Perform APIs and begin generating high-quality visuals. As a result, they obtained live data visualizations that auto-updated in real-time. This workflow simplified producers' workflows eliminating significant manual work and freeing producers to work on enhancing other areas of the channel's content.
"Sports stories that we power are often found on traditional media but there are millions of digital displays out there which would see audience growth from displaying our sports content. We believe every screen would benefit from having more sport on it and we are delighted that our integrations with Viz Flowics and Atmosphere mean more fans and sponsors will be engaging with our sports coverage, in more places," Wayne Ford, Senior Vice President, Stats Perform
With such a significant volume of games, the key for March Madness was to help fans discover and keep up to date easily with the right content for them. The native integration of Stats Perform with Viz Flowics made it easy for Atmosphere's Sports production team to add fresh, interesting and highly relevant content to sports fans, which was critical to get their sustained interest.
Watch some of Viz Flowics' graphics for Atmosphere Sports on the following video: