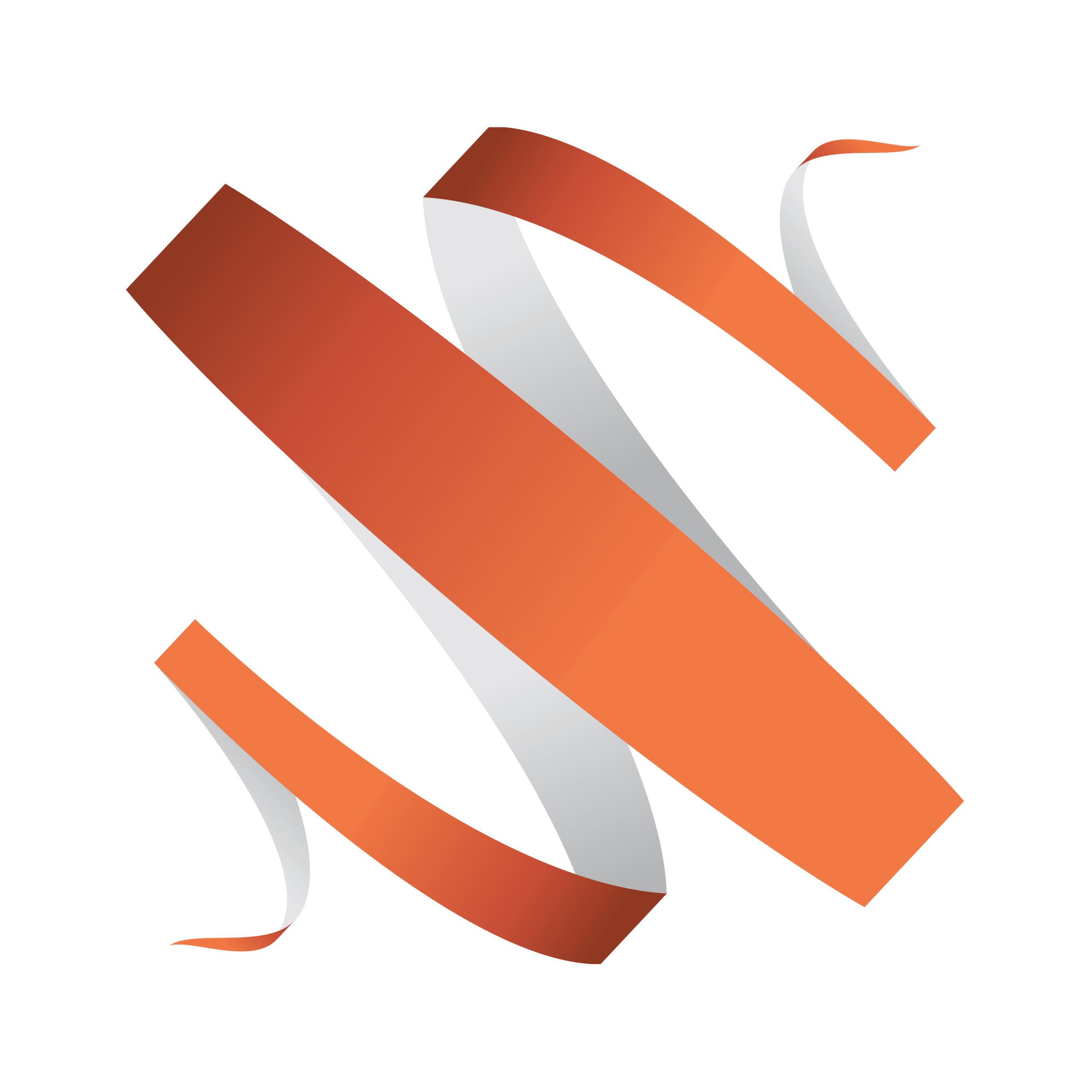 Advanced content control for displays
Superior video wall and screen playout
Advanced content management
Live productions are becoming more complex using multiple screens in the studio to give presenters more storytelling options. Viz Multiplay gives media organizations a simple way to control studio screen content from a single interface. The easy-to-use and flexible application enables content to be distributed to multiple screens with different configurations.
Using a single interface, content for all screens can be previewed and played-out, from the control room or in the studio from various touchscreen devices. Screens can be different resolutions and aspect ratios for creative freedom of studio configurations. Control of individual screens or triggering of content to multiple screens occurs with a single touch or click.

Viz Multiplay comes with a powerful layout design tool to create unique configurations including video wall displays. These configurations become presets where the positioning of content changes live with transitions and animated effects.
Read more
Selecting content and building playlists is very simple with tools to browse media including clips, graphic animations, and images from the Vizrt Viz One media management system. Newsroom journalists can also define content from rundowns for Viz Multiplay using Viz Pilot in their native newsroom control system (NRCS). Playlists are reflected in the Viz Multiplay interface as a series of thumbnails depicting the content of each media item. Operators either trigger playlists as they were created in rundowns or makes on-the-fly rearrangements of the content.
Viz Multiplay sends content to the Vizrt Viz Engine real-time composition platform. Viz Engine easily controls live video inputs, clips, graphics and still images. Viz Multiplay is configurable to control single or multiple Viz Engine systems supporting multiple graphics channels.
Read less
What is Viz Multiplay?
Viz Multiplay revolutionizes studio display management by offering a single interface to control graphics, templates, clips, live feeds, and images, all with seamless transitions. Say goodbye to the hassle of managing multiple content sources – with Viz Multiplay, you can easily switch between sources and create a dynamic display that captivates your audience.
A single operator can control various types of content on screens with any ratio or video wall layout, significantly reducing time and resources for the entire production. The tool offers total flexibility in customizing the video wall layout, editing images, and looping videos – all in a user-friendly web interface.
Read more
Building playlists and selecting content is straightforward. It includes tools to browse media such as videos, live ingests and images from Viz One (Vizrt's media asset management system), as well as graphics and templates from local storage or Vizrt Graphic Hub (the graphics asset database). Newsroom journalists can define the content and create rundowns for Viz Multiplay using Viz Pilot Edge in their native newsroom control system, allowing for the integration of pre-existing media assets. Elements in the playlists are displayed in the Viz Multiplay interface as a series of thumbnails, which operators can either trigger as originally arranged or rearrange on-the-fly.
Read less
Explore the most used Viz Multiplay features by video wall operators
SUPERIOR PLAYOUT
Clear overview of loaded content and rendered graphics for each graphics channel, with a traffic light readiness system that eliminates errors and enables seamless transitions.
Superchannels
Improve efficiency and reduce on-air errors by loading the next sequence in the same graphics channel while playing out content on-air simultaneously.
Workspaces
Organize graphics channels to improve usability by hiding the media search and page area and customizing Viz Multiplay's interface.
Touch-device playout
Talent-driven playout from any device, including tablet, for seamless control of the video wall directly from the studio.
OPTIMIZED CONTENT CONTROL
Set up a custom layout of all screens in the studio, with predefined presets that can be saved and reused for easy access and faster playout of video wall content.
Powerful Media Search
Quickly find any type of content – including images, videos, live sources, graphics, and templates – within the Viz Multiplay interface.
Presets
Create, save and re-use the desired layout of any screen setup, with custom ratios.
Intuitive interface
Web-based HTML5 application with a user-friendly layout supporting effortless content control.
SCALABILITY & SECURITY
Viz Multiplay seamlessly integrates with Vizrt's graphics tools, Viz Trio and Viz Pilot Edge, supporting a flexible and scalable production workflow, all within an HTTPS environment.
Multiple operators collaborating
Several operators can work together on the same production and control the video wall content from both Viz Trio and Viz Multiplay.
Newsroom playlist control
The video wall operator can directly control and playout any MOS rundown instances from Viz Multiplay
Security
Viz Multiplay works within an HTTPS environment, adding an extra layer of security to the overall organization.
Ready to learn more about Vizrt?
Take your production to the next level with the right tools.
Workflow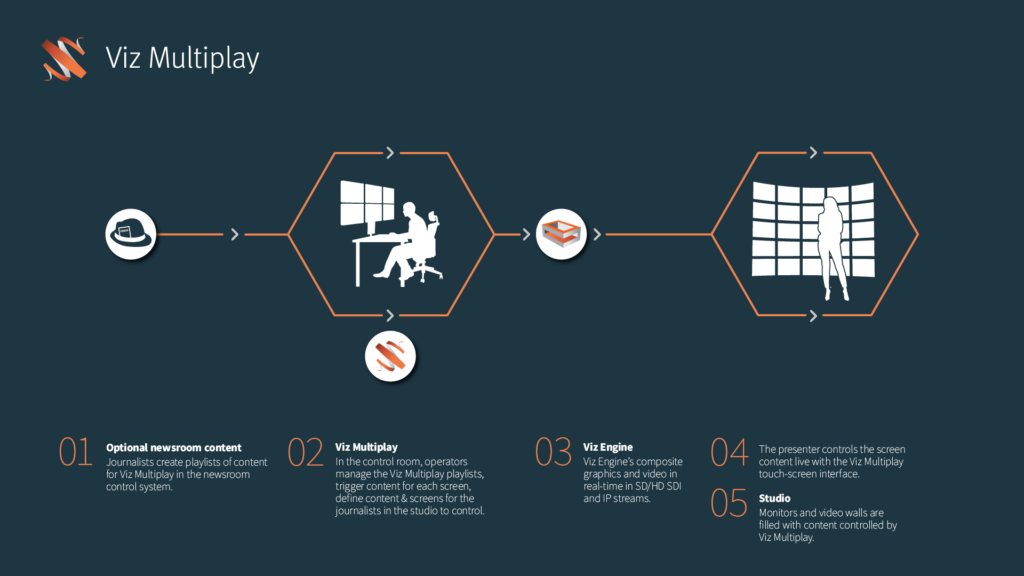 Workflows
Viz Multiplay
Operator Diagram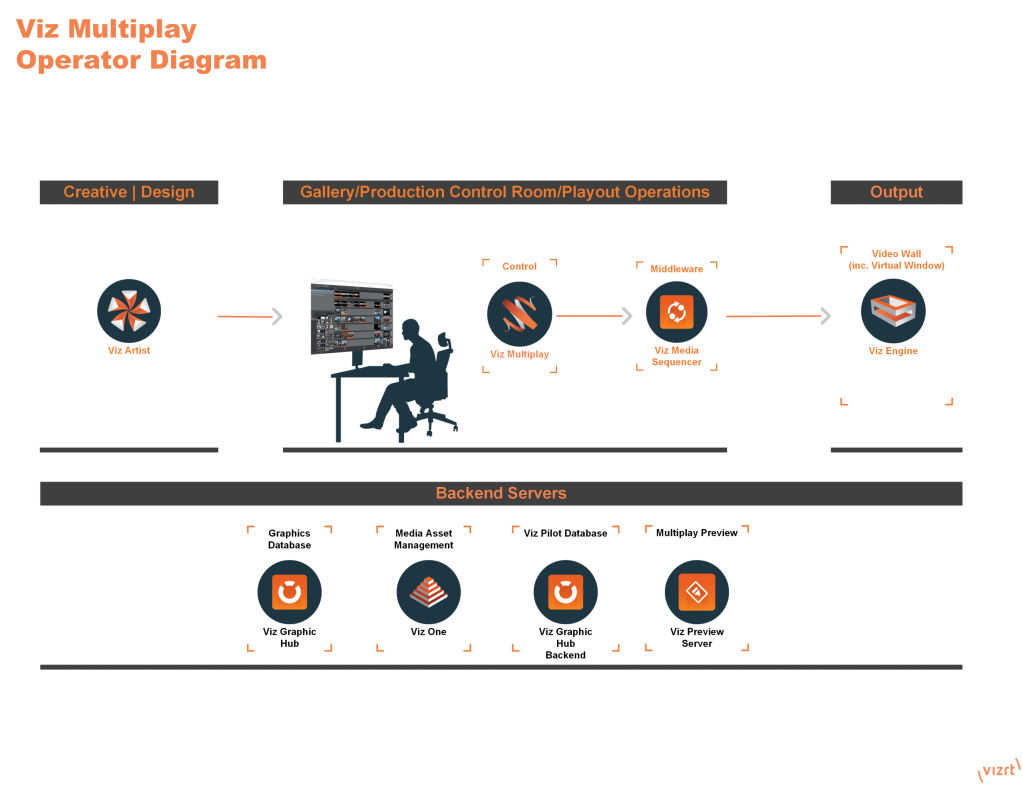 Viz Multiplay
Newsroom Integration Diagram