CaptureCast™
IP-based lecture capture and micro-broadcasting services that connect any room on campus or any meeting space to anywhere in the world – thanks to the power of NDI®
The Guide to Lecture Capture
Video technology connecting educators and learners like never before.
Using Viz CaptureCast, teachers or instructors can focus on what they're best at and let the technology do the heavy lifting. From fixed cameras in lecture halls to wirelessly connecting any smartphone – Viz CaptureCast captures every moment, from every perspective and allows learners to interact with content as if they were in the room – live or on-demand.
Camera, screen or document – Viz CaptureCast simultaneously records and streams multiple sources in any room, moving automatically between different set-ups for each session – at the touch of a button.
Built to record a single session or set to a semester-long timetable, Viz CaptureCast just works. Each recording is enriched with metadata so learners can immediately access content and search using keywords – jumping straight to the content they want when they want it.
Viz CaptureCast publishes to live platforms simultaneously, putting all-important content in the hands of learners everywhere. Tight integration with market-leading 3rd party platforms means CaptureCast has you covered, every step of the way.
Viz CaptureCast Product Guide
Technology That Gives More Time for Content
Viz CaptureCast almost 'self-drives', building smart workflows for you, which, when combined with a powerful and flexible scheduling tool, automates the lecture or presentation capture, freeing the storyteller, presenter, or educator to focus 100% on the content.
Thanks to having NDI® (the most popular IP-Video technology) baked in, Viz CaptureCast can wirelessly connect with smartphones and tablets, turning them into camera systems in addition to PTZs and other capture devices or media sources. Need a document camera or a close-up of an item for a demonstration? NDI puts the power to use multiple sources into your pocket.
See how CaptureCast can help drive better outcomes!
Advanced Features Delivering Exceptional Experiences
Packed with ground-breaking technology, Viz CaptureCast is a multi-input, multi-room recording and live streaming solution that has been designed to bring the awesome communication power of video to remote, hybrid, and on-demand scenarios across a multitude of education, training, corporate, and government experiences.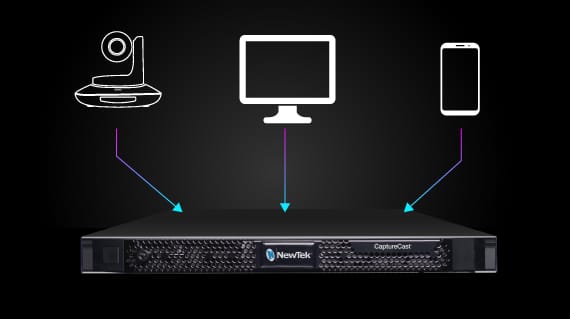 Multi-Media Recording
Your audience will always have the best seat in the class: record up to 6 NDI|HX inputs or 8 NDI inputs concurrently to capture every teaching moment in high definition (1080/60p).
Smart Workflows
There are only so many hours in the day – from cameras to documents, presentations to smartphones, Viz CaptureCast automates complex and time-consuming workflows and manages the process for you, from beginning to end.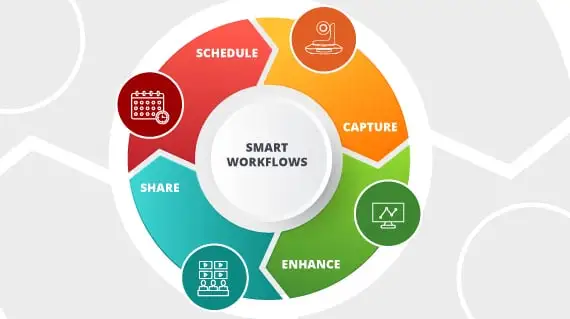 Flexible Scheduling
Leaving the teacher or presenter to focus on what they do best: built-in event calendar to automate start and stop time of every lecture for completely hands-off operation.
We've done our homework on teamwork
Tried and tested integrations with best-of-breed providers like Panopto, Kaltura, Opencast, Vimeo, YouTube and many more mean you can create seamless end-to-end workflows for the top results every time.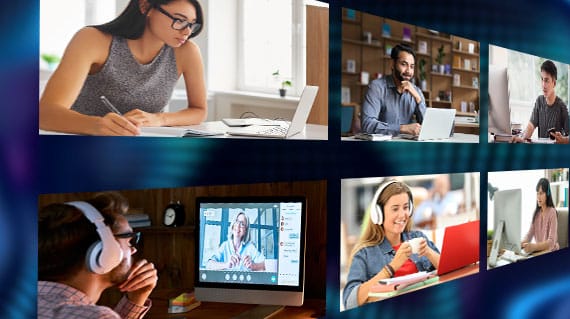 Micro-Broadcasting
Let Viz CaptureCast do the work – high-quality video content can be automatically recorded and streamed to an audience easily. Stream one or multiple inputs to multiple streaming providers while concurrently live recording.
Web-Based Control Interface
Viz CaptureCast can be controlled right from a browser, using an intuitive control interface, giving the visual storyteller or educator the freedom to concentrate on their day, safe in the knowledge that they are always in control.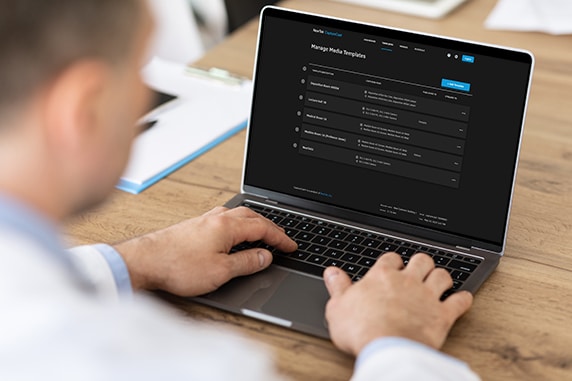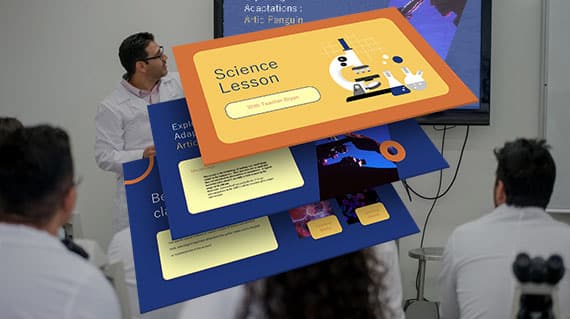 Presentation Extraction
Smart features like built-in Presentation Extraction can automatically recognize and index presentation slides and text from the stream, making it easier to search and playback later.
Viz CaptureCast Command Center
Viz CaptureCast Command Center
All devices, all streams – one centralized management system. Have ultimate visibility of each Viz CaptureCast unit on your network, in real time.
Monitor & Manage Devices
With Command Center, you can configure, monitor, and control every single unit on your network in one centralized place – giving total peace of mind.
Real-time Audio & Visual Feedback
Check-in on every video and audio input on every single recorder in your fleet. See at a glance which recorders are offline, which need updates, and which need to have their inputs checked.
High-Level Schedule Monitoring
View the schedule for every single recorder in your fleet in an easy-to-understand timeline view. See which recordings are ongoing, and which have successfully finished, and quickly deal with any failures.
See how our customers use Vizrt Products!