Real-Time Motion Graphics for Live Production
with TriCaster® solutions.
Create and present spectacular real-time motion graphics that enhance your production and emphasize your brand with Viz LiveGraphics™. Available exclusively through Premium Access.
From author to air—faster and easier than ever before.
Get the look you've always wanted for your production, using the workflow that works for you—from editing the included motion templates, to importing your own graphics from Adobe® Photoshop®, to creating custom animations with Adobe® After Effects®.
Sophisticated Graphics Made Easy
No proprietary design tools. No specialized training. LiveGraphics lets you work with the same Adobe® Creative Cloud® tools you already have, know, and love, so you can start producing and presenting animated titles, motion graphics, and looping effects for your live productions right away.
Get Instant Animated Graphics
Need graphics to impress—right now? Load and go with 100+ production-ready LiveGraphics templates included for your TriCaster system buffers. Insert your own title text and images, display real-time content, and customize overlays instantly with data and layer presets.
Control from Any Device, Anywhere
Pair with LivePanel™ to manage motion graphics from any computer or mobile device on your network. Plus, with built-in DataLink™ technology, you can connect to scoreboards, spreadsheets, and other remote data sources to populate and update graphics automatically. LiveGraphics templates even supports text and images direct from the Web when with combined with the DataLink extension for Google Chrome.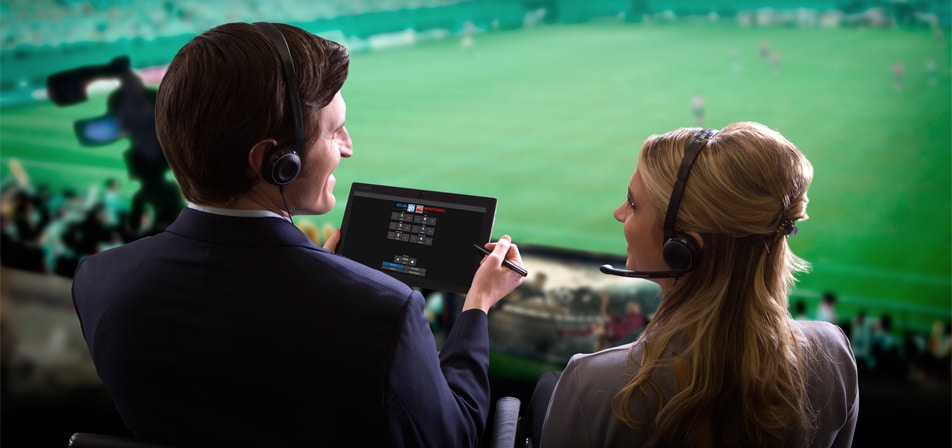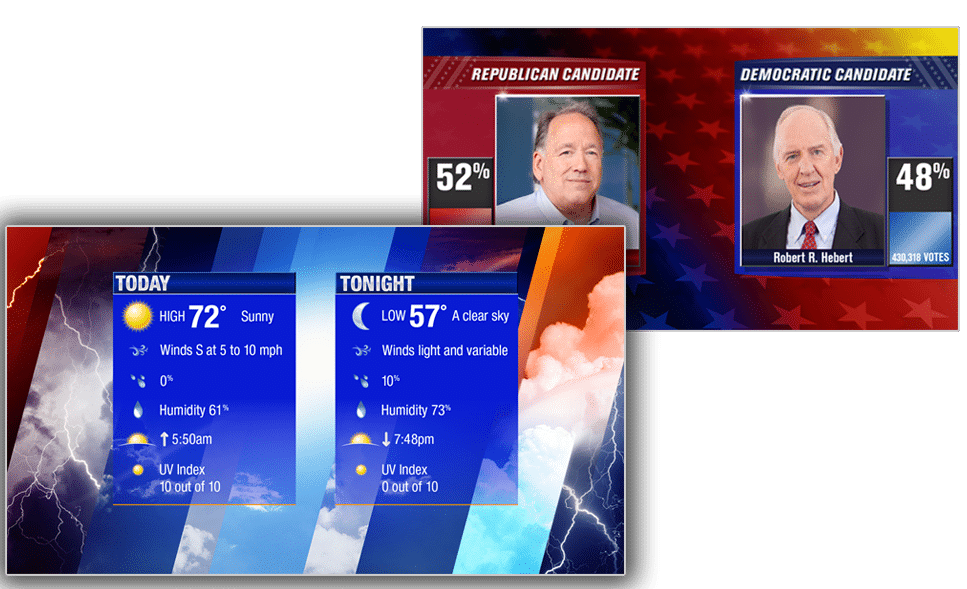 Use Layered PSD Files
Create individual graphics or an entire package in Adobe® Photoshop® CC, then bring the PSD files directly into your TriCaster live production system. LiveGraphics recognizes the layers automatically, allowing you to manage elements independently and store up 16 macro-ready variations per system buffer.
Animate in After Effects
Animate graphics faster and easier than ever before with the included LiveGraphics Creator plugin for Adobe® After Effects® CC. Simply import a PSD, drag and drop presets to apply motion, then export for use in your system. Or use SmartBuilder™ to let LiveGraphics analyze your content and add animations for you.
Elevate Your Viewer Experience
With LiveGraphics, you can have up to 10 simultaneous channels of HD, 3G, or 4K UHD motion graphics available for your production. All assets are rendered in real time, allowing your live, animated graphics to retain their native creative elements—and remain fully customizable up to and including when they hit the air.