WELT Switches to a Software-Defined Vision with Vizrt
Find out how WELT reinvents production using Vizrt Software-Defined Solutions.
When WELT Television in Berlin had to move to new premises it sought an innovative solution to the challenges of running a 24/7 broadcast news channel, such as ensuring all components work in synchronization, respond to changes in the news programming cycle, how to bring in media from diverse sources, and react swiftly to breaking stories while keeping the audience interested and engaged. Crucially, it always must remain in operation. What it could not do is have one vital part crash and take the whole show down.
The WELT team took the move as an opportunity to completely reinvent its infrastructure and at the same time allow it to make studio presentations graphically stunning.
While WELT knew this was challenging, they also knew it was not impossible; it sought an innovative solution designed and delivered by Vizrt's engineering and R&D teams.
"We wanted maximum flexibility for modern storytelling"
"WELT was the first to think about these particular dynamic workflows at this scale," says Adrian Fiedrich, R&D Project Manager at Vizrt. "So, we had to be the first to find the solutions. There was already a huge level of trust in us to achieve the things they wanted to do. It was good to have such a strong partner because what we are doing at WELT hasn't been done anywhere before."
Welt deployed a switcherless workflow, using automation to control and manage sources. "We are the first in the world to use a software-based video switcher," says Philipp Kern. "But the best thing we've heard is some of the users saying there's no difference between a real video switcher and the Vizrt software. It's incredible. The journalists have more direct responsibility for the show, and it gives the day-to-day production more possibilities when putting the show elements together. We are now working with colleagues to integrate the virtual environment in Studio 2 with a real environment."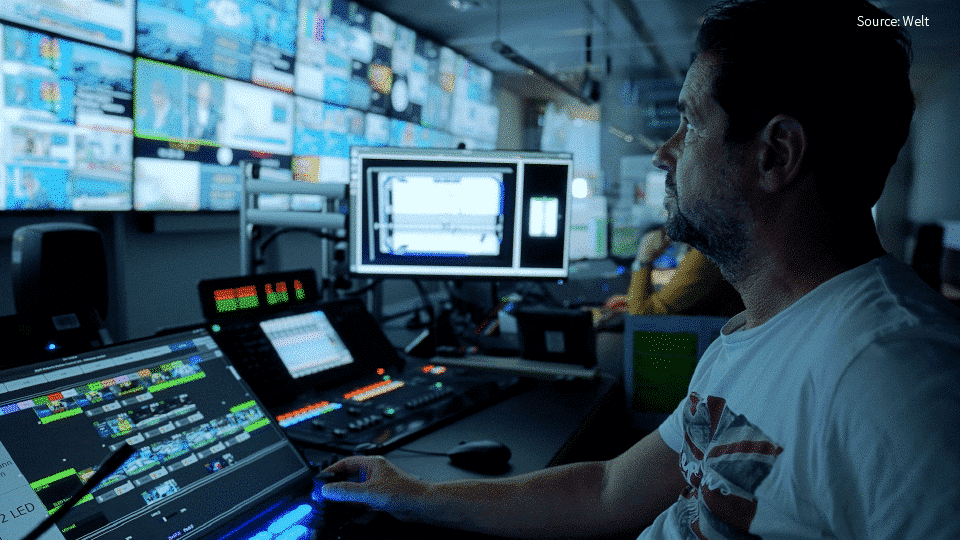 Intrigued? Read the full story to find out how WELT enhanced creativity and simplified workflows through Vizrt Software-Defined Solutions.