Singapore's Mediacorp raises the stakes with on-air AR graphics from Vizrt at new production facility
Mediacorp in Singapore has a new campus with production teams using the latest augmented reality and automation tools from Vizrt.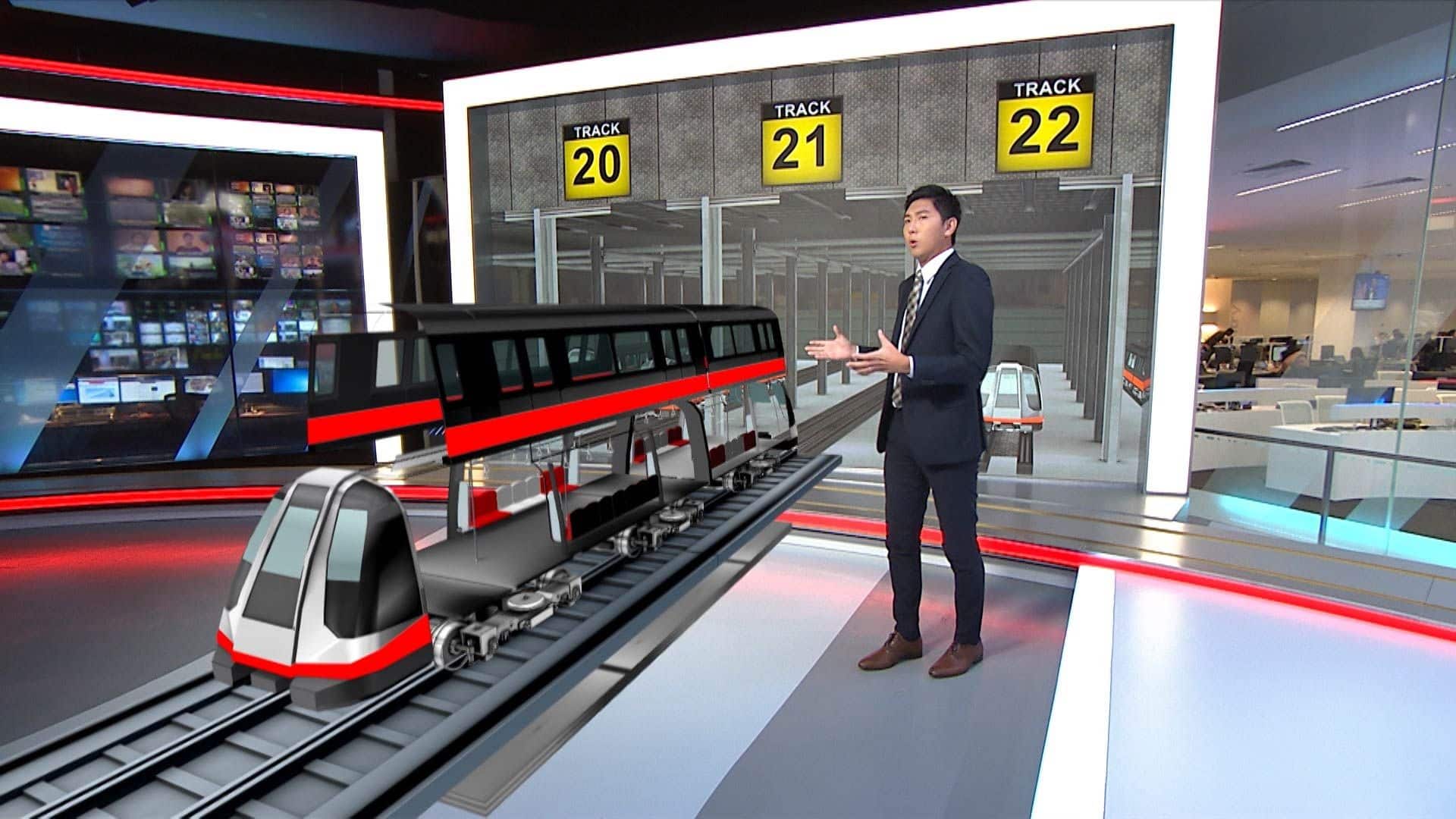 In 2017, Mediacorp unveiled a new television and radio facility that promised to offer viewers new types of daily newscasts and other unique programming. The studios in the Singapore-based 12-story Mediacorp Campus allow the broadcaster to deliver news with interactive maps, large videowalls behind the on-air presenters, and augmented reality (AR) graphics that envelop the set, helping anchors tell stories in the most comprehensive way.
A year later, viewers have embraced these new on-air changes and the network's increased ratings are proving to be financially beneficial to the multimedia company's bottom line.
The on-air graphics, used for many of Mediacorp's live and studio programming, are generated with the latest virtual set and AR tools from Vizrt. The live news studios' operations are handled by Vizrt's Viz Mosart studio automation system, ensuring synchronized, error-free, single-operator productions that combine live video with the graphics.
"This was a massive feat and everyone played their part in achieving this, especially if you consider the leap in the technology usage from before and after"

James Hollis
Vice President, Production Services at Mediacorp
The News department also includes an in-house graphics team with highly skilled graphics artists that specialize in 3D and virtual set design. The journalists use Viz Pilot, a template-based content creation system, that is tied together with their newsroom control system (NRCS) to create, manage, and deliver the playlist of graphics needed to support Mediacorp's live TV, online and mobile services. Live graphics are controlled using a Viz Multiplay system, which from a single interface helps orchestrate the often complex presentation of the AR graphics with live video that appear to extend towards the viewer from multiple screens on the studio. Viz Multiplay gives the Mediacorp crew a simple way to control the display of that content across all of the large screens in the studio.
Laying the AR elements over the studios' videowall also requires precise timing from a jib operator to make it all look seamless. After some trial and error, the crew now has the sweeping moves down to a science.

"These (live production) systems control a shared resource of five Viz Engine real-time graphics engines and video servers that are configured so that they can be allocated to any of our studios, depending on how many graphic elements are required for each particular show," said James Hollis, Vice President, Production Services at Mediacorp. "We also have a Viz Mosart automation system sitting across all of this so we can automate playout when the production allows."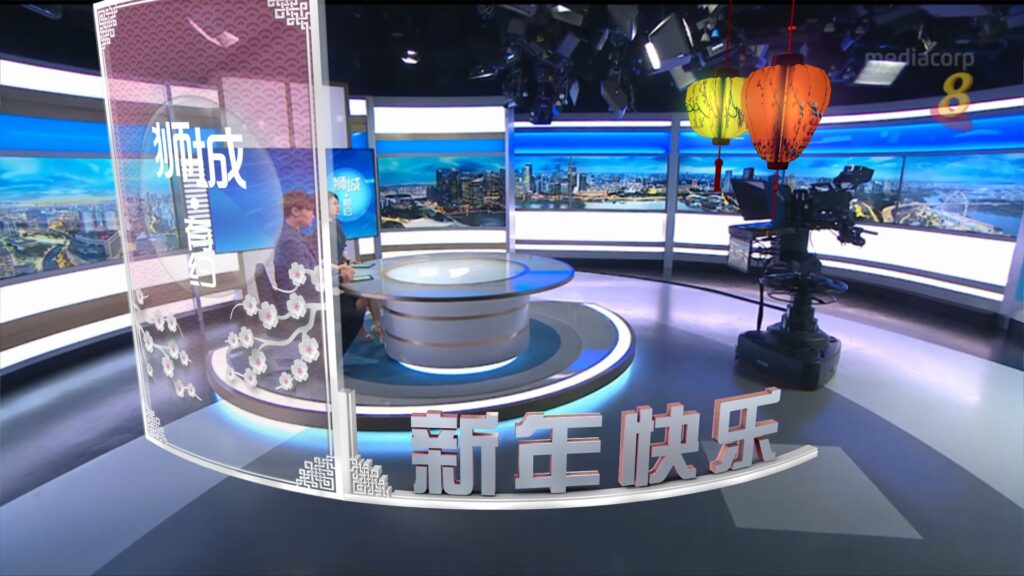 "With the new facility, it was a logical step to expand our capabilities with the latest Vizrt systems, such as AR and Viz Mosart automation," Hollis said. "As the staff were already familiar with the operation of a number of Vizrt systems, it was not overly complicated to expand their skills sets to operate in a number of new areas. Of course, we had the added advantage of launching in a totally new building with new studios and hence had time for testing and training prior to our go live date.
Hollis said the transition from the old building to the new Mediapolis@one-north was a complete success and production on all of its programs was never interrupted. Having a clear understanding of how the Vizrt technology works and using that experience to its advantage helped make the move smooth and problem free.
"We went from a very dated studio facility with many technical limitations and very few visual creative elements to launching a new facility from day one with AR graphics, 4K videowalls and 17 hours of automated programming on our 24-hour news channel [Channel News Asia]," he said. "This was a massive feat and everyone played their part in achieving this, especially if you consider the leap in the technology usage from before and after."
With the Vizrt technology now firmly in place, Hollis said the production team has significantly improved the network's storytelling capabilities via a three-screen video wall presentation area and the three-dimensional AR graphics displaying charts, artistic elements and other visual information, none of which was possible in the old facility's limited space.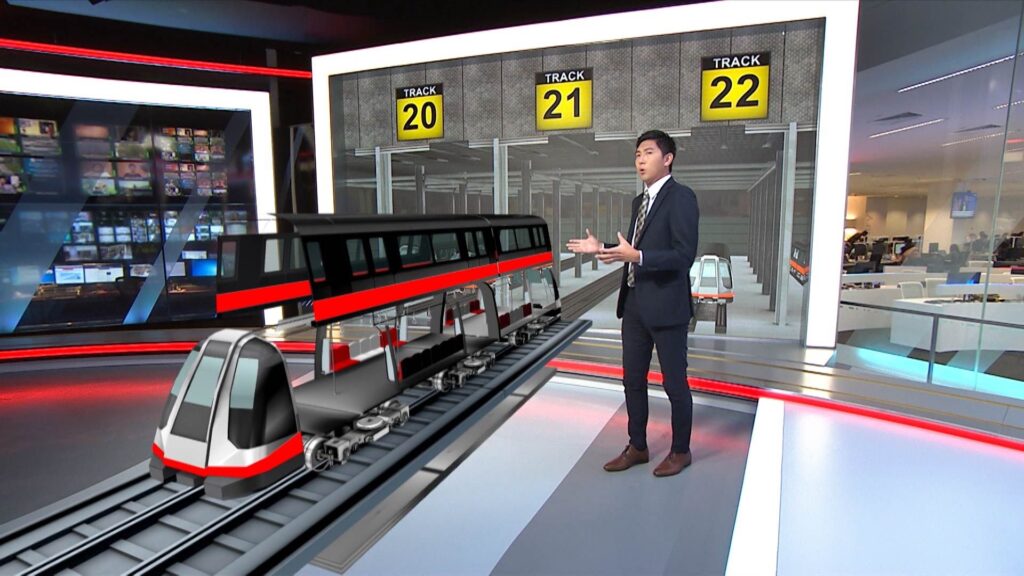 The project was several years in the making, from the time they created original engineering and systems drawings, to the beautiful and highly flexible studios they have on air. Several system integrators were called in to help install the equipment and digital infrastructure necessary to make all of the newscast's new visual looks possible. QVEST oversaw the entire project, with help from Unified Technology, both local and highly experienced companies serving the broadcast industry.
Designed by award-winning Japanese architect Maki & Associates, the 800,000 sq. ft. campus that houses the production studios stands majestically with its iconic sweeps and curves and has been awarded for its eco-friendly building technology. The architectural landmark is located within Mediapolis@one-north, Singapore's first digital media hub.
The new building features an expanded News department and a "digital-first" integrated newsroom staffed by some 700 journalists producing content for digital, television, radio and print. Three TV news studios designed by international award-winning design company Jago Design are used daily to produce content in four languages terrestrially, as well as Asia-wide (via Channel NewsAsia).