Seven Network launches 7news.com.au
An ambitious news website with the goal of dominating the digital space in Australia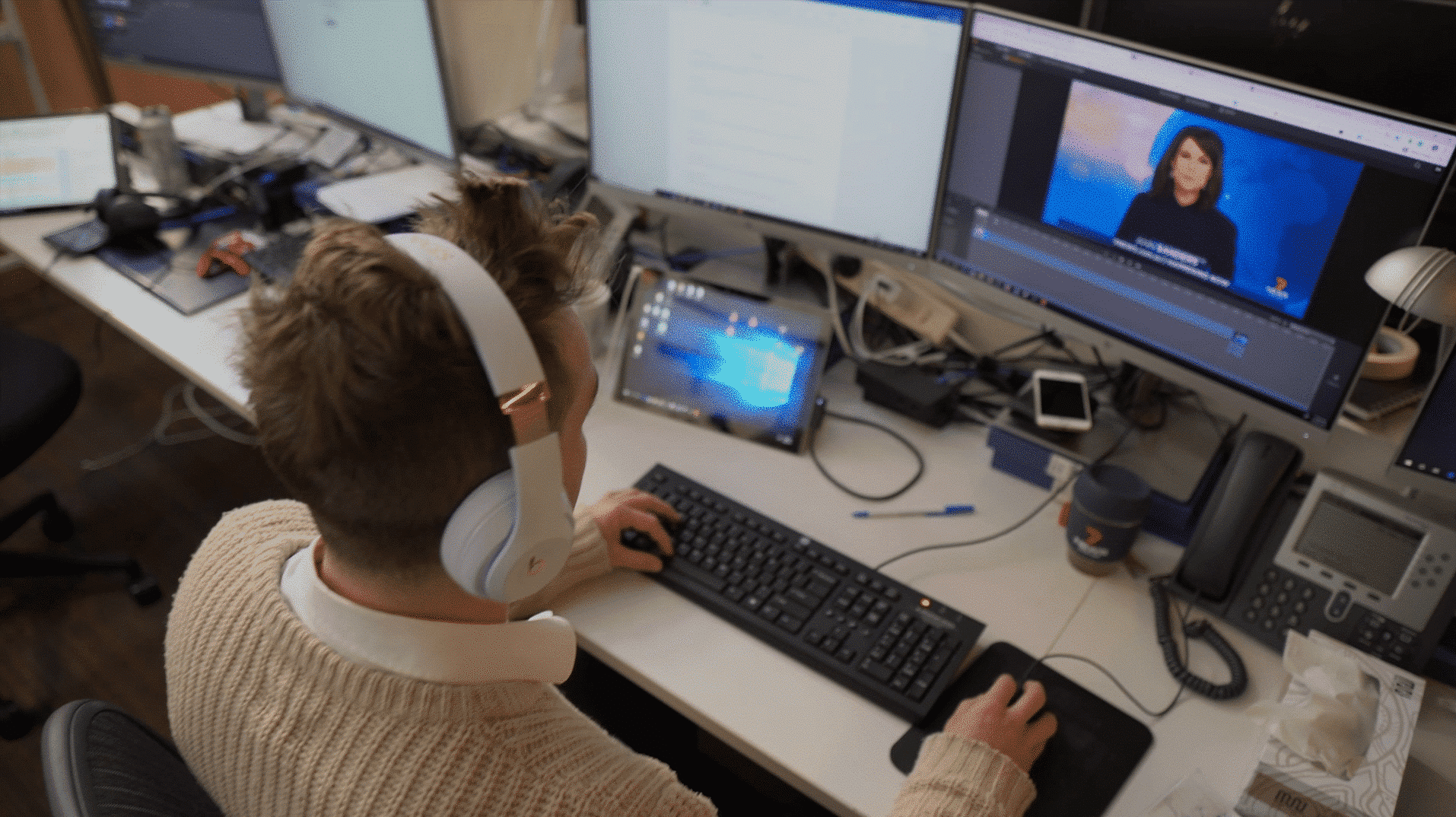 "With our philosophy of 'speed to web,' having Viz Story is a massive improvement in our workflow."

Andrew Anderson
Head of Broadcast Operations at Seven West Media
Seven Network is a major Australian news network owned by Seven West Media with seven newsrooms across Australia in Adelaide, Brisbane, Canberra, Melbourne, Perth, Sunshine Coast in Queensland, and its main headquarters in Sydney.
In 2019, Seven Network launched 7news.com.au, an ambitious news website with the goal of dominating the digital space in Australia. They knew that to achieve their goal, they would have to figure out how to get significantly more content online faster.
The network had different workflows and solutions for publishing content, each with their own challenges. Seven Network wanted to simplify their process with less products and instead have a single publishing tool that is easy to use. They also needed a workflow that would allow them to work on growing files that are coming from various sources and render a file for local download that can be published manually in other locations.
"We're now able to publish 150 to 170 unique videos on the website and across social media networks every day which weren't achievable with our previous workflow"

Andrew Anderson
Andrew Anderson, Head of Broadcast Operations at Seven West Media, approached Vizrt to help Seven find a solution and make it work. After much consultation, Seven chose Viz Story, a video editing and publishing tool from Vizrt, as the central workflow solution for all their digital content production. Viz Story was then installed in Seven West Media's newsrooms across Australia.
Seven Network started using Viz Story across all its production hubs in 2019 and the results have been fantastic. They were able to publish more than 10,000 stories within three months after launch. As of April 2020, 7 News was reaching 2.5 million viewers and the new website saw nearly 2 million domestic visitors per day.
"The strategy was to get more content faster and easier online. We're currently producing 90 to 130 clips from Sydney and we're doing around 10 from other cities," said Anderson. "With our philosophy of 'speed to web,' having Viz Story is a massive improvement in our workflow. We're now able to publish 150 to 170 unique videos on the website and across social media networks every day which weren't achievable with our previous workflow." During the unfortunate crisis of Christchurch mosque shootings, the network was able to turn around more than 250 branded videos in a single day.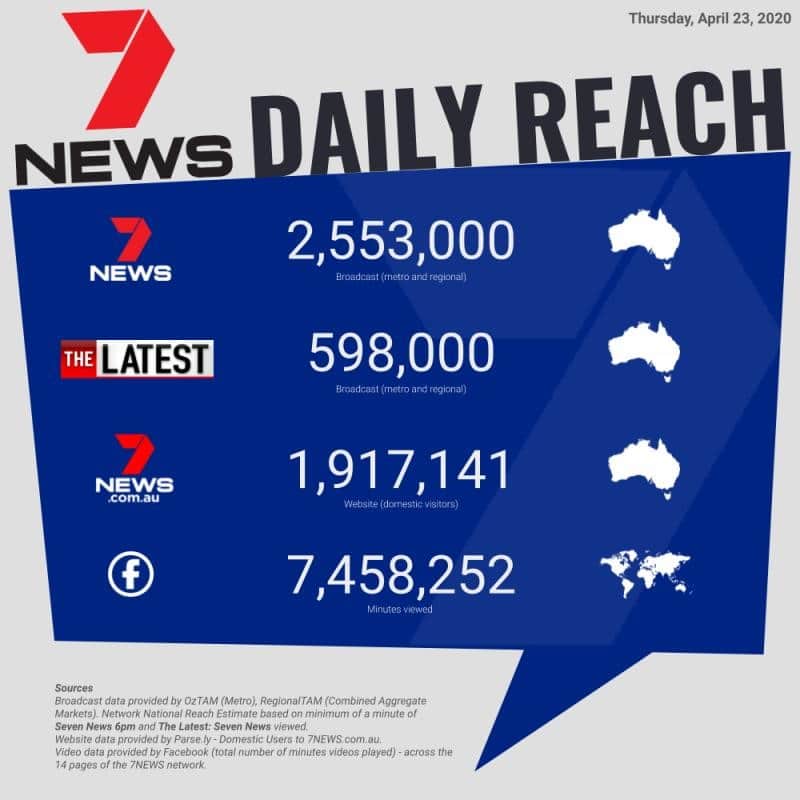 "We had to come up with a solution. We decided to use Viz Story to get our content to 7news.com.au because of its simple and easy-to-use approach," said Mat Cooley, Head of Viz Design Group at Seven West Media. "Viz Story allows us to control the actual look of the graphics using Vizrt's templated graphics workflow and have consistent branding on our videos published across all platforms."
As soon as a live feed arrives from the field via SDI or and IP ingest server, Viz Story allows the network to begin building a story package. Once the videos are ingested, proxy files are used to edit and brand the content using templated Vizrt graphics in Viz Story. There is no waiting. Subtitles are added manually on the fly using keyboard shortcuts for ease of operation. Subtitles can also be generated automatically through a 'text to speech' module as another option. All audio editing is also performed in Viz Story, giving the editor full control over all video, graphics, and audio tracks.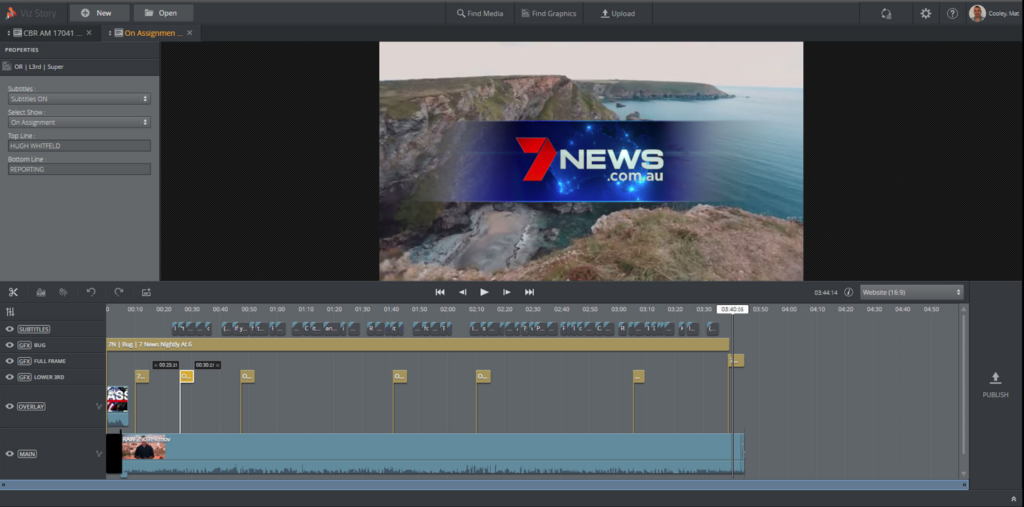 Once a video has been edited, Viz Story converts the file into popular online formats. With the click of a button, the broadcaster can publish a video straightaway in different aspect ratios to multiple platforms including their website, Facebook, Twitter, YouTube and a Viz One media asset management (MAM) archive. In just seconds (or near-real-time), the content is published out to the world.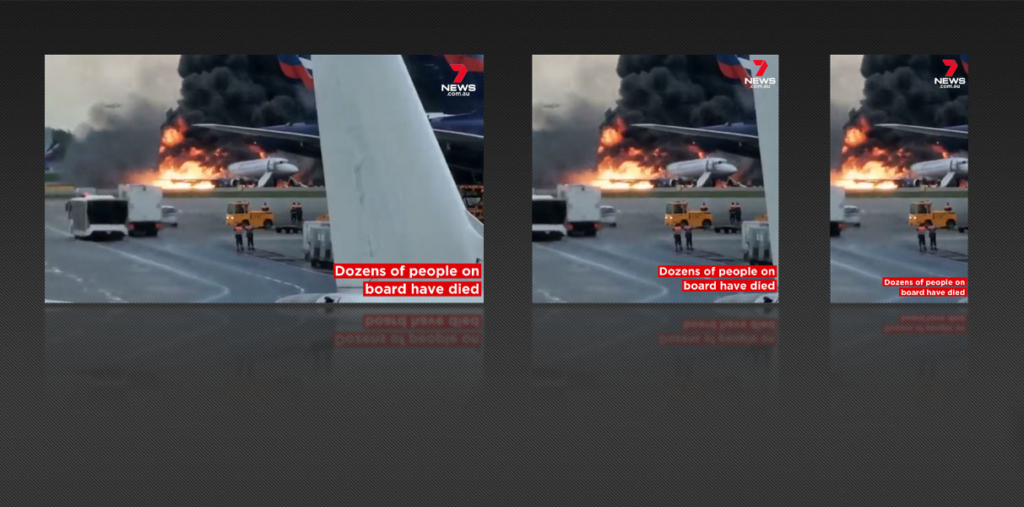 Viz Story has a high-quality user experience and can be easily integrated with Viz Engine, a powerful real-time compositor, and Viz One, an advanced media asset management (MAM) system.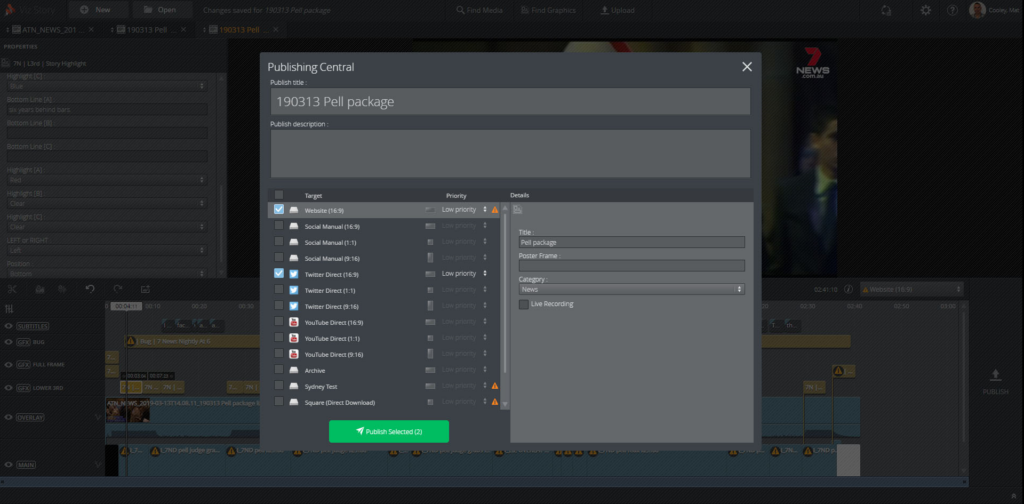 Viz Story users at Seven Network find the tool very easy to learn and use. Speed to turn around a story was paramount for 7news.com.au. Journalists and social media editors are amazed by its capabilities to brand content with a couple of drag and clicks as well as to publish videos immediately.
"I enjoy using it! It's great having a pipe that connects our server to social media and online. Viz Story is easy to pick up," said Tim Lester, Political Correspondent at Seven Network. "I love that Vizrt has developed a tool based on the feedback from those who use it."
Viz Story empowers Seven Network journalists with the right tool to tell more stories better in the fastest and easiest way possible.