One studio, endless excitement for fans
Movistar+, Spain's top sports platform, excels in efficient production to meet the challenge of diverse sports content creation using a unified team and Vizrt tools.
Serving a wide audience, and seizing growth opportunities, Movistar+ provides comprehensive sports coverage, accounting for 20% of the country's total content broadcast. As viewership habits shift toward mobile viewing, especially among the younger generation, broadcasters face new challenges. Movistar+ knows the significance of captivating younger viewers who prefer consuming content in non-traditional ways.
The challenge of capturing the mobile audience
Movistar+ aims to discover the most effective visual approach to engage its evolving audience. The primary challenge lies in finding innovative methods to capture viewers' attention and sustain their interest. Wanting to attract and retain a younger demographic, Movistar+ sought to enhance its visual storytelling and adapt to its target audience's shifting preferences.
Multiple layers of graphics for efficient production
To achieve these goals, Movistar+ leverages Vizrt's control and graphics tools to combine multiple different layers of storytelling and produce visually compelling shows. Viz Multiplay, designed for controlling and playing out content on video walls and screens, emerges as a key component of Movistar+'s production setup. By utilizing Viz Multiplay, the platform revamps the appearance of its physical studio and produces diverse live sports shows, ranging from football to car racing. This resourcefulness helps Movistar+ to optimize efficiency, as they create various shows via a single studio with the same team, using the same tools.
"Since we implemented Viz Multiplay, everything has become much simpler. It has an extremely simple and highly illustrative interface, yet it provides you with a complete view of what the set is like… and on an operational level it makes it very easy for us, to control everything."

Javier Coulouscou
Graphis Operator, Movistar+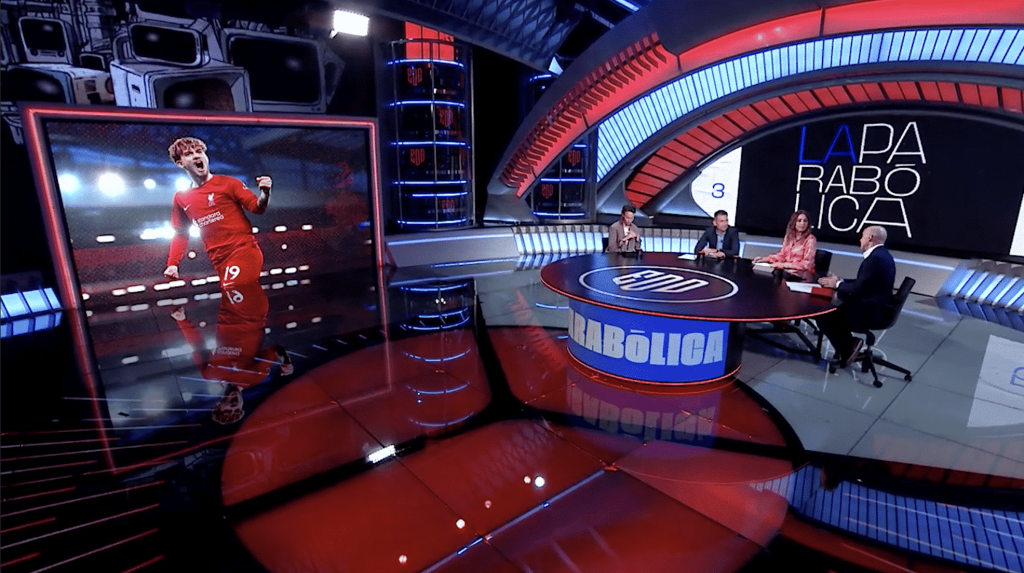 Movistar+ enhances its video wall driven storytelling further, by merging the physical and virtual worlds, adding augmented reality elements seamlessly integrated with the story. This integration of virtual and physical elements bolsters storytelling capabilities, resulting in captivating and visually immersive experiences.
To achieve this, Movistar+ employs Viz Virtual Studio in tandem with Viz Arc, a virtual graphics control application. While Viz Multiplay drives video wall content, Viz Arc provides an interface that is easy to use and modify for the control of complex virtual graphics. This powerful combination enables the platform to expand its creative boundaries and captivate audiences accomplishing another crucial production objective.
Visual storytelling engages the younger audience
Movistar+'s production setup excels with the seamless integration of Vizrt tools in sports workflows. This fosters consistent production and innovative engagement methods for audiences, especially the mobile-savvy younger generation. Recent research commissioned by Vizrt revealed that 77% of sports fans find advanced graphics crucial for enhancing on-the-go content consumption.
Having a set up that is easy to use and control, while counting on the safely smooth playout of content on video walls and screens, means Movistar+ has the flexibility needed to tell interesting stories – and captivate audiences. A production workflow that frees up creative possibilities, also encourages innovation, an important factor in remaining ahead of the competition. Collaborating closely with the Vizrt customer success team, Movistar+ will continue to develop even more efficient production methods and cement its position as a leading sports platform.
"Vizrt tools keep up with our own pace. We can work together with the technology Vizrt provides, and because it's so simple, we can adapt to the needs of the moment and optimize our graphics resources, without changing the essence of the Movistar+ brand."

José Luis Peiró
Engineering Project Manager, Movistar+