Fast and Furious Real Time Graphics for MotoGP with Dorna & Vizrt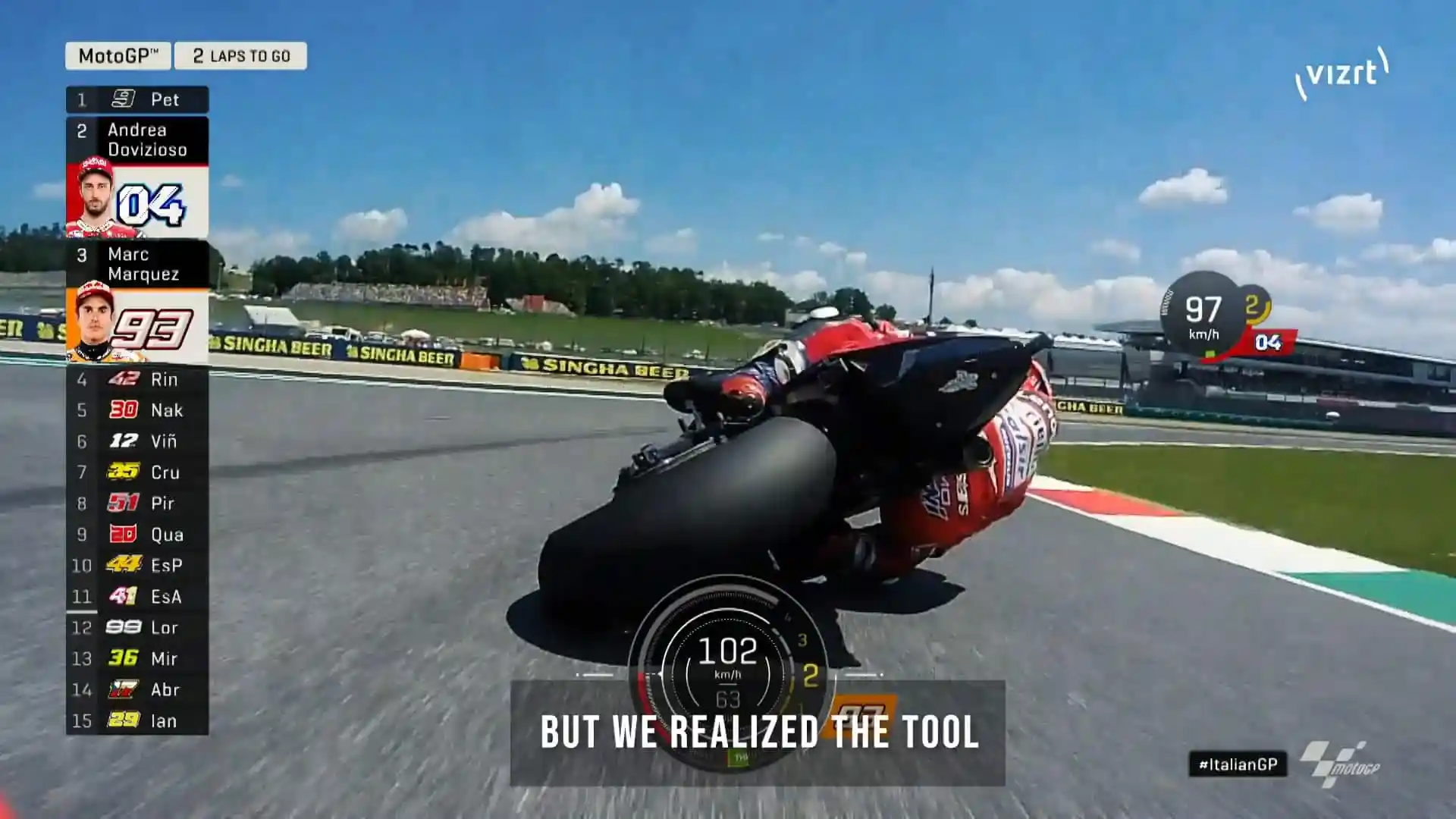 Find out more Viz Motion Tracker
A perfect tool for creating AR graphics around your presenters, objects, without a any tracking or additional kit needed.
In the adrenaline fueled race of MotoGP, the motorcycle action of the world's leading racers is fast and furious. It is a challenge for any production team producing a live broadcast to capture all the action in real time, and then add compelling graphics to greatly enhance the storytelling aspect and viewing experience for the audience.
Sergi Sendra i Vives, Senior Director at Dorna, explains some of the challenges associated with a production of this magnitude, "This is a sport you cannot see in one shot. You need sequencing cameras to understand that one guy who does a lap. You have several riders at the same time. You have several stories. So for us the graphics makes a big difference. You need to inform about the timing. People need to understand who is first, second… there are overtakings, crashes, very fast changes of the live script."
Vizrt has a formidable reputation of providing IP solutions for television and broadcast productions that overlay a multitude of graphics and stories in real-time to portray a continual stream of information, even in the most pressurized live environments like MotoGP.
"At the beginning the idea was to enrich our replay images, but we realized the tool has a lot of different possibilities and it's very powerful"

Victor Segui
Programmes Senior Manager, Dorna
Gerhard Lang, CTO at Vizrt sets the sets the scene, "Dorna is a very special production company. Not only the amount of cameras they have active during the race, but also the amount of data they need to process that is used to tell the story to their viewers, is quite mind boggling. Every single bike is equipped with a box that collects the telemetric data, plus also sensory data from the rider."
The data is fed in real time from the bikes back to the control and broadcast centre. The Vizrt system captures the information from the bike then displays graphics such as position and speed. It can also calculate split times, braking times at specific turns, top speeds, angle of lean, gear selection, and other real time data. The Vizrt system can then overlay graphics which can be reallocated wherever it is required. Automatically placing the graphics in relation to the bike is what makes this system so much more versatile.
As the bike and rider lean into a corner, the Vizrt Motion Tracker allows the graphics to move with them.
Victor Segui, Programmes Senior Manager at Dorna clarifies further, "The data that we receive from the bikes, it's reproduced in real-time, and combined with the motion tracking, we can move graphics real time with the bike."
MotoGP is recognized as one of the oldest motorsport championships in the world and has been enchanting fans since its beginnings in 1949. Consisting of 19 events from March through November, MotoGP visits 16 countries and is considered the pinnacle of motorcycle racing with the most technologically advanced and fastest prototype bikes in the world. With its breathtaking overtakes, charismatic and audacious racers coupled with its unmatched history and global television coverage, Dorna has been the driving force behind its marketing, media and broadcast production for over 30 years as the exclusive and commercial TV rights holder.
Manel Arroyo, Managing Director at Dorna, explains their involvement and the delivery expectation of the MotoGP, "The challenge for our production is just to be in the same level as our riders, our sporting guys. We are also engaging with our audience, just to understand what they are expecting from us, what they are expecting from the sport, what they like to watch, what they like to listen to, what data they want to follow, what information they want to receive, and it is all possible thanks to these tools that we currently work with in our three compounds."
The scope of Vizrt is not just limited to sports and racing. Its versatility is often limited by the imagination of its users.
"Sometimes we have crazy ideas that then become good ideas, and Vizrt is always behind us supporting us."

Victor Segui
Programmes Senior Manager, Dorna
Lan, CTO at Vizrt, continues to explain, "The Vizrt Motion Tracker that Dorna uses is not limited to motor sports. It can be used in any environment."
For example, a nature program can use the motion tracker to display animals and label them with information to enhance the viewing experience. Animals, like motorcyclists, are not averse to keeping still. As the animal moves, their graphical label moves with them.
Sendra i Vives concludes, "In Dorna, when we are with the companies that provide technology, we like to work with the engineering team and that was the most important thing here, and that resulted in a different approach. We are not just consuming product, but also developing and interacting. I think we have to thank Vizrt for being always so open minded in that way and allowing us to improve because we have this relationship that I hope is forever and ever."