Special Live Online Event for Africa and Israel
Watch the recorded sessions on demand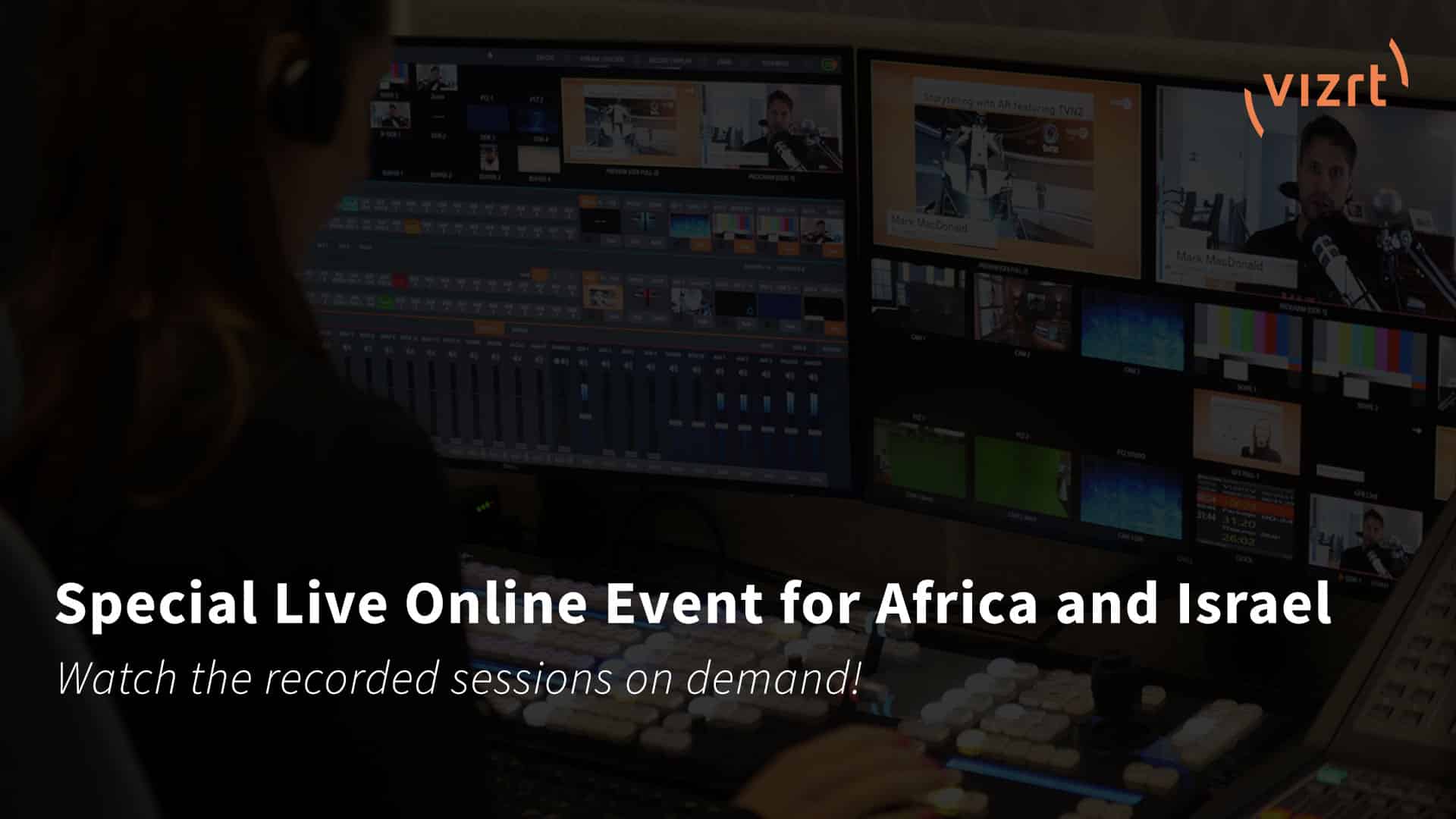 If you missed Vizrt's Special Live Online Event for Africa and Israel, you could watch the recorded sessions on demand.
Learn how Vizrt solutions provide a new and powerfully simplified way for customers to adapt their content production software tools and scale up and down to meet rapidly changing production needs.
Hear from our two special guests from Seb4vision and Discover Digital as they share their experiences and successes using Vizrt solutions.
We have also done live and interactive demonstrations in the sessions where Vizrt experts have shown the flexibility, control, and scalability built-in to every Vizrt Suite and Solution.
In this session, we did an introduction and demonstration of our Extended Reality Suite, the ultimate representation of Vizrt's core capabilities for software-defined visual storytelling.
Discover reality (AR) graphics, virtual set (VS), video wall, mixed reality and telestration toolset for media content why Vizrt is the world's leading provider of the first fully-fledged augmented creators in broadcast, digital, sports, and esports industries.
We were also joined by our guest speaker, Mr. Lucky Sebola from Seb4vision. Mr. Sebola shared how they use Vizrt solutions for live on-air graphics, AR graphics, virtual studios, sports analysis as well as how Vizrt has played a pivotal role in their success over the last six years.
Seb4vision is the biggest television graphics company in Southern Africa, and the only one in the country that provides mobile virtual studios and sets.
In the demonstration part, we have shown the features and capabilities of XR Set – the solution for live virtual sets and AR graphics; XR Venue – the solution for real-time AR graphics for sports; and XR Playbook – the solution for 3D sports analysis and virtual views.
In this session, we looked at the Vizrt Live Production Solution, a cloud-first, NDI® native solution that lets you produce any show, with any source from anywhere, delivering any output you needed.
Our guest speaker, Mr. Brendan Marsay from Discover Digital, shared why they decided to invest in Vizrt and how our solutions will help them create a benchmark and an unparalleled position in the market. They also shared how they can do multiple productions with Vizrt Live Production in the Cloud, augmented reality, and graphics solutions.
Discover Digital is a dynamic, young tech business that provides access to a multitude of innovative end-to-end digital media and fintech technology products to enable their clients' organizations achieve greater heights in today's competitive and digitally focused landscape.
In the demonstration part, we have showcased our Vizrt Live Production solution and how it can be deployed in the cloud, virtualized or with combinations of cloud, hybrid and on-site.
In this session, we presented the Vizrt Graphics Solution, a trusted motion graphics production solution that has reliably delivered state-of-the-art real-time graphics in the control rooms of the world's biggest broadcasters for more than two decades.
We also presented the Vizrt Newsroom Suite, a template-based, visual storytelling solution for journalists, providing everything they need to independently manage and deliver high volumes of stories with top-quality content across platforms and multiple destinations.
In the demonstration part, you will learn how you can leverage the world's most popular real-time graphics solution that will enhance your production. Our demo artist has shown how journalists can independently manage and deliver high volumes of stories with top-quality graphics, video, stills, map content and data visualizations across platforms and deliver to multiple destinations on-air and online.