New Viz Flowics Data Connectors for Scoreboards, Car Racing, Betting, and Esports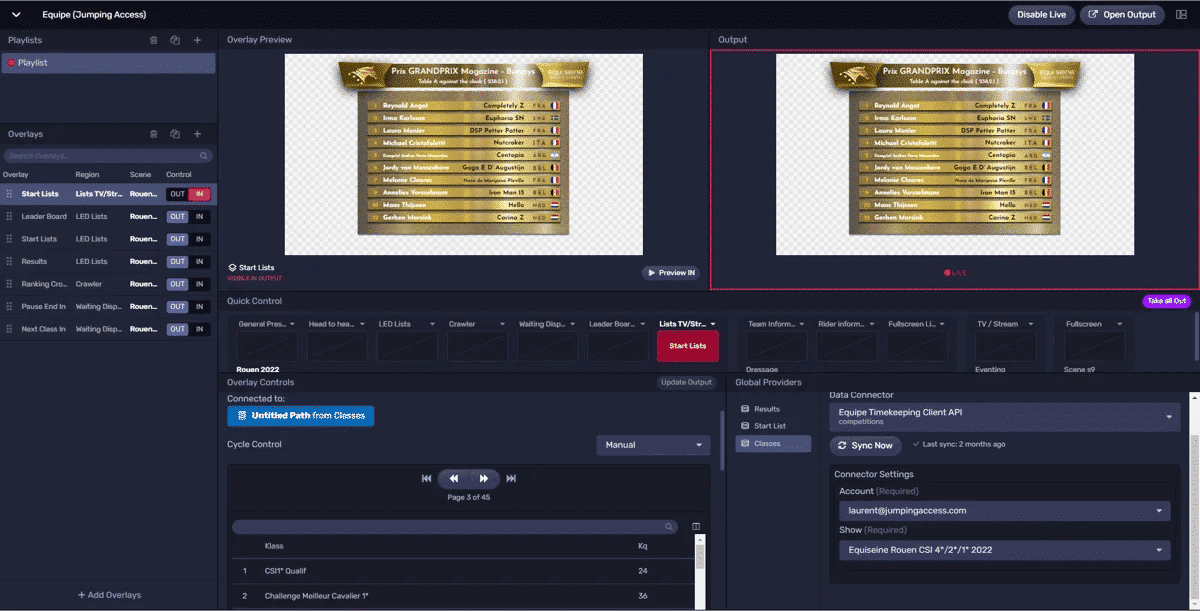 Sports fans have come to expect up-to-the-minute information to appear on their screens when watching live sporting events. In fact, it's hard to imagine the days without it. But that data has to come from somewhere, and somehow it has to make it into the graphics without delay.
Viz Data Connector simplifies the integration of external live data from different sources. For production teams that use Viz Flowics, this means streamlined broadcast graphics creation and operation. The data flows from source via the connector into Viz Flowics in real-time to auto-populate the on-air graphics.
We have a large and varied catalog of data connectors — including many for sports. And, we keep adding to our catalog to fulfill the needs of a growing customer base. You ask, we deliver!
Here're some new native integrations. These additions will benefit anyone creating live, data-driven broadcast graphics for sports betting, car racing, equestrian competitions, and esports productions, among others.
Scoreboard OCR
The Scoreboard OCR software perfectly reads scoreboard data through images and camera feeds using optical character recognition (OCR) technology. With the new data connector for Scoreboard OCR, production teams can receive digits from physical scoreboards into Viz Flowics. To learn more about the Scoreboard OCR data connector, read here.
RushBet
RushBet is a Latin American online sports betting provider. It offers a huge range of games in 31 disciplines — including soccer, basketball, and table tennis — from thousands of markets every day.
PUBG Mobile
PUBG Mobile is a free battle royale shooter game in which players fight extreme battles in 10-minute matches. There are more than 1 billion players worldwide. The PUBG Mobile connector works in combination with the Flowics Middleware Data Bridge to gain access to local game data. To learn more about the PUBG Mobile data connector, watch this client case.
Equipe
Equipe is an application to manage equestrian shows. It provides equestrian competition data related to riders, horses, people connected to the shows, start lists, results, and prizes.
Rivalry
Rivalry is a sports and esports online betting site visited by 145 million betting enthusiasts. This integration will enable production teams to bring live data like game winner and match winner odds into Viz Flowics graphics.
RaceHero
The RaceHero API delivers data about car races from the National Auto Sport Association racing series. The data includes entry lists, schedules, live timing, and results. Production teams use the live data from RaceHero to create the graphics that viewers rely on to track and analyze car races.
Using these new connectors, broadcasters can easily create data-driven graphics with live updates and integrations with scoreboards, timing equipment, and sports statistics providers. These new additions give them more opportunities to produce different kinds of live sports events — and enrich their storytelling.
Data connectors are a distinctive feature of Viz Flowics. They solve an important issue in the broadcast industry — live data integration. We're contiuously adding new data providers, so stay tuned for more additions to the data connector catalog!