August 19th 2022: Viz Arc 1.6 continues to simplify the control of AR graphics. With its full integration into Viz Arena, Viz Arc takes its flexible control capabilities to Vizrt's real-time AR solution for sports to combine with Viz Arena's image-based tracking. A new Script Action now provides users with direct control of Viz Engine scene scripts, and with the release of Viz Engine 5, Viz Arc is set up to control Unreal® Engine 5.
Viz Arena Control – Increased Flexibility and Simplicity
The full integration of Viz Arc into Viz Arena combines the core capacities of both solutions. From the same GUI, you can now operate the most important aspects and elements during a live production like keying, camera tracking detection or selection, positioning, and triggering Viz Engine graphics. The NDI® preview gives the operator direct feedback on how the virtual graphics look on the output video. It also enables you to handle complex elements, such as playlists or data-driven graphics from the same interface, which couldn't be done through Viz Arena before.
You will be able to build your own GUI and control actions to trigger and modify the virtual graphics in real-time.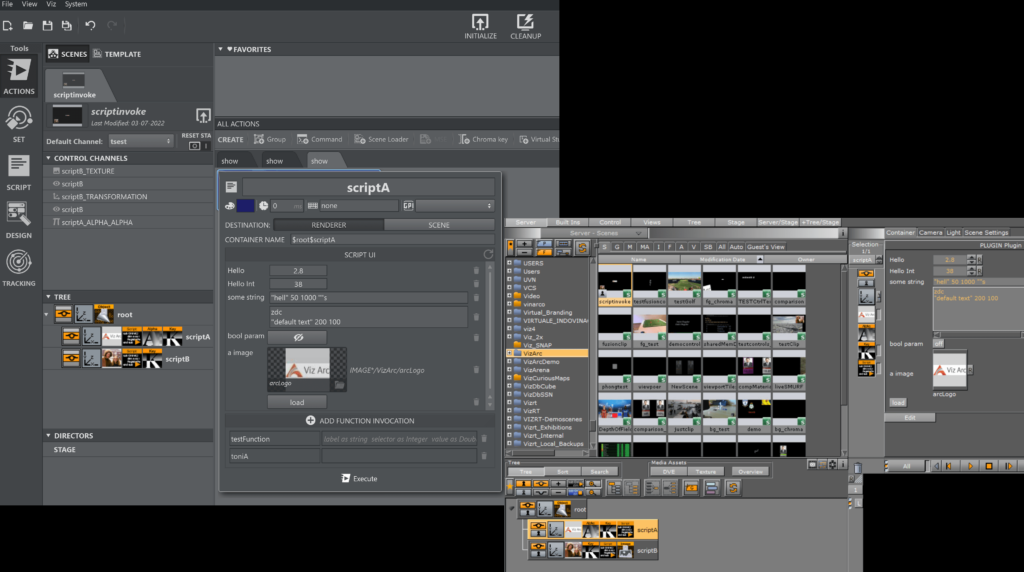 Script Action
The new Script Action enables control of most aspects of a Viz Engine container script. It allows you to access the UI parameters or call up script functions directly via Viz Arc control, providing direct external script control without using the Viz Engine/Artist GUI.
Support of Unreal Engine 5
Viz Arc is already set up to control Unreal Engine 5. With the release of Viz Engine 5, you can use Viz Arc right away to control graphic elements in Unreal Engine 5 Virtual Sets.
Installation Files and Documentation
Download installation file and release notes from the Vizrt FTP in the /products/VizArc/LatestVersion folder.