Viz Mosart 5
Bringing the power of automation to recorded content studios with Story Recorder
"Prior to this release, our customers had been using Viz Mosart to add automation benefits to recorded shows, but the output still required additional post-production before being broadcast. With Viz Mosart 5 and Story Recorder, the need for editing is removed – a recorded show with multiple retakes can now be made ready to air in minutes. Delivering this feature is a game-changer for our customers, and Vizrt takes pride in innovating directly from customer feedback ; allowing them to produce more content, higher quality, and with fewer resources."

Niels Borg
Senior Product Manager for Viz Mosart
The latest major release of the market-leading studio automation software, Viz Mosart 5, introduces the brand-new Story Recorder feature, enabling recorded shows to enjoy the production ease and quality improvements that studio automation brings and effectively removing the need for additional editing in post-production.
Introducing Story Recorder for Viz Mosart
With Viz Mosart Story Recorder, Producers now have the ability when recording a live-to-tape show, to pause, revisit an element or previous point, and rectify a mistake or improve the show.
Stop time for easy retakes of recorded content
During a retake, the automation will reset all studio elements to the correct state – from graphics to robotic camera positions and everything in between. Story Recorder knows exactly where everything should be for the retake, including ensuring the correct graphics will be on air at the right time. When the retake has been completed and shooting is finished, Story Recorder automatically stitches together the programme segments, making it ready for air without substantial post-production editing.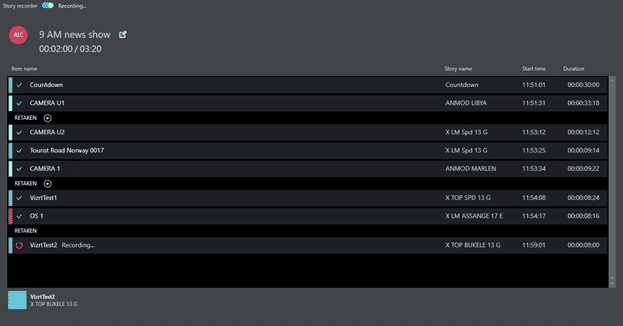 Reclaim hundreds of man hours with Story Recorder
By removing the tedious basic cuts, Story Recorder halves the time spent in the editing room for Directors, Producers, and Editors, freeing up their time for more productive work such as show planning or more advanced editing. For a weekday 30-minute show, this can add up to as much as 900-man hours annually that can be spent on more interesting and productive work!
Additional updates in this Mosart 5 release
New driver for Ross Video Acuity
New driver for Panasonic PTZ cameras
New loop feature support on Dalet Brio

Viz Mosart 5 was released on the 19th October 2021, containing the Story Recorder functionality and various bugfixes and other improvements. For the full release notes and other documentation please visit the Vizrt documentation site.