Viz Pilot Edge 2.3
Unlocking scripting to support the creation of advanced customized graphics templates
"Putting the journalist in control of their storytelling is a huge part of the Vizrt DNA."
The latest version of Viz Pilot Edge includes write-to-field scripting (TypeScript*), making it even easier for broadcast design teams to create more advanced customized newsroom graphics templates for everyday use in the newsroom. The end goal is to further simplify and improve the speed of graphics production and newsroom workflows. Using the scripting functionality available in this release, form field values can be easily changed, giving the templates more flexibility in day-to-day storytelling. This frees up designers to focus their creativity on the more complex graphics that give broadcasters their unique brand personality.
"Template Builder already makes it very easy (with drag and drop functionality) for design teams to create specialized templates, but we know that broadcasters need the flexibility to customize templates even further, tailored for their unique needs. Branded templates are how broadcasters differentiate their news offering. With scripting we're adding another tool to their toolset." says Johnny Pogacean, Product Manager for Viz Pilot Edge.
Security and error-reduction were key considerations
In the previous release, Viz Pilot Edge introduced custom layouts and the foundation to scripting by allowing users to control field visibility. This functionality can help hide fields to eliminate data from being inadvertently entered into the wrong fields.
Now with write-to-field scripting, the same template design can be repurposed for multiple use, simply by changing the content value of the fields, and/or switching the fields on and off.
"Vizrt's customer surveys show that human errors can very easily happen in the fast-paced newsroom environment. A complicated system benefits no one and creates a higher chance of errors. At Vizrt, our aim has always been to simplify processes and make a product that is always intuitive and user friendly," adds Pogacean.
"The Viz Pilot Edge team's goal is to build more functionality into the browser-based content creation tool so that journalists, in their ever-evolving roles, can create a complete story with graphics elements from anywhere."
Key benefits in this release:
Increased precision
Faster workflow
Template flexibility
Fetch data and auto-populate forms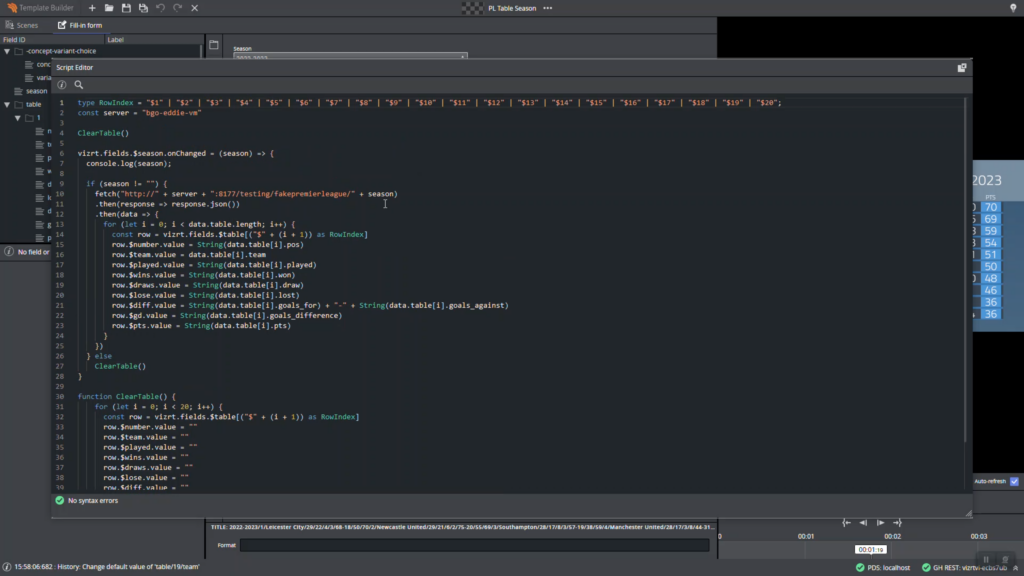 Fetch from Database
This release also makes it possible to fetch data via REST API from third party sources such as election results, football table statistics and scores which can be automatically populated into the template.
These new functionalities improve precision and give newsrooms more remote/hybrid work flexibility by advancing the usability of templates.
The HTML5-based Viz Pilot Edge requires no local installations, with updates managed on the server end, reducing the workload on IT departments in providing the newest features and functionality without interrupting newsroom flow and productivity. Built with MOS technology, Viz Pilot Edge integrates easily with all major newsroom computer systems.
Journalist driven newsroom workflows
Viewers tune in for great storytelling and by giving journalists all the tools to control and deliver their narratives, Vizrt helps broadcasters give their audiences what they want⁠—more stories, better told. And with the browser-based Viz Pilot Edge journalists have even more reach⁠—from the newsroom, their homes and even from the road.
"Viz Pilot Edge is the modern solution for the modern and flexible newsroom. Vizrt pioneered template-based graphics tools for journalists, and we continue to listen to their feedback and innovate to give them tools to better create compelling stories. Putting the journalist in control of their storytelling is a huge part of the Vizrt DNA," says Pogacean.
Viz Pilot Edge is offered on a Flexible Access model enabling broadcasters to see an immediate return on investment without the usual upfront costs. Speak with your local Vizrt Specialist for more information.
*The scripting language is TypeScript (JavaScript) which ensures better usability – accessible on all modern browsers, faster error-detection when writing scripts and improved security.