Award winning solutions
Vizrt Group: Supporting the world's storytellers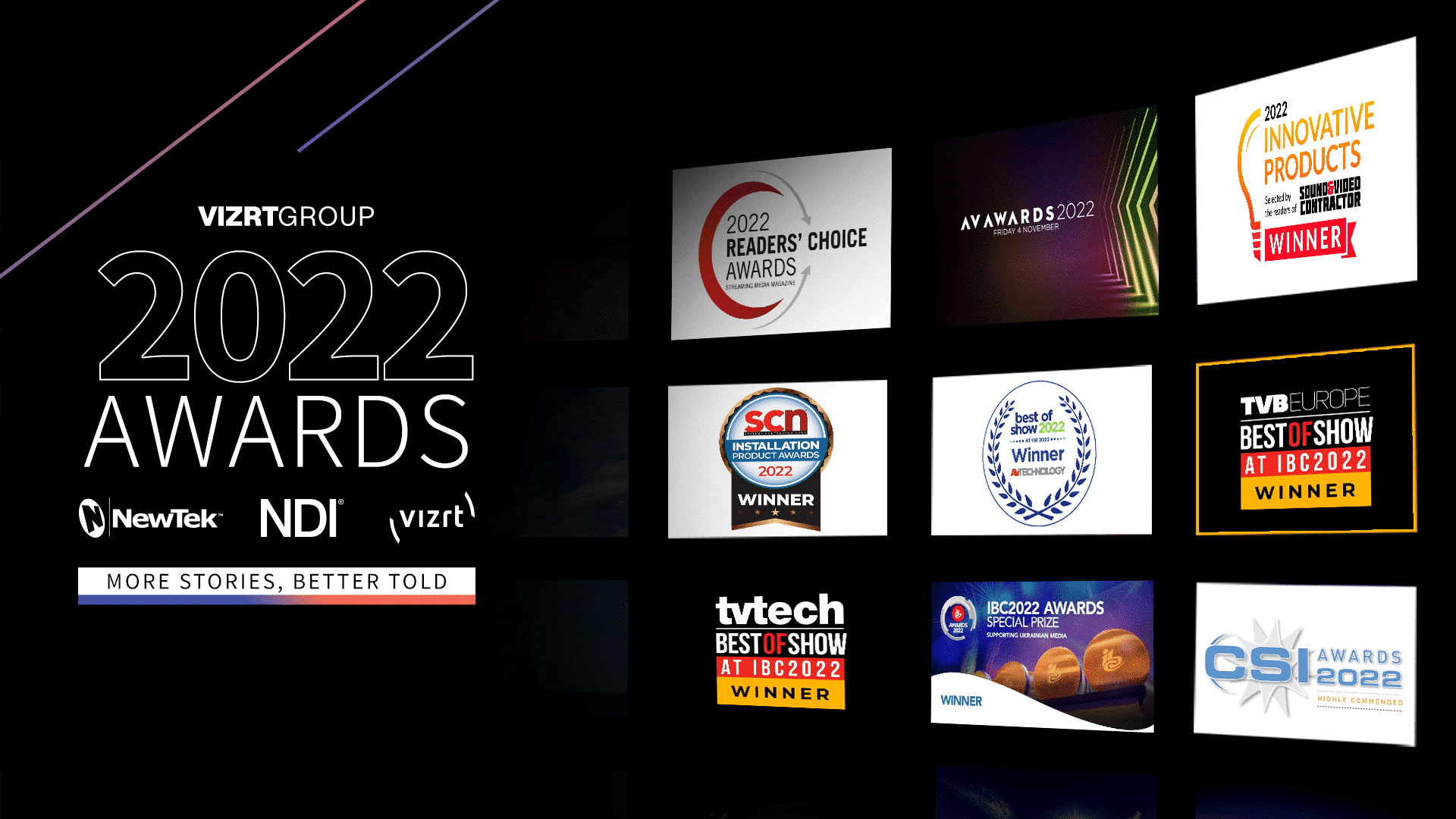 82% of all internet traffic this year is due to the constant demand for video consumption. Eyes are glued to screens everywhere we look, but with added content and consumption comes competition. How can content creators ensure all eyes stays on them?
This is a prime motivator for us, as a software-defined visual storytelling solutions provider. We support our customers to go above and beyond to deliver more stories, better told, in a time where there are limitless stories to tell.
How? Constant innovation, resulting in award-winning solutions (15 awards so far this year, to be exact!) all thanks to our obsession with bringing the best solutions, to our customers and the industry.
2022: the Year of Innovation for Vizrt Group.
Recently, Vizrt Group was noted as one of the Streaming Media 50 list specifically the release of CaptureCast to the market; an automated lecture capture solution tailor-made for the burgeoning education market with its multi-input, multi-room recording, and streaming designed to connect any classroom to the world at large via NDI without requiring a dedicated streaming op
"The annual Streaming Media 50 list foregrounds the industry's most innovative and influential technology suppliers, service providers, and platforms, as acclaimed by our editorial team," says Streaming Media Editor-in-Chief and VP Steve Nathans-Kelly. "Some are large and established industry standard-bearers; others are comparably small and relatively new arrivals just beginning to make a splash. All set themselves apart from the crowd with their innovative approach and their commitment to serve the customer and advance the industry."
It was also a great honor that Vizrt Group was also recognized as a special partner to the Support for Ukrainian Media Professionals Group when it won an IBC Social Impact Award. We were nominated specifically for our role in making the NDI|HX camera app free for journalists on-the-ground in Ukraine and supplying critical media technology via NewTek tech and a brave reseller to set up separate broadcasting bases should anything happen to the main Ukranian broadcast center.
NewTek has also won a multitude of awards this year. Specifically for innovations in the TriCaster line, and its PTZ3 camera which utilizes the strength of NDI|HX3, including the:
Winner: TriCaster 1 Pro – Best of Show Awards (Tech & Learning) – ISE 2022
Winner: TriCaster 2 Elite – Sound and Video Contractor Innovative Product Awards
Winner: NDI®|HX PTZ3 – Systems Contractor News Awards – Most Innovative AV Installation Accessory
Winner: NDI®|HX PTZ3 –Best of Show Awards (AV Technology) – ISE 2022
NDI® is fast becoming a defacto standard across the media technology industry. Due partly to the revolutionary capabilities of NDI 5, and NDI 5.5 release. So far in 2022 it has won several awards including:
Winner: NDI 5 – CSI Awards, Highly Commended Award – Best Network Delivery
Winner: NDI 5 – Sound and Video Contractor Innovative Product Awards
Winner: NDI 5 – RTS Thames Valley Awards – Innovation category
Winner: NDI 5 – NAB Product of the Year Award
Winner: NDI 5.5 – Best of Show (TVB Europe) – IBC 2022
Winner: NDI Bridge – Rock oN Awards – Best Tech Product of the Year
"[NDI 5] stands out… for the enormous opportunities ahead in terms of more climate-friendly remote production, and cameras (but not necessarily OBs) everywhere. NDI 5 is bringing the benefits of IP studio to the mass market with a very wide adoption; the Bridge product enables global connectivity."
Vizrt's cloud solutions have gained traction as some of the top cloud production and streaming platforms this year too, with accreditation in multiple industry awards programmes such as:
Shortlisted: Viz Now – VideoTech Innovation Awards – Live Streaming Initiative of the Year
Winner: Viz Now –Best of Show (TV Tech) – IBC 2022
Winner: Live Production in the Cloud – CSI Awards – Best Remote Solution
Winner: Live Production in the Cloud – Newscast Studio Broadcast Production Awards – Best New Product or Service, Production
Winner: NDI 5.5 – Best of Show (TVB Europe) – IBC 2022
Winner: NDI Bridge – Rock oN Awards – Best Tech Product of the Year
"Vizrt's continued innovation in augmented and virtual reality has caught the attention of the broadcast industry. Many of our Broadcast Production Awards winners turned to Vizrt to power these emerging storytelling formats."

– Michael P. Hill, Newscast Studio founder and publisher
Products and solutions from across the Vizrt Group allow our customers to continue to meet and exceed audiences' needs irrespective of location, time, or screen for video. Together, across NewTek, NDI and Vizrt, we care about helping our customers find success in this digital era with only the best, most widely renowned and recognized solutions for video storytelling.