Dorna thrills MotoGP viewing audience with Viz Arena virtual and augmented reality graphics
Viz Arena virtual and augmented reality graphics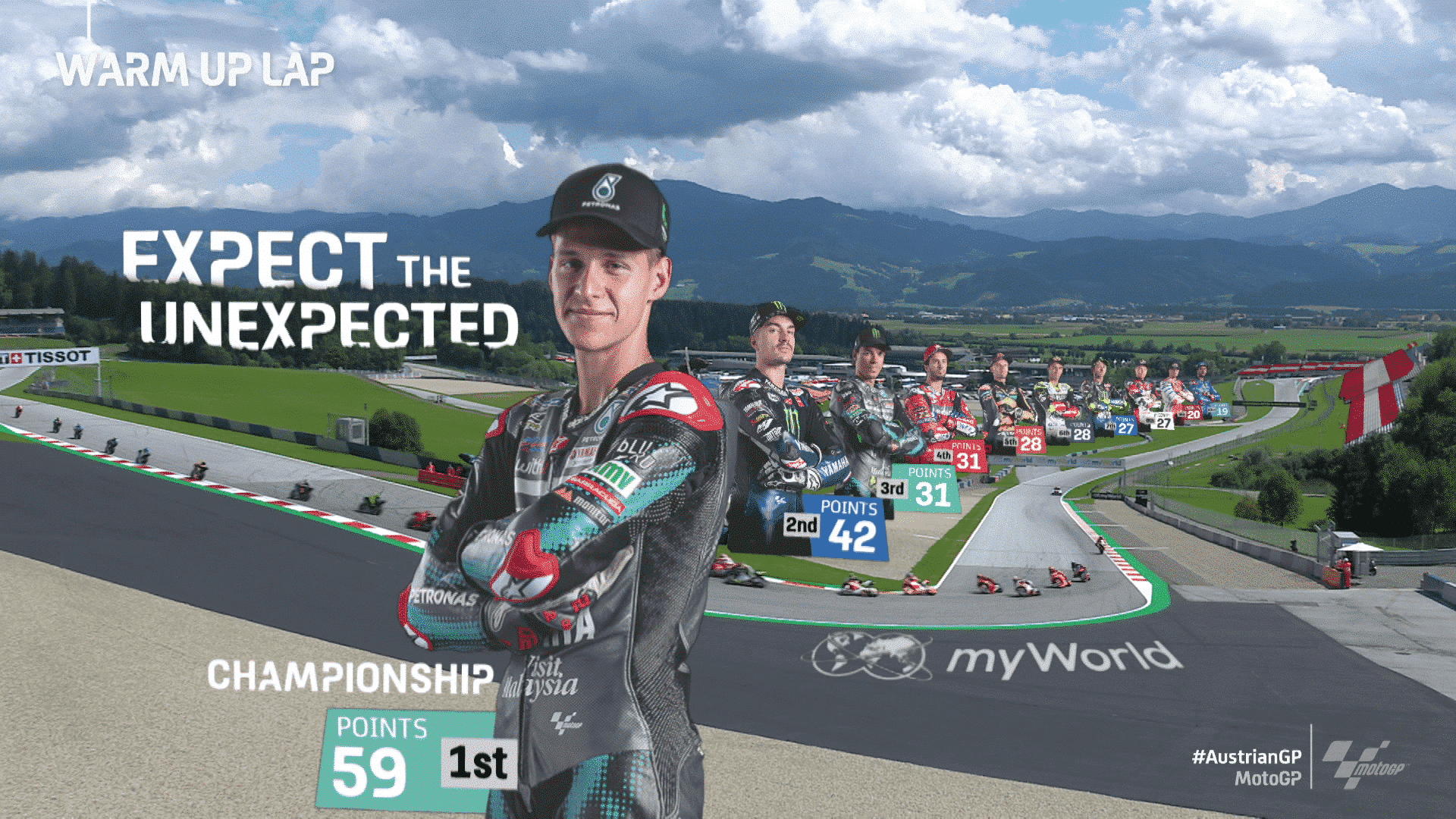 Dorna thrills MotoGP viewing audience with Viz Arena virtual and augmented reality graphics
Bergen, Norway—19th November 2020—MotoGP™, the best motorcycle racing spectacle on earth, featuring the world's leading riders and the most technologically advanced and fastest motorbikes, is thrilling television audiences even further with cutting-edge graphics using Viz Arena software from Vizrt.
Viz Arena enhances sports coverage during live broadcasts with virtual and augmented reality graphics added over stands in a stadium, beneath players on the field, or in the case of MotoGP, on the infield of a race track.
Dorna, the exclusive commercial and TV rights holder for MotoGP and other leading motorcycle racing championships, began experimenting with Viz Arena at the end of the 2019 season. Despite rollout plans being delayed by the pandemic, MotoGP returned to screens in July with Viz Arena being used from the start on the live broadcast.
"Our fans crave real-time data during races that help tell the story unfolding on the track. It's as important as the race itself," said Sergi Sendra, Senior Director, Media Content, Technical, and Production Departments at Dorna. "Viz Arena helps us deliver that in a visually compelling way that brings even more excitement to our viewing audience."
"Virtual graphical enhancements can be applied through Viz Arena to any sporting event," said Jonathan Roberts, Global head of Vizrt Sports. "The calibration process and the graphical workflow is simple with minimal training for operators."
Viz Arena employs unparalleled and robust image-based camera tracking and image processing to deliver value to clients. This technology enables tracking of cameras in real-time, based on the video feed only, and makes it possible to apply virtual graphics from the studio. Without the need for mechanical tracking heads, Viz Arena delivers striking results saving costs and resources but, more importantly, reducing the stadium or venue footprint. The value of deploying pure software and image-based solutions increases during the ongoing pandemic as it allows customers to produce content remotely without needing people or gear on-site.
For more information about how Vizrt's software-defined visual storytelling products generate viewer excitement for MotoGP with Dorna check out the Dorna MotoGP case study and MotoGP Twitter.
Viz Arena delivers on the promise of 'more stories, better told,' the purpose of the Vizrt Group.