Vizrt introduces new cloud products to better serve content creators everywhere
Enhancing audience engagement and cloud-based HTML5 graphics offerings, Vizrt portfolio now includes three new Flowics-powered products
Bergen, Norway—9 May 2023 — Vizrt, the leader in real-time graphics and live production solutions for content creators, today announces the availability of three new products – Viz Flowics, Viz Data Connectors, and Viz Social after integrating Flowics' unique offerings into the wider Vizrt product portfolio.
Vizrt's new solutions with the addition of Flowics' technologies, simplifies production workflows for all customers, from broadcasters to service providers, streamers, and YouTubers, showcasing the company's evolving offerings due to the changing demands of content creators.
"Content creation is a fast-moving and fascinating realm that is continuously changing. By creating these new products post our acquisition of Flowics, we have optimized our end-to-end graphics portfolio. With Vizrt, you get everything from HTML5 graphics to cloud solutions, adaptive graphics, augmented reality, and AI-driven virtual sets. Creating quick, high-quality graphics has never been easier."

Tehseen Aktar, Deputy Global Head of Product Management
Cloud-native HTML5 graphics platform
Flowics graphics becomes Viz Flowics, Vizrt's cloud-native HTML5 graphics creation and rendering engine enhancing its end-to-end graphics offering. Viz Flowics has an extremely easy-to-use interface, even for beginners with no design background. The user-friendly web interface, with drag-and-drop features, provides everything needed to create broadcast-quality 2D graphics including animation tools, simplifying the process of creating and publishing customized cloud graphics and data-driven overlays from any browser.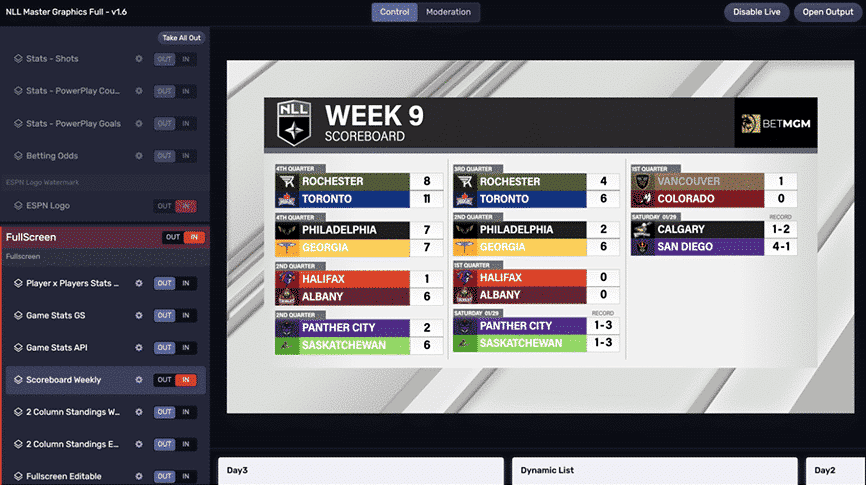 Code-free data integrators
It was also a great honor that Vizrt Group was also recognized as a special partner to the Support for Ukrainian Media Professionals Group when it won an IBC Social Impact Award. We were nominated specifically for our role in making the NDI|HX camera app free for journalists on-the-ground in Ukraine and supplying critical media technology via NewTek tech and a brave reseller to set up separate broadcasting bases should anything happen to the main Ukranian broadcast center.
"Cloud and data-driven graphics are core to content creation. These new products reflect our continued commitment to providing innovative, high-quality, and effective real-time graphics and live production solutions for content creators, regardless of size. We will continue to develop and support data integrations not just within the Vizrt portfolio, but also include any graphics platforms and broadcast engine workflows."

Gabriel Baños, co-founder of Flowics
Viz Data Connectors offers the most comprehensive catalog in the market of no-code links to live data sources, helping users rapidly turn around live graphics displaying information that audiences value, such as sports statistics, finance information, and weather details.
Additionally, the Flowics backend is powering the latest version of Viz Social, released in March of this year. This advanced version features a sleek and modern interface, increases speed, and simplicity, and offers users a modern suite of integrations with social media and messaging platforms. Users of Viz Social can also incorporate custom data from RSS and JSON feeds.
For more information about Viz Flowics, Viz Data Connectors, or Viz Social, please visit: https://www.flowics.com/