Viz AI powered graphics debut at Daytona 500 on FOX
Viz AI powers real-time Object Tracker to apply on-screen graphics downstream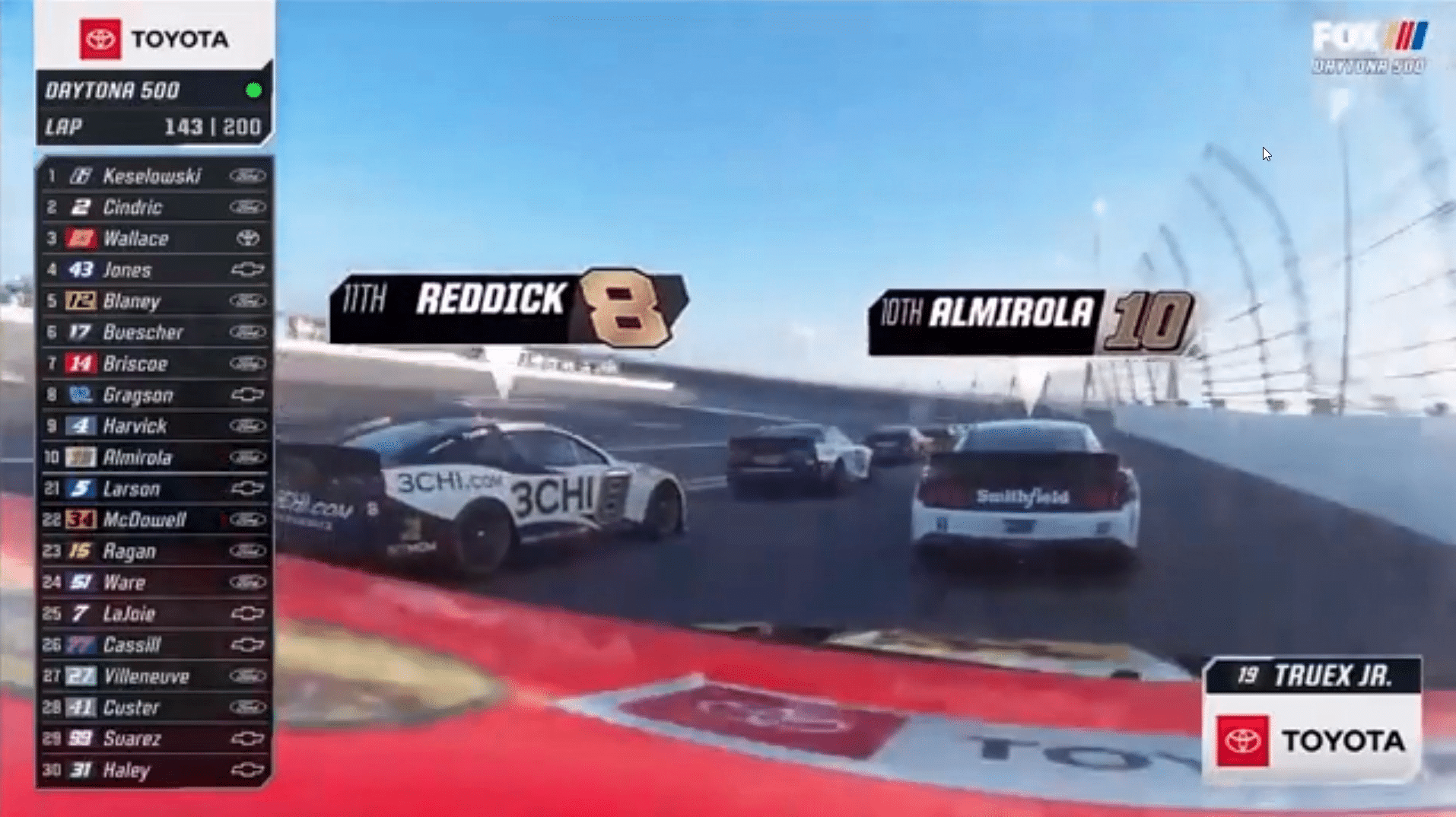 Bergen, Norway – 23 February 2022 – Vizrt, the home of software-defined visual storytelling (#SDVS) and real-time and mixed graphics, today reveals its newest innovation; graphics powered by Viz AI – premiered by FOX Sports in its production of the NASCAR season-opening Daytona 500.
"Thanks to our partners Vizrt we look forward to new ways in which we can layer information on the screen. The new Viz AI technology allows for sleeker and more elegant solutions for data delivery. We plan on exploring how we can use this technology on other sports broadcasts," said Zac Fields, FOX Sports SVP Graphic Tech and Integration.
The 2022 NASCAR Cup Series opens with 64th running of the Daytona 500 at Daytona International Speedway and FOX Sports has been visionary in its approach to enhancing the broadcast for viewers this year. FOX Sports' coverage of NASCAR, which began in 2001, will feature a modern design package for the 2022 season, including the Daytona 500. Overall, the new design focuses on eye-catching colors and adds in 3D elements and informational graphics to add value for the viewer. The new design for "FOX NASCAR" brings a "video-game-like" style to the broadcast and highlights the hero moments for the athletes in a more engaging and compelling way for fans tuning in.
NASCAR is a complex sport, with driver's juggling aerodynamic 'tows' or 'drafting, high G-force friction co-efficient and defensive and offensive driving techniques to try and achieve dominance on the raceway. In such a high-adrenaline maelstrom, just keeping track of each car can be a challenge for the audience.
Vizrt's new Object Tracker, powered by Viz AI, allows the detection and tracking of objects, in this case, race cars, over any incoming video feed. The simplicity and non-intrusiveness are some of the key strengths of the new object tracker – no complex camera tracking or other data inputs are required; a video signal is all you need to apply the groundbreaking AI technology. Once an object has been selected by the user, Vizrt's powerful 3D graphics can be applied to it. This gives the viewer contextually rich insights without having to look away from the action.
"Sports productions are perfectly positioned to take advantage of AI, they are fast, agile and full of data. We are incredibly proud of the success working with FOX Sports to bring its vision to life using Viz AI for the 2022 Daytona 500 introducing dynamic, and captivating content for viewers. And this is just the beginning – this release marks the start of a series of major graphics innovations in 2022 – so stay tuned!" states Daniel Url, Head of Global Product Management, Vizrt Group.
The Object Tracker technology, powered by Viz AI, will be commercially available from early April.