Vizrt Group invests in partners with expanded offering and new program
Vizrt will kick off its first Certified partner program, while NewTek will provide access to the Vizrt product portfolio for the first time and widen its channel ecosystem to include new levels of partners.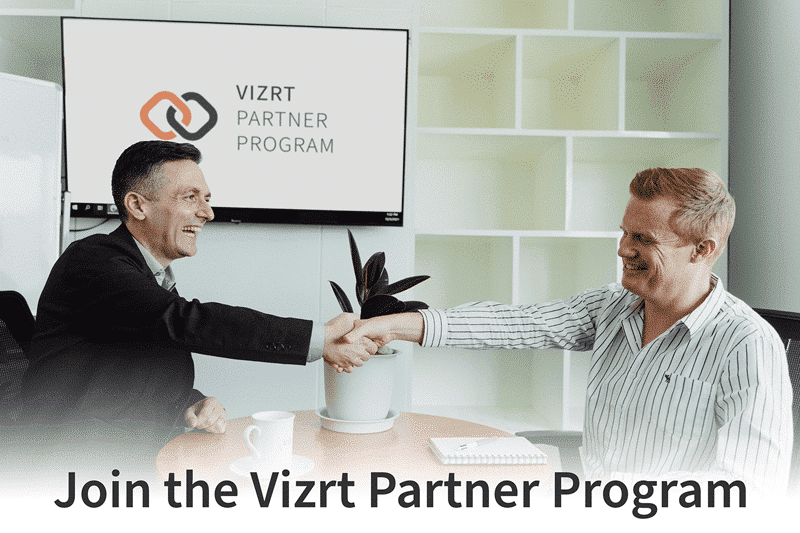 Stockholm, Sweden — 15th December 2022 — Vizrt Group, the global leader in software for live video production, today announces its plans to increase partner investment in 2023 with the first ever Vizrt partner program, and to significantly develop the NewTek channel ecosystem.
The aim of Vizrt Group's substantial partner investment is to extend its certification and training offerings of Vizrt solutions to current and future NewTek and Vizrt partners. This will be the first time since the acquisition of NewTek by Vizrt in 2019, that NewTek partners will gain access to training, certification, and the opportunity to sell the Vizrt product portfolio. NewTek will also widen its channel partnerships beyond its traditional channel resellers with new tiers and offerings for systems integrators, value added resellers, consultants and more.
"Partners have been a key differentiator for our success and as the cross-over of proAV and broadcast grows, we realize the opportunity and importance of uniting our portfolios, extending, and injecting investment into our Vizrt Group partner programs to promote, support and grow our partners' businesses. These new initiatives will add value to our current partners, and offer opportunities to prospective partners across the globe."

Barbara Spicek,
General Manager Global Channels & Channel Strategy, Vizrt Group
While Vizrt does have a series of partners, it has historically not had a formalized partner program. With the new program, customers can choose to buy direct or through partners – depending on what suits them – providing accessibility to Vizrt solutions and expanding the number of local Vizrt experts – globally.
"We spoke with many of our key Vizrt partners earlier this year and realized we can do better. We've been working hard as a team to build out extensive new trainings and certifications to deliver what our partners have been asking for, to better support them in achieving success. And we are really excited to share what we've accomplished so far, very soon," says Vanessa Walmsley, Global Head of Customer Success, Vizrt Group.
The first of the new trainings and certifications will be launched in the new year and focus on live graphics and live production, available for free to all Vizrt and NewTek partners through Viz University.
Viz University will also offer extensive online training and certifications for technical proficiency, integration, sales, and product knowledge to better understand the possibilities of how the NewTek, Vizrt, Flowics by Vizrt, and NDI product portfolios can work together to drive stronger solutions.
"We offer the most innovative and comprehensive suite of software-defined storytelling solutions on the market. Growing our partners and global experts is critical to keeping us as leading innovators. We are in a good position to invest in these spaces, accelerate our customers' access to skilled Vizrt partners, and amplify our growth," states Daniel Nergård, Chief Revenue Officer, Vizrt Group.
More information on the Vizrt Partner Program will be announced in January 2023. Join us for our launch webinar.
The expanded NewTek channel ecosystem with access to the Vizrt product portfolio, will be built out throughout 2023, with more updates and details to come soon.