Vizrt unveils Viz Channel Branding, a powerful new automated channel branding and promo solution
Viz Channel Branding – replacing Viz Multichannel – introduces greater control, stability, and visibility for your automated channel branding and promo needs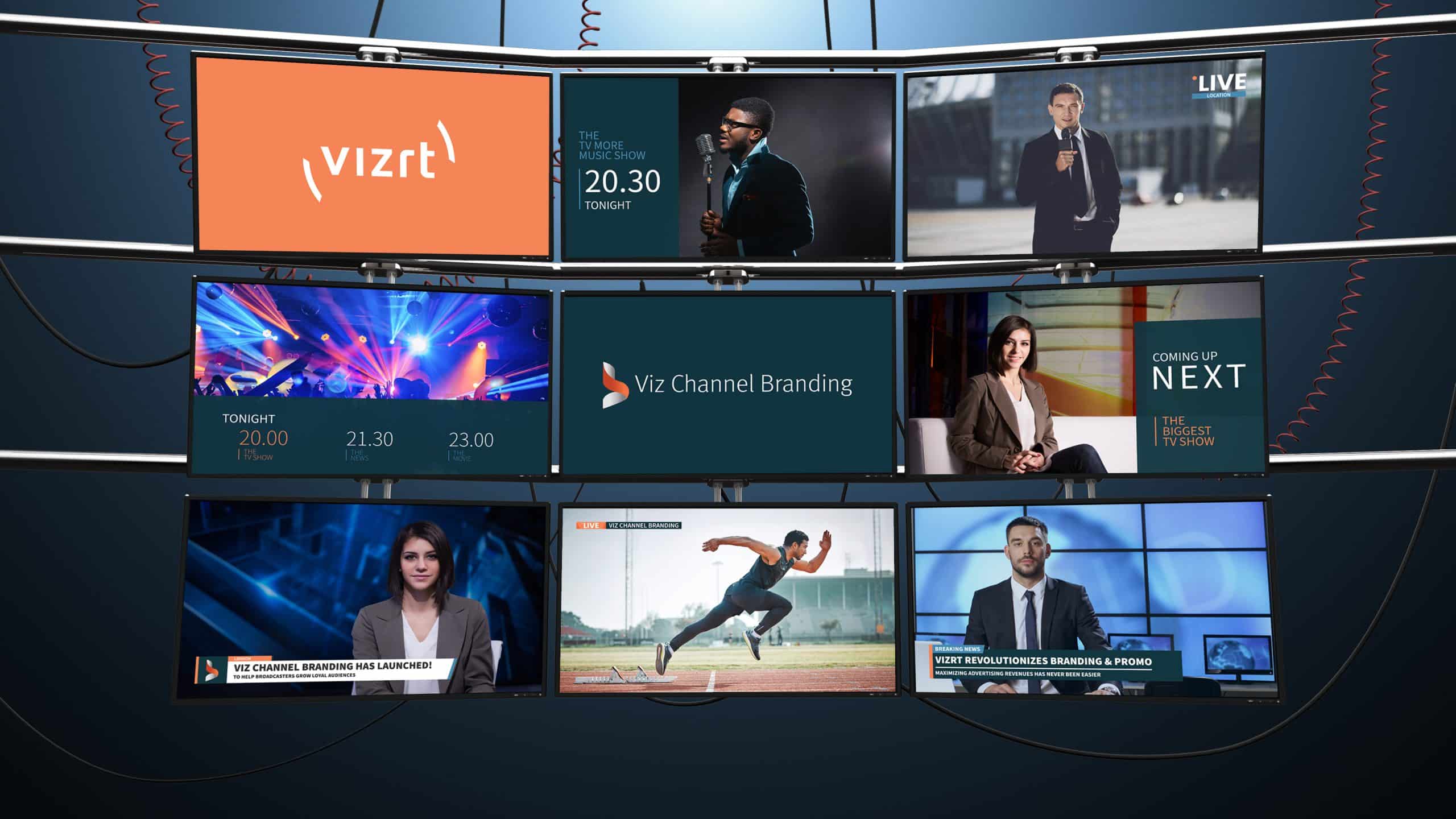 Bergen, Norway—10th July 2023 — Vizrt, the leader in real-time graphics and live production solutions for content creators, announces the release of Viz Channel Branding, ushering in a new era of automated and scalable channel branding, promo, and marketing control for broadcasters across linear playout, FAST channels, VOD, and OTT.
There has never been a more significant threat to audience retention and advertising revenues, with research suggesting up to 50% of audiences "zap" to other content during ad breaks and traditional broadcaster viewing forecasted to shrink to below half (48%) of total video viewing by 2028. Building a strong and recognizable brand and ensuring viewers are kept informed is more important than ever to help broadcasters win and retain audiences.
Automated and scalable branding
Viz Channel Branding is an essential tool in the constant fight for viewer retention and audience growth. Replacing Viz Multichannel, it introduces far greater automation, control, stability, and visibility for your branding and channel cross-promotion needs across all linear and on-demand outputs. On-screen branding events are dynamically built using metadata, rules, and conditions, while tight integrations with traffic and automation systems ensure frame accurate and correct playout regardless of changes to programming.
With Viz Channel Branding, it's never been easier to keep viewers informed and engaged, and to build and maintain a consistent and high-quality brand image that viewers will recognize, value, and be loyal to.
Complete visibility from a single screen
Viz Channel Branding's new Channel Deck™ gives operators complete confidence that branding is being played out correctly and on time through a dedicated window. Providing complete visibility across any number of channels, users can see the planned branding and the result, providing a single source of truth for what's coming and any potential issues.
Enhanced user experience
A fresh and modern user interface makes it easy for both existing and new users to navigate the system so operators can focus on creating compelling content that keeps viewers informed, engaged, and coming back for more.
Seamless failover
At the press of a button, the new Failover Helper web app provides easy failover to a redundant system to guarantee the continuity of channel branding and promos in the event of a technology stack failure, ensuring viewers are always kept informed.
Enhanced stability and integrations
With virtually unlimited playlist abilities, broadcasters can be even more prepared by creating several weeks' worth of promo scheduling in advance. Additionally, advanced API integration with 3rd party playout automation systems enables instant updates, fine-grained control of playlist content, and minimal network traffic for more powerful automated workflows.
"With Viz Channel Branding, broadcasters will enjoy far greater stability – especially those with very large playlists – and a new user interface will make it easy for new and existing users to get the most out of the system. Channel Deck™ and Failover Helper are the stand-out developments, ensuring broadcasters have even more confidence and capabilities in vital channel branding and promo efforts to win the fight for audience viewership and loyalty"

Kerry Stavri
Senior Product Manager, Vizrt