BT Sport Looks to the Cloud to Broadcast UEFA Youth League Game
Recently, the English Premier League's Tottenham Under-19 team played Sporting CP Under-19 team from Portugal's Primeira Liga in Enfield, England. Sporting CP picked up the 2-1 win in an important group play match, but the event also represented a significant broadcasting milestone.
The Union of European Football Associations (UEFA) Youth League features 39 teams in several age groups representing the top academy teams from the biggest club teams in Europe, including Manchester City, Ajax, Real Madrid, Bayern Munich, and Paris Saint-Germain. Currently, in its ninth season, the UEFA Youth League broadcasts its games to promote its content and reach a larger audience. Recently, UEFA partnered with BT Sport to broadcast the first-ever game entirely in the cloud and chose a variety of Vizrt Group products to support the broadcast.
A typical Youth League game broadcast package includes six cameras, a traditional outside broadcast truck, two generators for back-up power, and a satellite uplink truck — all supported by 25 onsite personnel.
Cloud broadcast dramatically reduces the need for people to be onsite or to operate in production rooms – only eight people were required to be at the stadium, while seven other people worked 20 kilometers away at BT Sport's Stratford studios with the necessary infrastructure in place.
"We could've put the control surfaces and operated from anywhere, and that's the magic of cloud production. In our Stratford studio, we have a fantastic internet connection and we're already familiar with the space the team could work in. This not only reduced transportation costs, but it also means the team could work in a more relaxed environment and it benefits the workflow"

Andy Beale, BT Sport's Chief Engineer.
Easy to set up, seamless to connect
BT Sport's cloud-based broadcast only needed six wireless cameras connected to backpacks that transmitted signals to the cloud, using either 5G or fixed connectivity. Built on the Amazon Web Services (AWS) public cloud infrastructure, the team used two AWS instances, one in Dublin and one in London, to provide additional redundancy during the broadcast.
The production team virtualized video and audio using Viz Vectar Plus, a software-based, enterprise-grade 4K switching solution for cloud productions. In regular sports broadcasts, camera switching is controlled and managed by personnel in trucks outside a stadium, but Viz Vectar Plus allowed the BT Sport team to switch from camera to camera remotely from their Stratford studio. Deployable on-premises, in the cloud or as a hybrid solution, Viz Vectar Plus allows production teams to use their best personnel to execute a flawless production, without the need to leave their home studio.
To give its audience the most complete viewing experience, BT Sport showed instant replays from different angles, added slow motion as well as custom animations and 3D video effects – all using NewTek 3Play.
"It was important for us to choose a solution that would reduce complexity for the production. Viz Vectar Plus gave us better control options – the broadcast was sent back to the BT Sport hub, with just seven people operating from a cloud gallery with Viz Vectar Plus. Using public cloud to send the broadcast to the hub, with the right technology making cloud adaptable to how we wanted to operate, we were allowed to build a completely virtualized production center"

Andy Beale, BT Sport's Chief Engineer
Used by in-stadium scoreboard operators and broadcasters around the world, the platform allowed the production team to monitor every angle of live video sources and switch between live shots and stored clips. NewTek 3Play additionally provided game-clock overlay and picture-in-picture, allowing the broadcasters to replay the action while referees evaluated potential penalties. It also provided fans with the opportunity to keep the best parts of the game alive, by making it easy to create game highlights and clips to share after the match.
Smoothly and securely sharing sources with NDI®
Connection between the operators in the studio and at the stadium is paramount to ensure smooth broadcast production, and BT Sports relied on NDI® and the NDI® Tools Suite to manage audio and video workflows during the broadcast. A free suite of applications, NDI® simplifies the production workflow by enabling production teams to stream live video-over-IP to reduce the number of cables, and types of cables, needed.
BT Sport used the NDI® Bridge tool, which securely shares sources between local and remote sites, to bring its production pictures to the commentators and return the audio back into the system. The team used two bridges in high resolution and two in low resolution to provide redundancy if needed.
Combined with Viz Vectar Plus, NDI® Tools allowed the broadcast team to incorporate an infinite number of NDI®-enabled devices and sources from any location and transmit live video to wherever it's needed.
The successful broadcast reinforced the potential for cloud-based productions to reduce the costs associated with fully onsite productions. By eliminating travel for more than half of a typical production team, the event also made the potential to reduce the carbon footprint compared to traditional broadcasts clear. The ability to access network-grade production equipment in the cloud is a gamechanger to create more content, make the best use of their time and resources, and adjust to changing production needs.
"We've seen how successful a cloud production can be for the convenience of broadcasters, but on top of that, we now know that it can reduce the carbon footprint by about 70% compared to an operation from a traditional gallery. With this UEFA Youth League coverage, we took it a step further: all that infrastructure, with the heavy trucks, more equipment, and people traveling on site, wasn't there. This is something that is important for our audiences and for any industry looking to move forward with the future of the planet in mind," concludes Beale.
While cloud-production showcased not only how cloud technology can simplify production, it also highlighted the potential to reduce costs and the environmental impact moving forward. The cloud-based broadcast may provide a blueprint and lead to a major shift in approach to broadcasting future sporting events, with one of this year's IBC Accelerator programs set to explore the remodelling of the OB setup and the shift to software and cloud-based production. "The future is clearly software-based," states Beale, referencing BT Sport's plans to produce more and more sports games in the cloud moving forward.
Want to learn more about how you can produce high quality content in the cloud with the Vizrt Live Production Solution? Get a demo today!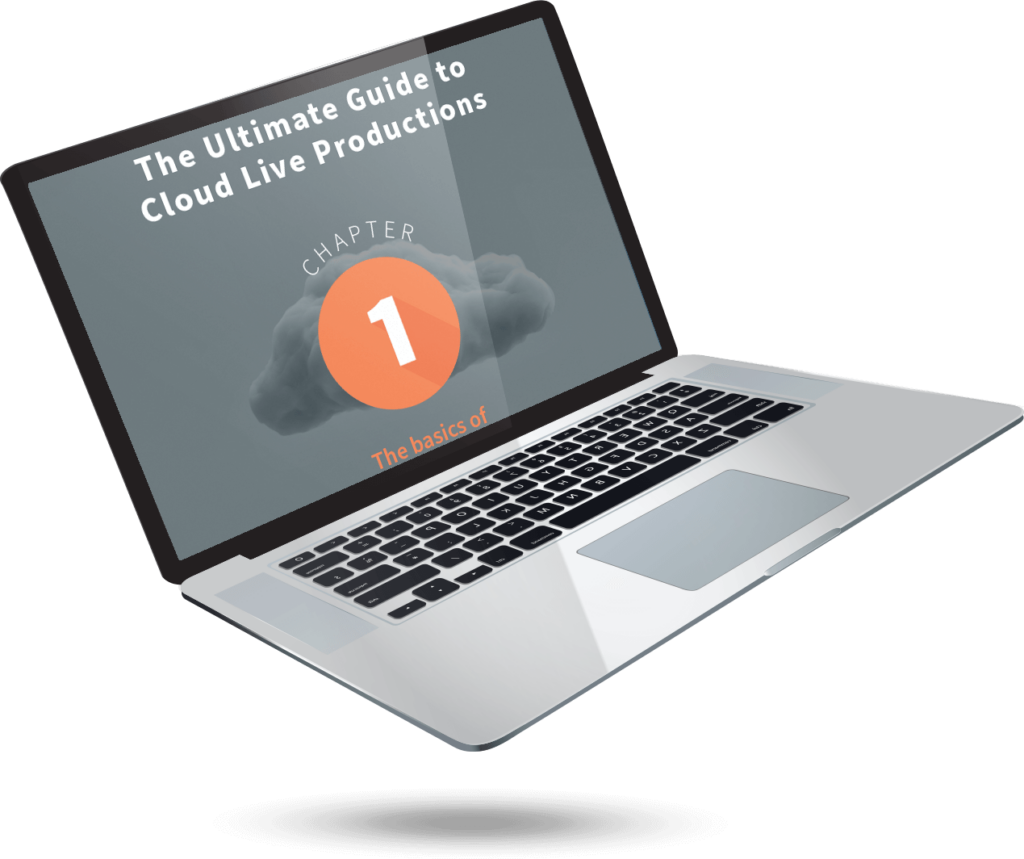 Ultimate Guide to
Cloud Live Productions
Get a comprehensive understanding of cloud live productions with Vizrt's Ultimate Guide. All you need to know about innovative technology for successful live productions. Download now and enhance your live production.