Alaraby partners with Vizrt to futureproof its Newsroom Everywhere operation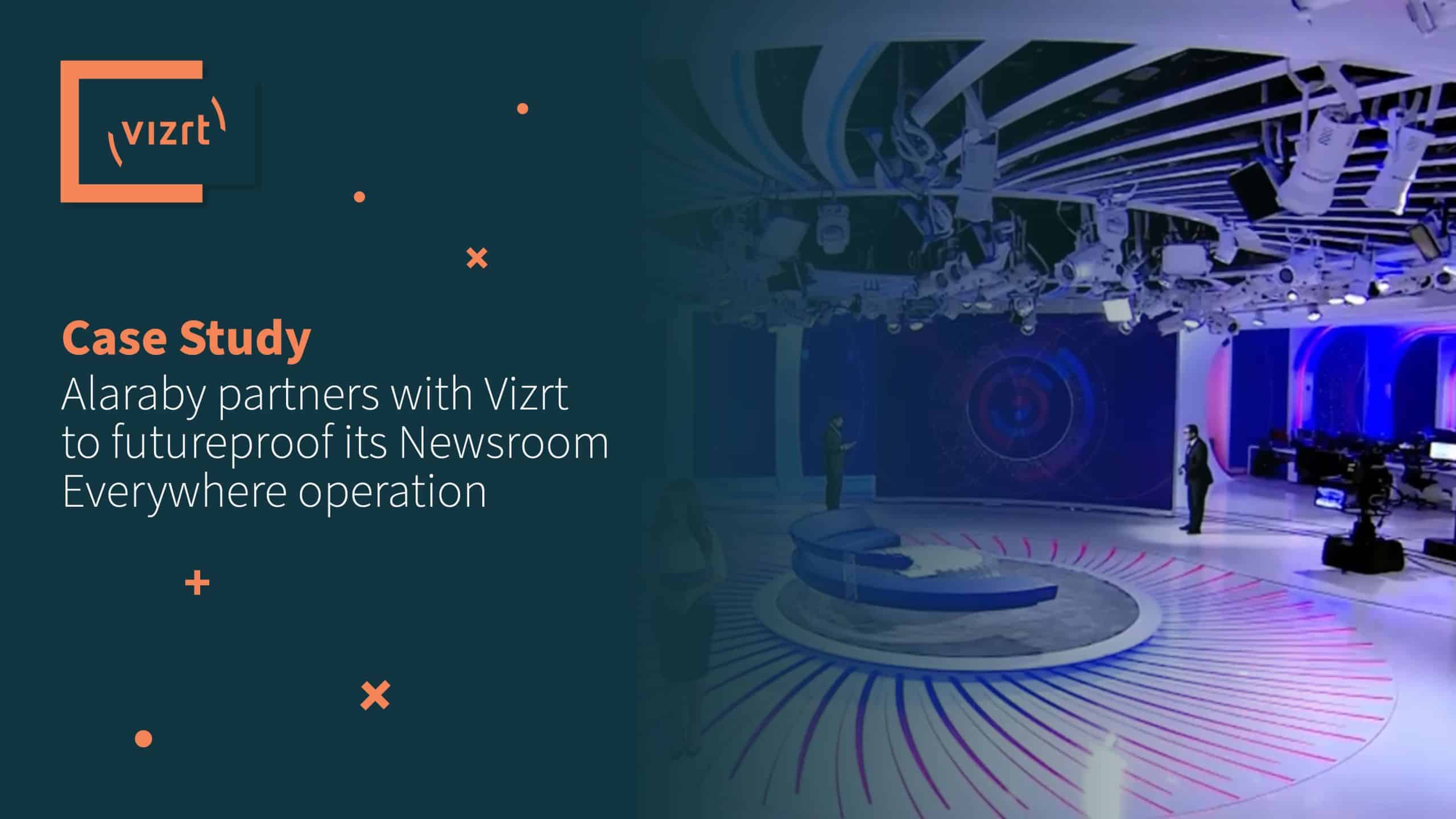 "Vizrt was a no brainer. Vizrt makes us really confident with our visual storytelling."
In 2020, Qatari-owned Fadaat Media, the owners of Alaraby Media Network made a bold decision – to move its headquarters from London to Lusail, just outside Doha. A comfortable two-year window to be up and running in time for football's biggest competition on its home turf. But the pandemic affected the plan. As 2022 approached, and lockdowns faded away, another bold decision was made – a complete 'Lift and Shift' combined with a rebrand, all while continuing to broadcast the daily news and infotainment channels. Alaraby also made a radical change to its news production – deciding on Vizrt for end-to-end graphics and newsroom solutions.
"It was a very challenging operation. It took a lot of planning – migration, technical and operational planning. We didn't have the luxury of time, so multiple operations were running at the same time.
"Vizrt was a no brainer. When you want to go to a Class A news channel, where everything is integrated and you can work from anywhere, you need to go with a capable partner that you trust, most importantly, that they believe in, and understand your vision," says Ali Husseini, director of broadcast operations and creative services at Fadaat Media.
From London to Lusail
The modern, fully IP Alaraby news facility, featuring a 50 sqm video wall, three studios, and two production control rooms, is in the Burj AlFardan Lusail, outside Doha. It's a stunning broadcast center and has attracted industry attention for combining elegant floating sets with market leading broadcast hardware and technology.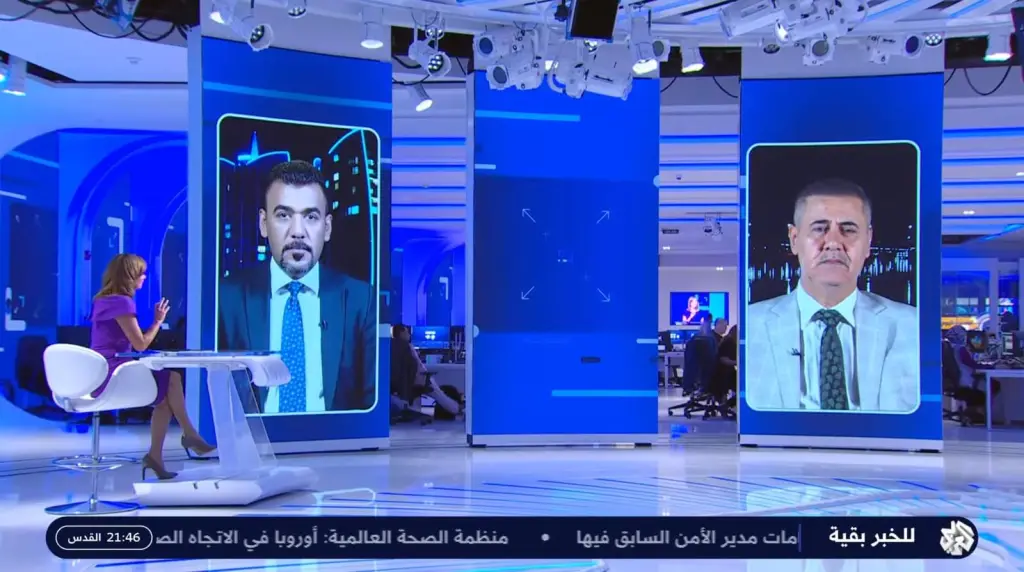 This is the new home to around 600 employees at Alaraby, the news channel, and the infotainment channel, Alaraby 2.
Core to its news production is the Newsroom Everywhere ethos – effortless management of distributed staff and workflow across multiple time zones, spaces, and geographical boundaries. The result is a completely connected global newsroom with full editorial, graphics, and technological alignment.
"We are a young channel. What's different about Alaraby is we deal with the news in a completely different manner. We go into areas that usually people, other entities or competitors, don't go – we focus on human stories."
Newsroom Everywhere realized
Key to this connectivity is ensuring that journalists on the ground and the bureaus gathering those unique human stories have the same access and connectivity as producers working in Lusail to independently create and deliver stories.
Viz Pilot Edge made it possible for correspondents on the ground to access, search, and use templates just like their colleagues in the main newsroom, to produce from anywhere. "We worked closely with Vizrt to improve the early version of Viz Pilot Edge. They listened to us about what we needed. Now if you look at Vizrt [at Alaraby], it's completely different – AR, XR, VR, integration with Unreal Engine, all the automated workflows we have with Viz Pilot Edge – data integration, the Viz Arc controls for virtual production. But most importantly – collaboration, ease of use, and support," emphasizes Husseini.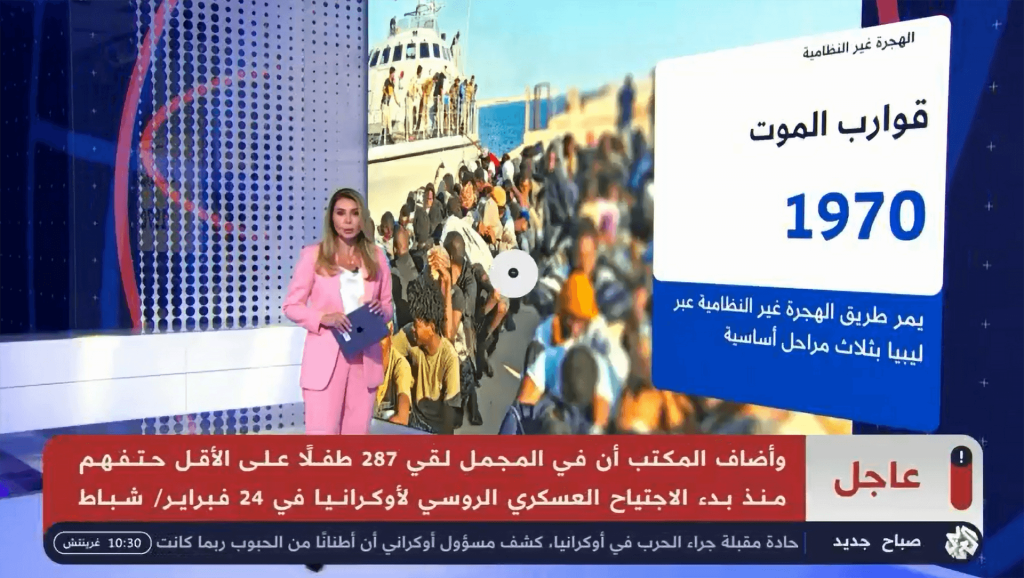 Maha Rezeq, producer of the social media-driven program, Tawasul, agrees, "The thing that's very distinguishable about Vizrt is the ease and creativity it provides. We use charts, numbers, tweets, Facebook posts, maps, and everything is heavily dependent on templates. It makes the story more visual, and it makes my life easier as a producer, especially during breaking news."
Viz Pilot Edge's templated workflows make it easy for journalists to create and publish graphics to complement their stories, anytime and from anywhere. Additionally, with TypeScript (a superset of JavaScript that supports scripting for more sophisticated templates), the designers are able to easily code and create custom templates specific to their needs.
"The best part was Template Builder and TypeScript, which has completely ruled out the need for Custom HTML, so I don't have to use (Custom) HTML templates for Viz Pilot Edge. We are using TypeScript, combo templates, and Transition Logic. You get all the flexibility that you had in Template Wizard (Viz Pilot – ActiveX) earlier – you can do dropdowns, checkboxes, which is very good," says senior graphics designer Faisal Roshan.
"Initially, we built our templates into HTML, because we had Arabic text. And normally Arabic letters are quite small for the operators to read. With TypeScript, we were like 'Oh, great', it has got all the capabilities we have been looking for, and it's easy to use for journalists."
Full IP facility
Because of the tight deadline and time constraints, Husseini's goal was to get products that required minimal training and would give his team full flexibility.
"Everything is being converted, everything is moving to IP. We are using the latest (SMPTE) 2110 protocol. It reminded me a lot about the shift we experienced in broadcast going from SD to HD. And personally, the IP infrastructure was like 'wow'. I have worked in so many broadcast centers, from SD to HD, with linear, automated workflows. What's great about IP is it works, and it works easily. The benefit of IP is if you do good planning, design, and rollout, it's easy to install, configure and most importantly, scale up," adds Husseini.
Going full IP gives Alaraby the flexibility to choose, switch and trigger any source on the Viz Engine with a single click. For video wall displays they rely on Viz Multiplay, which can control multiple video walls.
Visually appealing storytelling
"All our working spaces at Alaraby are designed to make production flexible."
"We moved fully in September, and by November 18 for the kickoff, we had a full-fledged AR studio. This was our main studio for the next 30 days using a whole array of Vizrt products."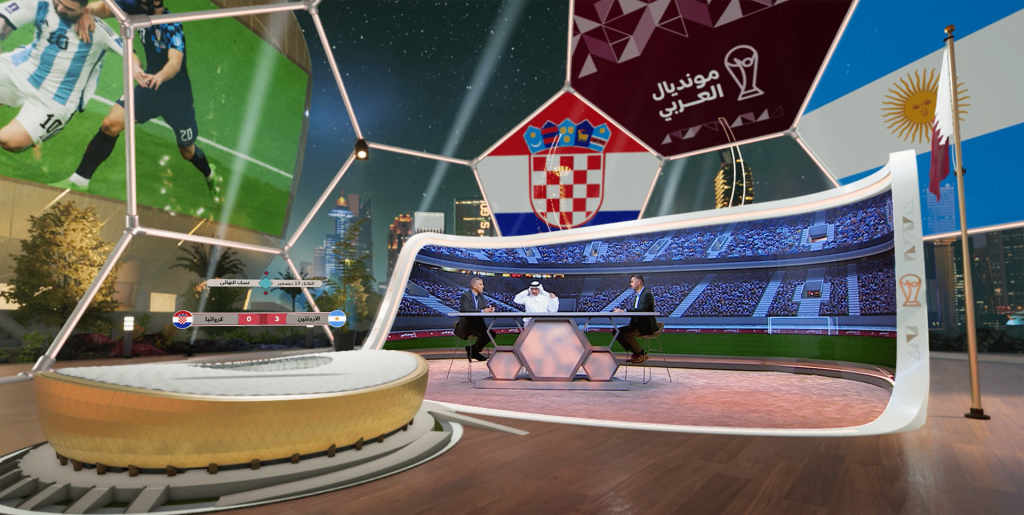 Roshan adds, "We were thinking of how we were going to do this. The event was here, and we had the privilege to, you know, shoot at the stadium itself. We discussed if we were going to build an outdoor studio or do it all indoors. And then we said, we have a great tool, Viz Engine with Unreal Engine integration, why don't we go virtual instead? So, we turned our video wall into a virtual window, moving the camera so the 3D inside the videowall is also moving and opens a space for storytelling. And we used Viz Engine to show the data. Everyone liked it. It was a hit show."
Husseini, an industry veteran, and his team can be proud of orchestrating the massive undertaking of moving operations 6,000km in eight months, in time for the world's most prestigious football competition which Qatar was hosting, while simultaneously building a flexible, futureproof newsroom – all while continuing to output daily production. "In the end it's storytelling. The tools of Vizrt are being used to allow us to develop the stories that we have in a very appealing way. What matters is the 1080 screen that the audience sees. What matters is speed, ability, quality, and ease of use. And with our creative consultants using the Vizrt tools, everything was easy. Vizrt and Alaraby – it's trust. We understand each other."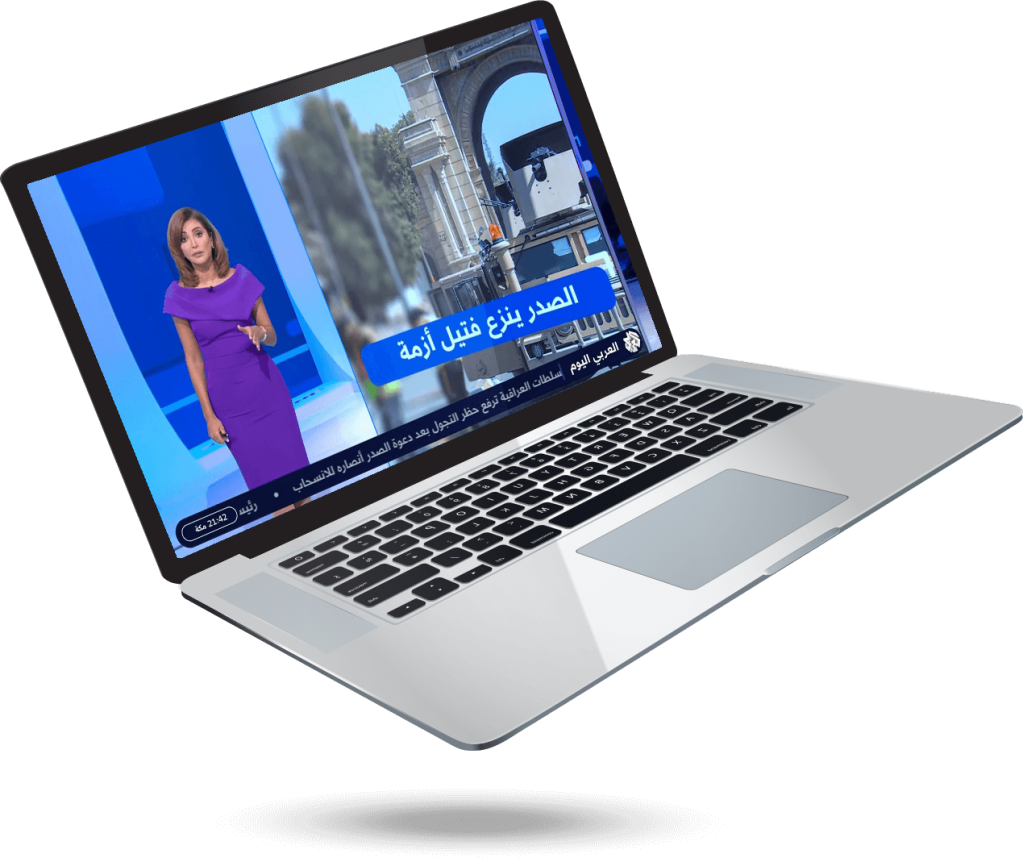 Futureproof Newsroom
For a more in-depth interview with Ali Husseini on how Alaraby is using Viz Pilot Edge to support hybrid and story-centric workflows, and a look at the latest version of Viz Pilot Edge.
Vizrt Solutions supporting the Alaraby vision