Watch our recent webinar, 'AR Innovation Explained', as Vizrt Group CTO Gerhard Lang and presenter Chris Black dive into the details of how Vizrt is pioneering new paths in immersive storytelling enhanced by Viz Engine 5's advanced rendering capabilities. The duo will provide an in-depth explanation of the graphics workflow, tech, and infrastructure used for Vizrt's NAB stage show. You'll even get an inside peek at some of Viz Engine 5's exceptional features, plus a few surprises.
Main Topics
Video wall production
Set extensions
Teleportation
Virtual windows
Data-driven graphics
Adaptive graphics
And more!
Meet Your Presenters
+
Chris Black,
Head of Brand and Content, Vizrt Group
+
Gerhard Lang,
Chief Technical Officer, Vizrt
If you didn't make the annual pilgrimage to Las Vegas this year, you missed out on two groundbreaking Vizrt innovations.
First, Vizrt's XR Set studio video wall, which provided the immersive backdrop for the Vizrt Experience – The Las Vegas Edition stage show. And it was no average video wall.
Instead, it was a high-frequency video wall from ROE Visual. Normally, in virtual sets or XR studios, you'd get one virtual window and one position per camera. Any other feeds would be unusable as their perspective wouldn't match the virtual extension.
show more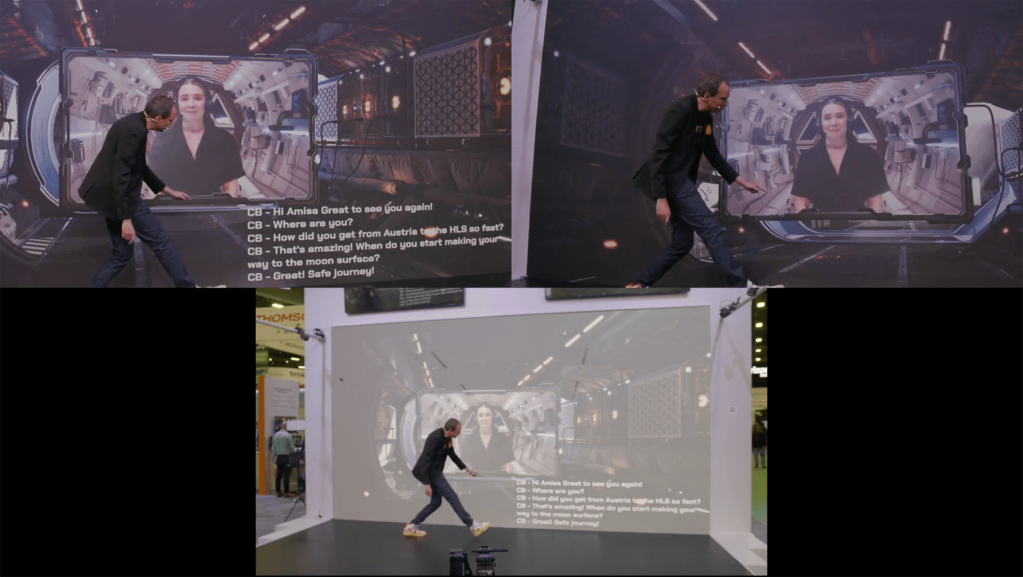 How was this limitation mitigated? GhostFrame™ enables up to four camera feeds into an LED screen up to 60hz – then it can split the feeds with some visible only to viewers watching the broadcast, and others only to the presenter and production crew. The result is a more comfortable and natural experience for the talent. The presenter can look away from the camera and directly at the video wall or the AR object. At the same time, the presenter can read from the GhostFrame hidden teleprompter on the video wall.
This inter-dimensional live production workflow sets the stage for Vizrt's second innovation – Reality Connect™. Reality Connect introduces a new era of AI-driven 3D talent immersion by enabling real-time high-fidelity talent reflections and shadow casting – natively within Viz Engine 5 and using only a single GPU! See for yourself in the 'Tokyo Cyber-Punk' scene in the webinar above.
show less