BBC Wales reveals studios & post facilities in new HQ
Broadcast takes an exclusive look inside the corporations's new IP-equipped Cardiff HQ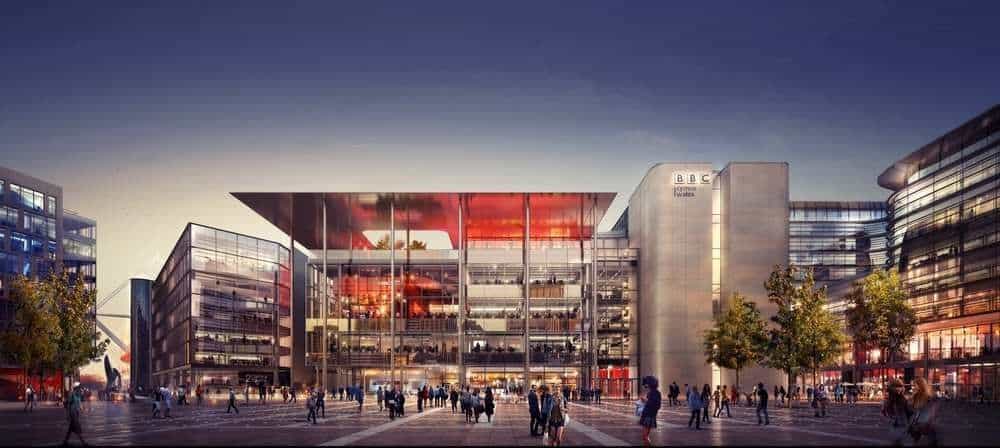 The following is an excerpt of the original article published by Broadcast.
BBC Wales has given Broadcast an exclusive tour of its new Cardiff Central Square HQ, as it begins an 18-month technical fit-out of the building.
It will move about 1,200 staff from its current offices in Llandaff, Cardiff, to the new site next year.
The 150,000 sq ft building, which is around half the size of its current office, was first announced in 2015. It's the broadcaster's first relocation for more than 50 years and is designed to vastly reduce operating costs and provide BBC Wales with a future-proof, contemporary environment equipped with cutting-edge technology.
The broadcast centre will be the first BBC facility to be built around IP technology for both its production and broadcast operations, replacing SDI technology, which will become obsolete over the coming years.
BBC Wales head of technology Roger Crothers showed Broadcast around. First, he explained why BBC Wales chose to adopt IP: "We're in here for 20 years and have to make sure we're spending licence fee-payers' money as best we can. The biggest benefit of using IP is about future-proofing. In the SDI world, if we bought an HD router today and then in five years wanted to go Ultra HD, we'd have to rip out £1m worth of routers, throw them in the bin and buy some Ultra HD ones. With IP, we don't need to do that."
The new BBC Wales HQ is spread over five floors, with a rooftop garden that can double up as a shooing location. On the ground floor, there are three TV studios and an additional flexible space, which is adjacent to the studios and next to a big open atrium area. BBC Wales plans to use this for either audience handling or as another shooting space, as it will be equipped with a lighting rig. There are three studio galleries that can work with any of the studio spaces.
The largest studio is around 3,500 sq ft and is equipped with a Vizrt AR graphics system. "We will have a number of cameras in there that allow us to shoot at different angles while still maintaining the AR," said Crothers.
The second studio, which is also equipped for AR, is around 1,600 sq ft and will be used for news. The final "much smaller" studio is a full VR green-screen space. "It's quite a narrow space but the VR will give the impression it's much bigger than it actually is," said Crothers.
BBC Wales is co-locating with S4C and the pair will share studio space for their daily news programmes. There's a gap of around half an hour between each show, so "we've tried to automate as much as we can to allow that switchover", said Crothers.
In addition to the different studio spaces, the building will have 20 'inject points' located throughout, where cameras can be plugged in – including in the rooftop garden. IP will route the signals from any of the inject points directly to the gallery.
Elsewhere in the building, there's a large post-production area with around 30 suites in total. There are 10 online and 20 offline edit rooms, a grading suite, which Crothers said will "possibly be a Baselight, as that's what we've got at the moment", plus three audio dubbing theatres.
Read the original article by Broadcast.