The following is an excerpt of an article by SVG.
The inaugural Overwatch League season comes to a close this weekend with the Grand Finals at Brooklyn's Barclays Center, and the Blizzard Entertainment production team is lending it the "Blizzard polish."
With a sold-out crowd at Barclays Center and millions more expected to tune in online and on TV, the tournament represents one of the largest live esports events in North America to date and the culmination of a whirlwind first Overwatch League season.
"From a Blizzard Entertainment perspective, this the largest standalone esports production that we've produced," says Pete Emminger, senior director, global broadcast, Blizzard Entertainment. "BlizzCon as a whole project is bigger since we have actually have five of our esports finals there, but, in terms of a standalone final, this is just massive.
"We have an internal term 'adding the Blizzard polish,' which basically means all of us are constantly driving to make every single [element] better for every single show. So everything we're doing here is based on what we learned during Overwatch League Season 1, and, every week, our goal is to make it better than the last week. Our goal this week is to make [Grand Finals] the best show of the season."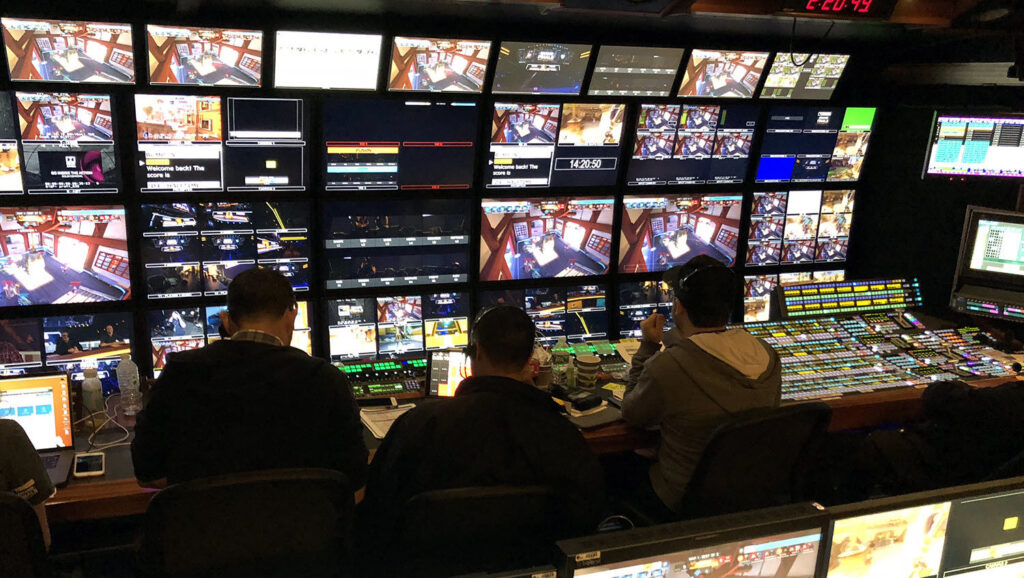 In addition to a sold-out crowd at Barclays and millions streaming via Twitch, MLG.com, and OverwatchLeague.com, this weekend will mark one of the biggest splashes on television for esports when live coverage airs on ESPN tonight and Disney XD tomorrow (as well as recap show on ABC on Sunday) as part of a recently announced rights deal.
The LED Bonanza: Grand Finals Feature a Grand Video Wall
Not surprisingly, the LED video complement inside Barclays for the Grand Finals is monumentally large, headlined by a massive newly-constructed 165'x'36' LED wall above the stage with 10x 4K resolution that weighs 23,636 pounds and required 21+ semi trucks to roll in.
Blizzard Entertainment worked with NEP's Creative Technology to deploy the main board along with the plethora of additional LED boards scattered throughout the arena.
Blizzard is also leveraging the Barclays in-house infrastructure and all its LED ribbon boards and concourse monitors (the center-hung board is not be used because of sightline constraints). Prior to the event, Barclays updated its graphics system to add the capability for live playout in order to serve Blizzards needs.
"Barclays worked with us and updated some of their signage tech in advance so that we could integrate all of their systems directly into our custom programming that we use to create some of the game highlights and our stat systems," says Emminger. "They were really cooperative and have been great to work with."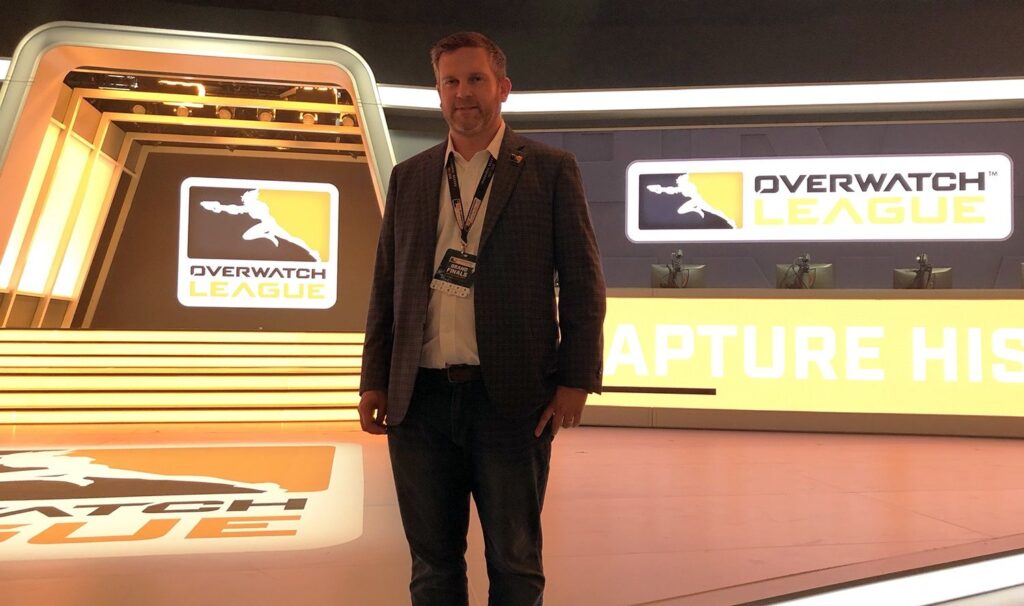 Blizzard uses a custom software program (similar to the platform used at Blizzard Arena) to operate its entire show. The in-venue production and the live broadcast are heavily integrated, sharing the same control room and outputting the same live-coverage feed.
The in-venue LED show graphics are played out using a custom-designed TouchDesigner system, while the broadcast show relies on Vizrt graphics.
"Our [in-venue] and [broadcast] shows are completely integrated. The same director calls the entire show for both and we share the same cameras," says Emminger. "On the [LED wall], we'll have the main game play in the center and then hero panels on both sides, which come directly from the Overwatch game engine."
In addition to constructing a new stage and LED wall, Blizzard is debuting a new three-person studio set that is located in the back of house right – just a few feet away from the shoutcaster commentary area. ESPN has also rolled out a small set, where it is hosting a pre-game shows on Twitter using a small flypack.
The production is using 10 hard cameras, four robos, one RF camera, and 12 Blackmagic Micro Cinema POV player cameras (six for each team).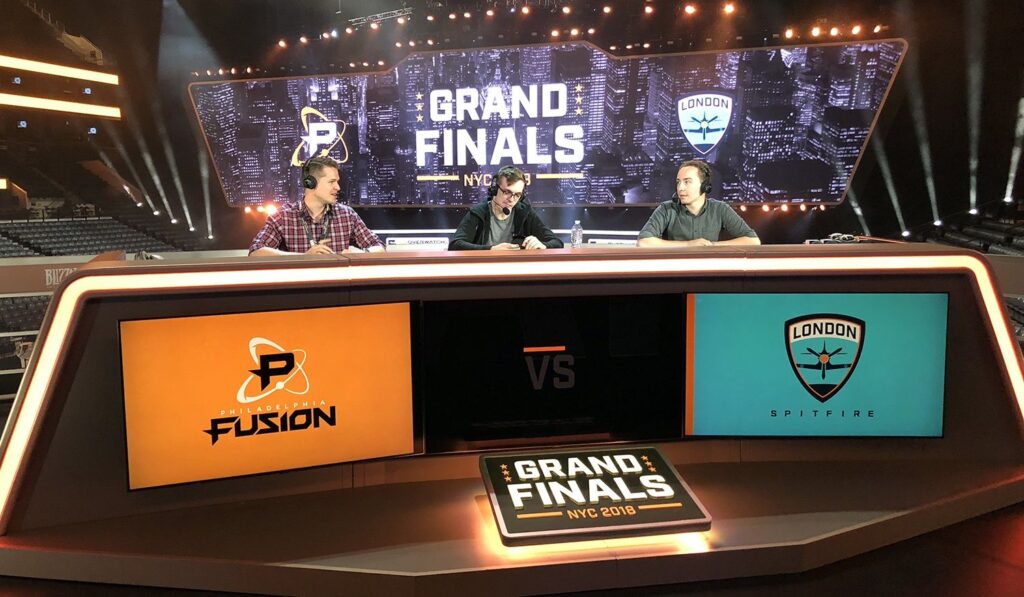 On the audio side, the operations team has replicated customized tournament audio system deployed at Blizzard Arena, with well over 100 audio inputs.
"For those not in the [esports] business, it hard to understand just how complex the audio environment is," says Emminger. "Audio from a player talking into his mic might go in the live broadcast, and it might go in a post package. But, most important, his teammates have to hear him, and all the team members have to be able to hear their own game computers, which is really critical. So we have a very big matrix and a customized workflow to support that system here."
Blizzard is also live-streaming press conferences from Barclays and Overwatch League All-Access Pass subscribers on Twitch will have the opportunity to ask players and coaches questions.
Read the full article by SVG here.