Viz Arena 5.1
Elevate and monetize your game with simplified control and advanced keying powered by Viz AI
Viz Arena's unrivalled tracking functionalities have been extended to AI-powered keying technology trained for Soccer and Basketball, and fail-safe Advanced Cut detection, a fully integrated Viz Arc and an open control API. With this release, Viz Arena is becoming smarter, more flexible and more convenient to operate, making it easy to raise the production value of any sports coverage with live 3D virtual graphics.
Keying excellence powered by Viz AI – for Soccer and Basketball
Viz AI automates keying based on dedicated algorithms trained for each sport, significantly improving the visual quality of graphics-enhanced sports productions. Focus of the new Advanced Keyers powered by Viz AI is on solving specific ambient conditions traditional keyers were unable to solve. The Advanced Soccer Keyer mitigates the effects of changing daylight conditions and strong sun/shadow contrast in stadia, whereas the Advanced Basketball Keyer masters court reflections and similar foreground/background keying colors. Without manual interaction by the operator, the system ensures flawless appearance for inserted graphics every time, resulting in real and virtual logos, cam carpets and banners that are indistinguishable.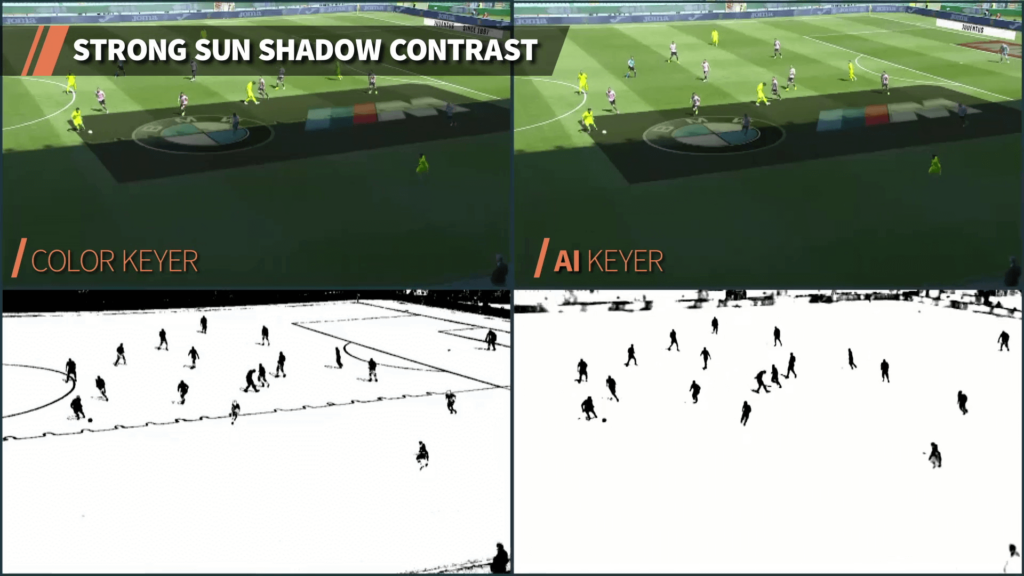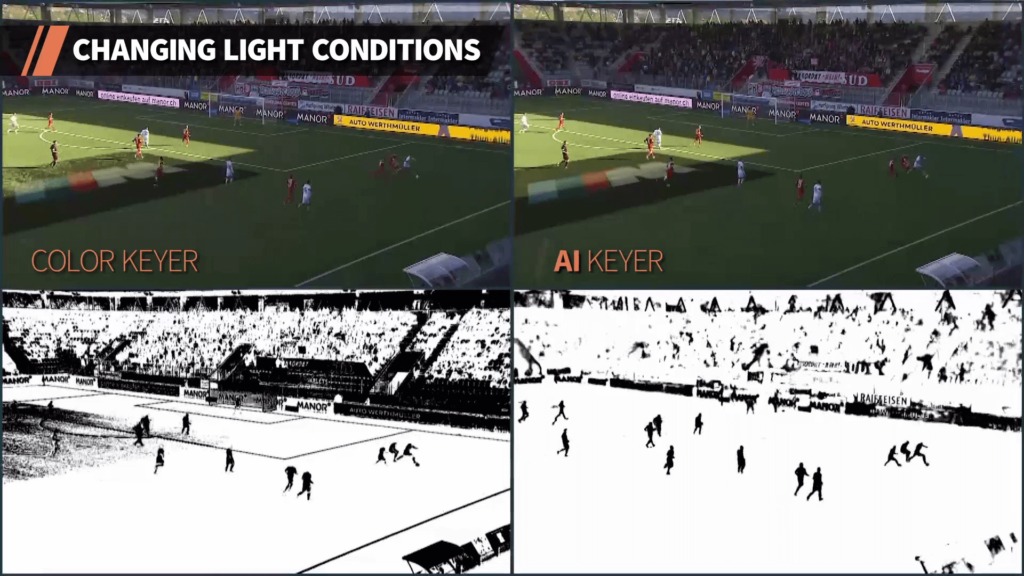 Advanced Cut detection – Automated perfection
Viz Arena's new Advanced Cut Detection (ACD) solves the challenge of handling the virtual graphics insertion during any camera transition, hard- or soft cuts and wipes. Fully automated and without manual intervention by the operator, the feature frame-accurately and 100% fail-safe activates and disables virtual graphics on the program feed in a downstream workflow.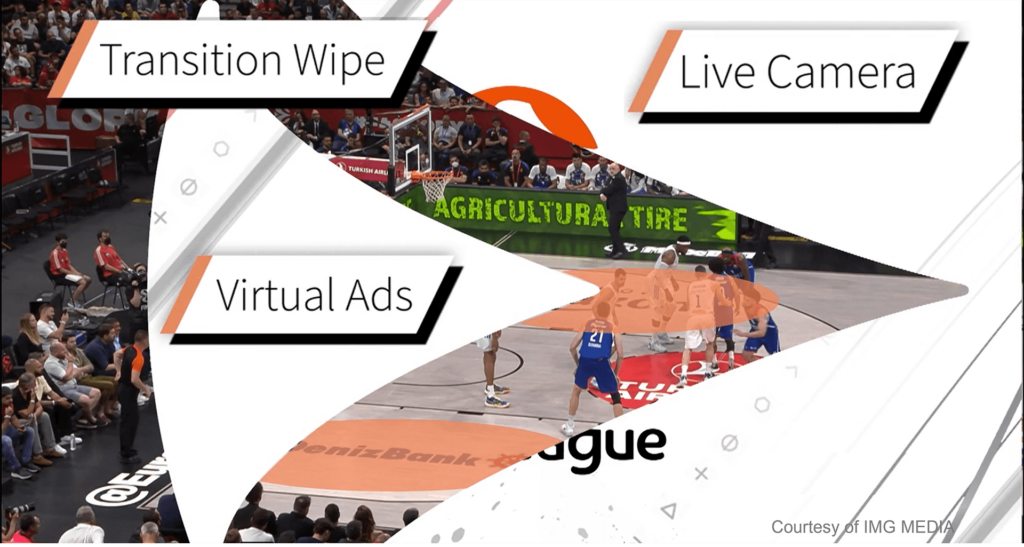 Viz Arc Integration – Better and simpler control
Operating Viz Arena has become more straightforward and flexible with the full integration of Viz Arc. It combines all functionalities to control advanced graphics or workflows, such as playlists, rundowns, data integration or line-ups and enables tracking, keying, positioning and triggering of the graphics at the user's fingertips directly from a single interface. By integrating Vizrt's innovative AR control application, users unlock the comfort and ease of Viz Arena's unmatched tracking and keying capabilities and Viz Arc's control flexibility out of one GUI.
With this integration, users can build their own GUI with Preview Video available as an NDI® feed to trigger all live commands.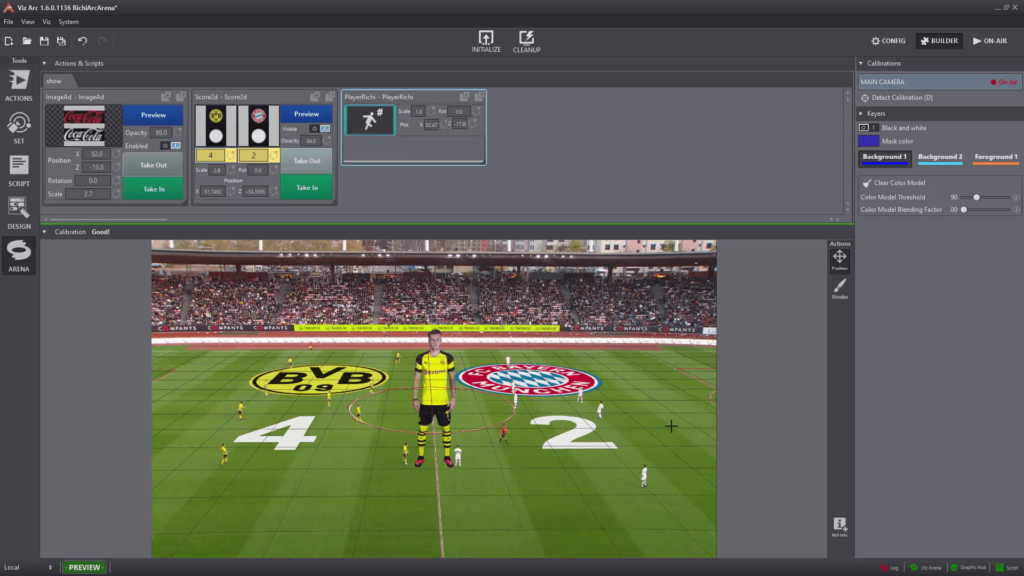 Improved calibration process
Improvements have been made to speed up and increase accuracy of the calibration process when preparing a production. In addition, more feedback is available to the operator with a new progress bar that informs the operator about the calibration status.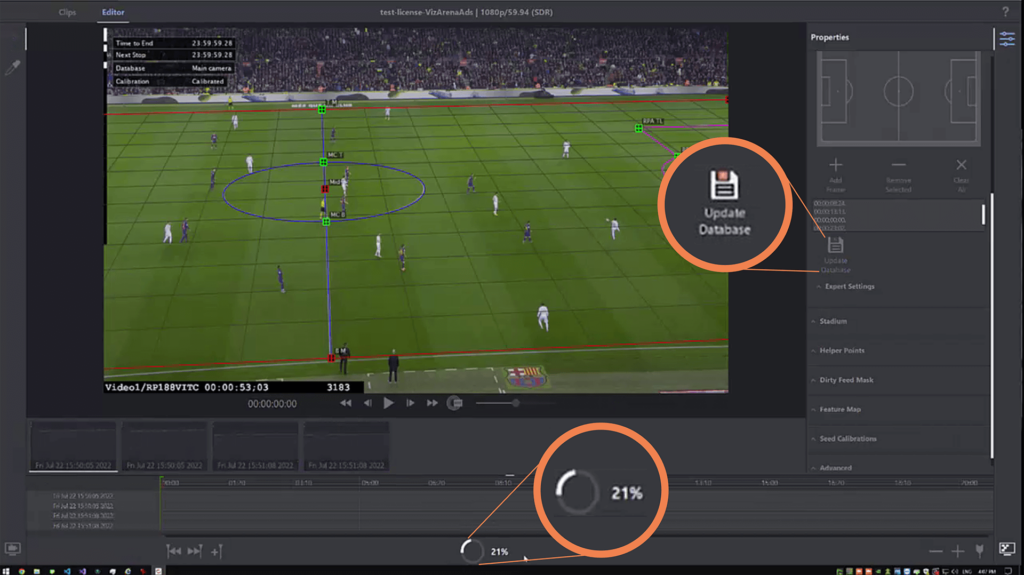 Other improvements include:
The latest Nvidia Ampere cards have been certified for Viz Arena
Installation Files and Release Notes
Active customers can download the installation files, release notes and driver requirements from the FTP server: FTP/Products/VizArena/LatestVersion