Viz Mosart 5.2 and Viz Mosart Web Apps 1.6
The latest release of Viz Mosart 5.2, combined with the release of Viz Mosart Web Apps 1.6, brings a host of new and improved functionality to your studio automation workflows including the ability to use commands on preview, pre-animate graphics in preview, and see a read-only overview of your rundown from anywhere using the brand-new Rundown Viewer.
Viz Mosart 5.2
Control Commands on Cue
Viz Mosart's powerful Control Commands functionality has been extended to include the ability to recall actions when the template is in a Cued state (and not only on Take, Take Out, and Continue Points as previously possible).
Being able to trigger events when a story item is taken to Preview provides more flexibility in preparing the output (or doing any other action) before taking it to air.
Want to see it in action? Check out this quick Viz Minute video for it below!
Pre-animate graphics in Preview
There may be some scenarios where the pace of the show requires graphics to be displayed without the usual animated transitions. Rather than create and maintain additional templates for this purpose, you can now choose to pre-animate your graphic in Preview before it goes on-air, then cut the graphic in its animated state to PGM.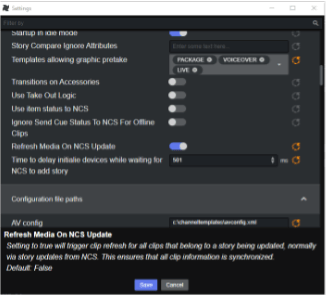 New Manus Administrator
This release introduces a new Manus Administrator; a single application which will replace the separate MOS-based and iNews-based Manus Administrator applications. This provides a simplified architecture and a new user-friendly config manager, including the ability to auto-reload after each setting change for easier use.
Ardour audio mixer support
Viz Mosart now supports the Ardour software-based audio mixer via the OSC protocol. This includes Harrison Mixbus VBM, which is based on Ardour and is offered with Viz Vectar Plus and Viz Now.
Preparation for Wibu licensing
In a later version of Viz Mosart, feature control through Wibu licensing will be introduced in line with other Vizrt products. To prepare for this change, Viz Mosart 5.2 starts to introduce Wibu licensing functionality without taking any restrictive effect. After installation, you'll notice a new License Configuration UI and a Notifications icon in the client, with a message explaining this. There's plenty of time to get your licenses sorted in preparation for the future update – please speak to your Account Manager for more information.
Download the installers and read the full release notes available on the FTP.
Mosart Web Applications 1.6
Mosart Web Applications 1.6 (March 2023) introduces exciting new apps and features to improve flexibility in your studio automation workflows.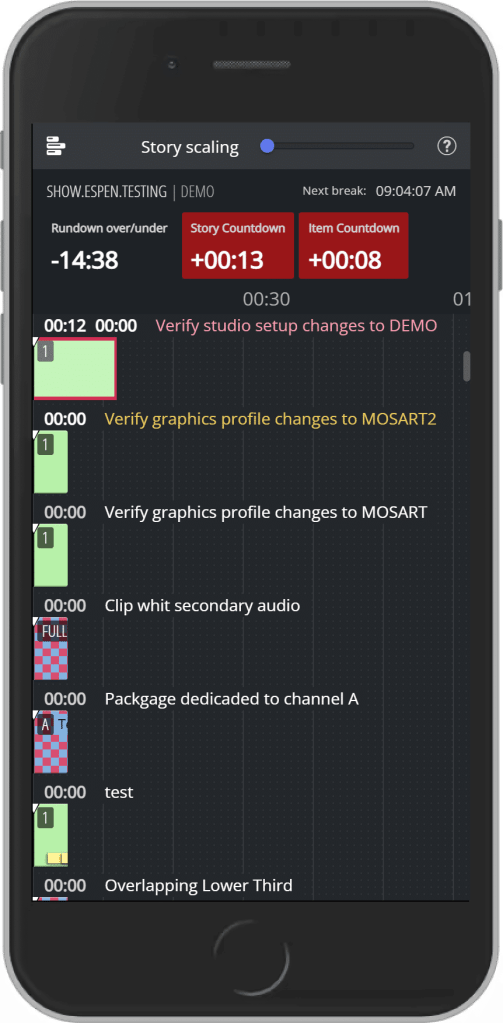 Read-only rundown access from anywhere
The new Rundown Viewer (first introduced in 1.5) gives all users a read-only peek at the running status of the show that is currently on-air, from the convenience of your browser, tablet, or mobile phone.
You can use it anywhere in your facility that your network configuration allows, with no client installation needed – just open your browser and go to the URL that you've saved as a bookmark. As the Rundown Viewer application is read-only, it is safe for anyone to open without disturbing the show.
The dedicated mobile device layout optimizes screen space and offers a "Go to On Air" button that immediately scrolls to the current on-air story, along with a Timer section to provide focus on the most critical information.
The story scaling feature in Rundown Viewer lets users choose the horizontal timeline density, without affecting the vertical scale and text sizes.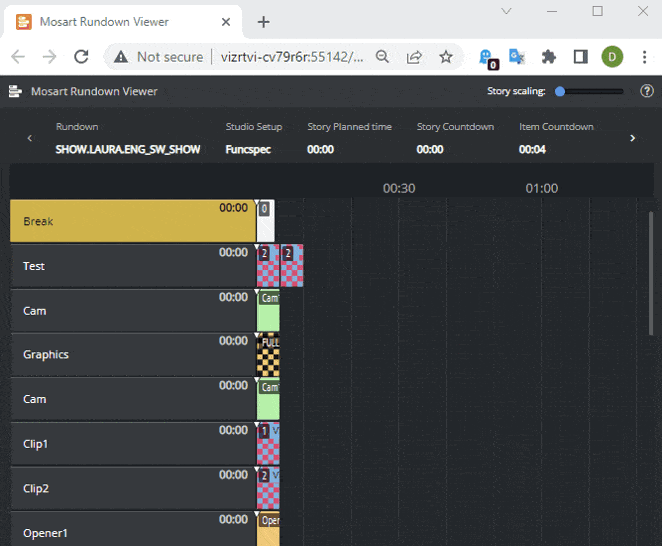 More power to the NRCS plugin
The HTML-based NRCS plugin now offers a faster user experience with keyboard navigation (introduced in 1.5). In addition, text highlighting now makes it easier to glance through your search results.
Newsroom tags are now supported for Engine Switcher animations, meaning the journalist using the NRCS plugin can now easily specify a preset CUT / TAKE transition.
For more information, please see the Viz Mosart Web Apps 1.5 Release Notes and 1.6 Release Notes.