Keeping the VizrTV lights on
How Vizrt used Viz Mosart 4 and NDI to remotely control studio facilities when most employees are working from home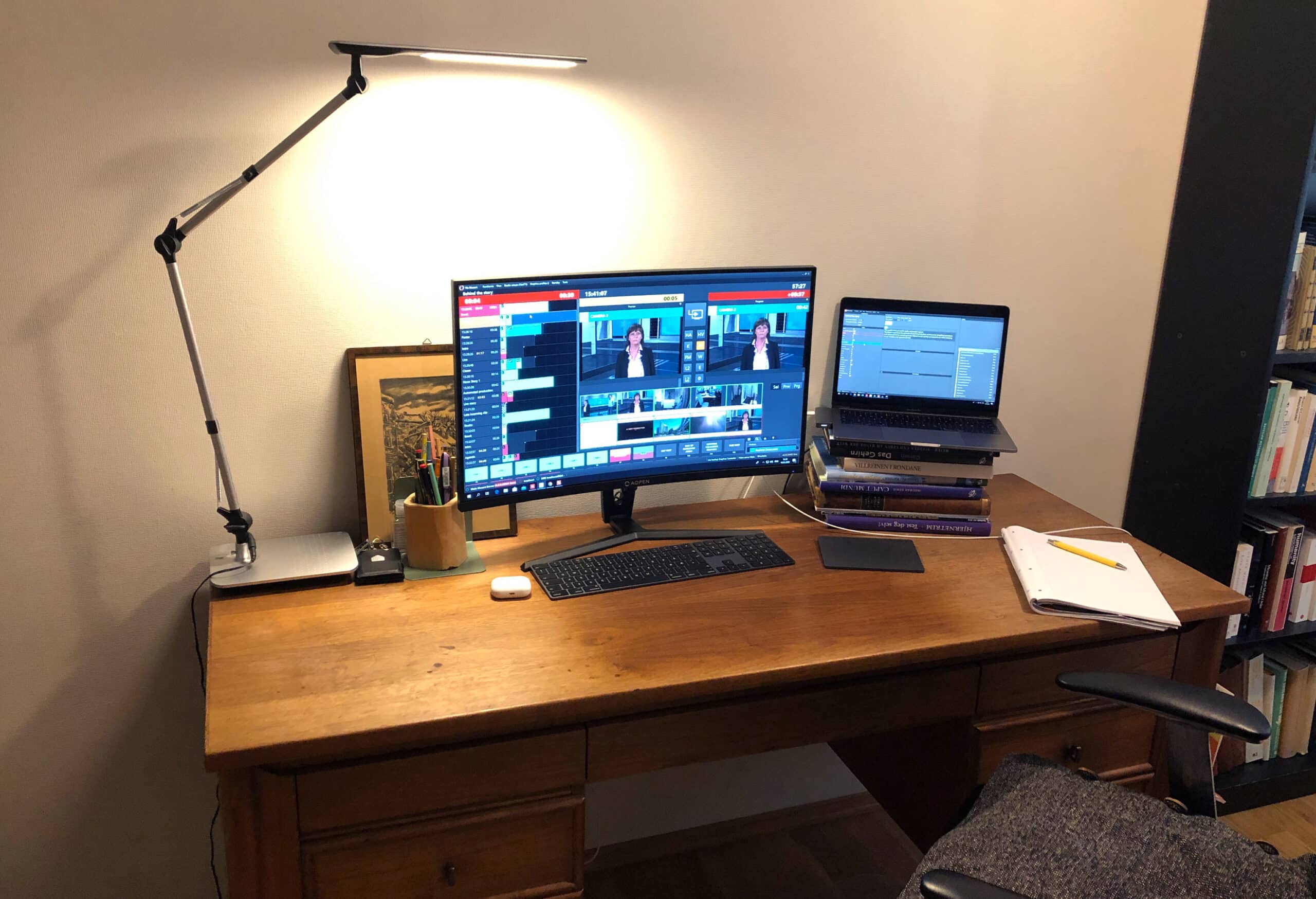 Advised by Norwegian regulators after returning from a business trip abroad, I stayed home for 14 days. My employer, Vizrt, is a globally-scaled organization that operates at a local level, so flexibility is in our DNA. However, like any global organization, we have a heightened need to communicate with our people who are located in cities all around the world. We need to engage with them and keep them informed as to our ever evolving ways of working as we respond to the developing situation.

In our current "new normal," many of my colleagues in Europe, Asia, and the U.S.A., are now remote workers. In these conditions, traditional internal communication techniques like physical town hall halls and daily standups have to adapt as we seek continue to update our colleagues of the rapidly changing conditions.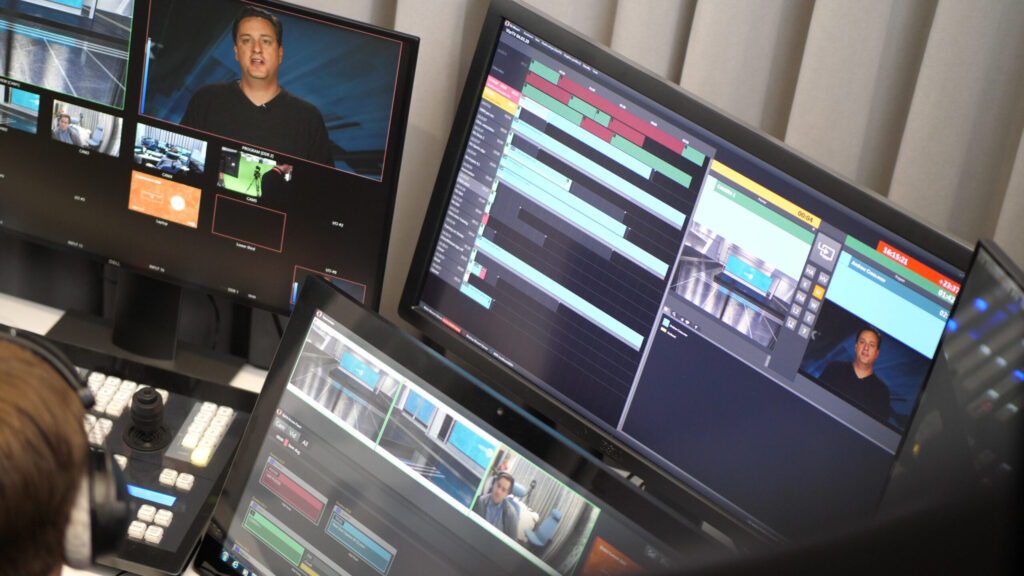 Being in the live broadcast business, we already communicate with our people through our internal channel, VizrTV. We run live productions regularly through this platform from our studios in Bergen, Norway and San Antonio, Texas. As the product manager for our Automation products, I volunteer to run the control room internally for our Communications department, and my recent home status meant I had to create a remote set up to sustain the live content creation.

All television control rooms are built for specific tasks like switching video, mixing audio, playing video, keying graphics. The VizrTV control room is no exception. Our VizrTV production studio in Bergen may be small compared to many broadcasters, but we are facing some of the same challenges that our customers are also grappling with at this time.

This article describes how we solved some of these challenges, but it certainly does not cover all aspects. We still relied on, for example, our studio facilities and our digital communications platforms.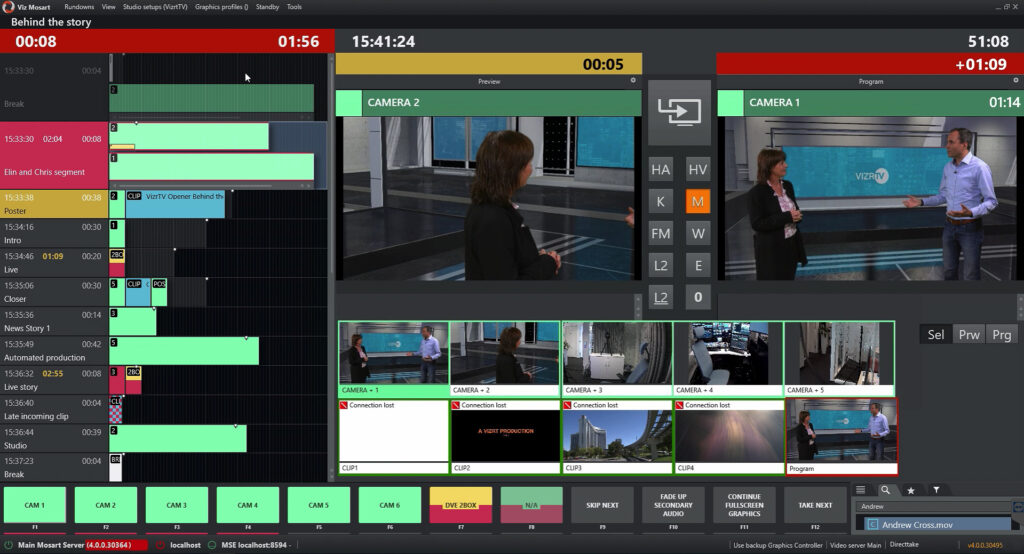 Using Viz Mosart
Like many of our customers, we use Viz Mosart to coordinate devices to simplify and control our entire live production. We use this powerful tool to enable us to produce our show without being physically present in the control room.

Viz Mosart has, for over a decade, integrated with broadcasting devices through their native APIs. This effectively means that all essential operations can be executed from a single interface which is defined by software. This unlocks all the benefits that are inherent with a modern IT infrastructure, including the ability to leverage remote control.

Why was the new Viz Mosart 4 a key component? (release date 31st March, 2020)

In this latest update, live video is included within the user interface of Viz Mosart, merging the multiviewer with production control into a single tool. This means a single interface can be opened on any computer connected to your network that can control everything in your production setup, allowing direct interaction with the live content.

We quickly configured our sources from our Vizrt software-driven switcher, and we were ready to go. Our line-of-production control tools with a switching component (Viz Vectar and Viz Verdi) runs NDI® natively, so every input and output is instantly available for any NDI-enabled device on the local network.

Note that for a baseband control room, you are able to do the same with our Vizrt SDI IO module. This would allow up to 8 SDI sources (One of these could be your multiviewer), to be instantly converted to NDI sources on the network. Once these are available, any Viz Mosart 4 GUI on the network will pick them up and display them as Program, Preview, individual sources or as a full multiviewer.

This is where it got interesting. I was able to see sources, visualize the rundown and at the same time, operate the broadcast from a single computer.
Everything was all set for remote control.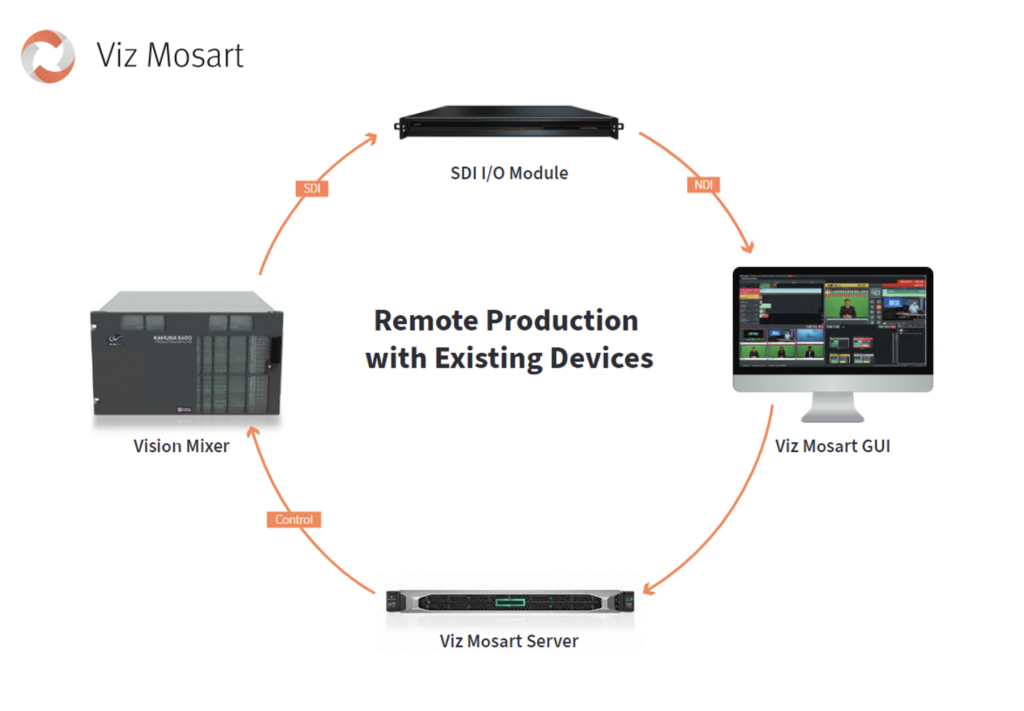 Remote control at home

Once both the live sources and control are available in a single interface, standard remote connection tools can be used. There are broadcasters already using off-the-shelf solutions like TeamViewer to remote control their Viz Mosart systems, and this is the tool I decided to use as well. On VizrTV I connected my home office in the suburbs, with our control room located in downtown Bergen, Norway.

With this connection we could do a full production from the home office. This includes running opening sequences, clips, cutting cameras and creating box effects – all from the same software-based user interface.

In short

We are now able maintain operation for our live shows that we create for both internal and external communication. Viz Mosart 4 in combination with NDI could potentially help broadcasters create similar workflows.

In a world where everyone needs to adapt their workflows to a more flexible normal; where it may be necessary to go on-air anytime from anywhere – and with minimal staff – broadcasters need tools that allow full control of their powerful on-site setups from a single interface. This will allow them to leverage that power fully – even when it is not possible, desirable or there is not enough time to fully staff a studio before going on air.