CNN-News18's Air ElexA
National Winner at Asian Academy Creative Awards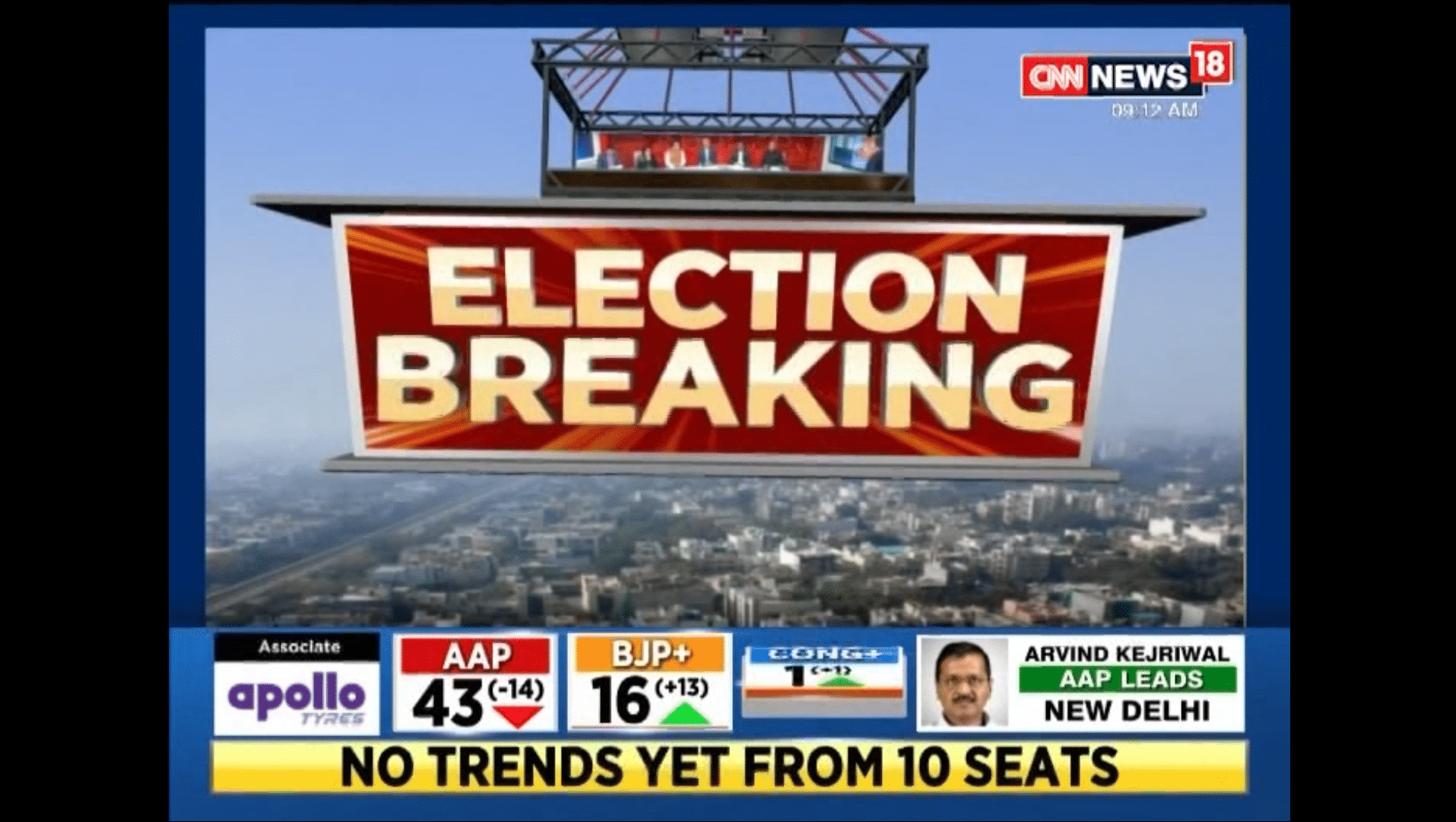 CNN-News18's Air ElexA was recently declared the national winner in the Best Immersive (360, VR) at Asian Academy Creative Awards.
Elections in India are huge events for news media calling for innovative and intensive on air presentation and productization. During the Delhi state Assembly Elections, with an intent to provide viewers 'a new high', CNN-News18, a leading news channel part of News18 Network – India's biggest news network – created Air ElexA, a floating News Studio suspended on a Virtual hot air balloon which travelled all across the sky of Delhi, providing LIVE election results and analysis in real time. CNN-News18 team had created this with the help of augmented and virtual reality technology, innovatively stitching the same.

The creative logic for this presentation concept was driven by the thought of providing how Delhi looks and feels, with its many historical landmarks and iconic architectural structures, while the election programming remained at the core. AIR ElexA (short for Election Analytics) was developed to provide a bird's eye view of the various regions of Delhi.
"We are delighted on being recognized for exemplary efforts of our creative teams for successfully putting on air the Flying Studio. At Network18, we always thrive to bring in technology led innovation and differentiation through our broadcast and digital products to enhance the experience of our consumers," said Rajat Nigam, Group Chief Technology Officer at News18 Network. "We have been using multiple technology solutions by defining an integrated workflow to enhance the presentation value of content on all our live channels for many many years now, and have been raising the bar on a regular basis thereby establishing a unique position in the industry. We look forward to continued, mutually gainful and rewarding partnership with Vizrt," he added.
How did CNN-News18 do it?
We created a detailed 3D model of Delhi city with popular landmarks, iconic buildings and historical monuments for across the length and breadth of the Delhi State. We shot and used aerial drone shots of the city, blended it with Computer graphics and created an alluring, novel on air experience for our viewers that was fascinating for our viewers and their families. We used Vizrt's AR/VR technology, Viz Virtual Studio and Viz Artist, projected live election data in the form of graphical reflection keyed on top of those Delhi regions where our virtual hot balloon studio was floating on air.
"After our much-acclaimed presentation of transporting news anchor out of the real studio into the sky in a virtual quadcopter as part of General Election programming in 2019, our creative team challenged itself to delight our audience once again," said Rajen Garabadu, Chief Executive Producer at News18 Network. "Since the city of New Delhi is full of interesting landmarks and iconic architectural structures, we thought of depicting a bird's eye view of the various regions of the city and display the election results in a larger-than-life format. The Indian television audience were used to watching the election results in a conventional style – maps with places marked and regions highlighted in party colours. We wanted to change that. And that led to the development of AIR ElexA using Vizrt's AR/VR technology," he added.

The much enthralling and talked about visually rich election programming was an outcome of imaginative innovation embedded with creative technology.