Journalist-Driven Production Powered by Vizrt Tools and NDI®
ausbiz Reinvents Financial News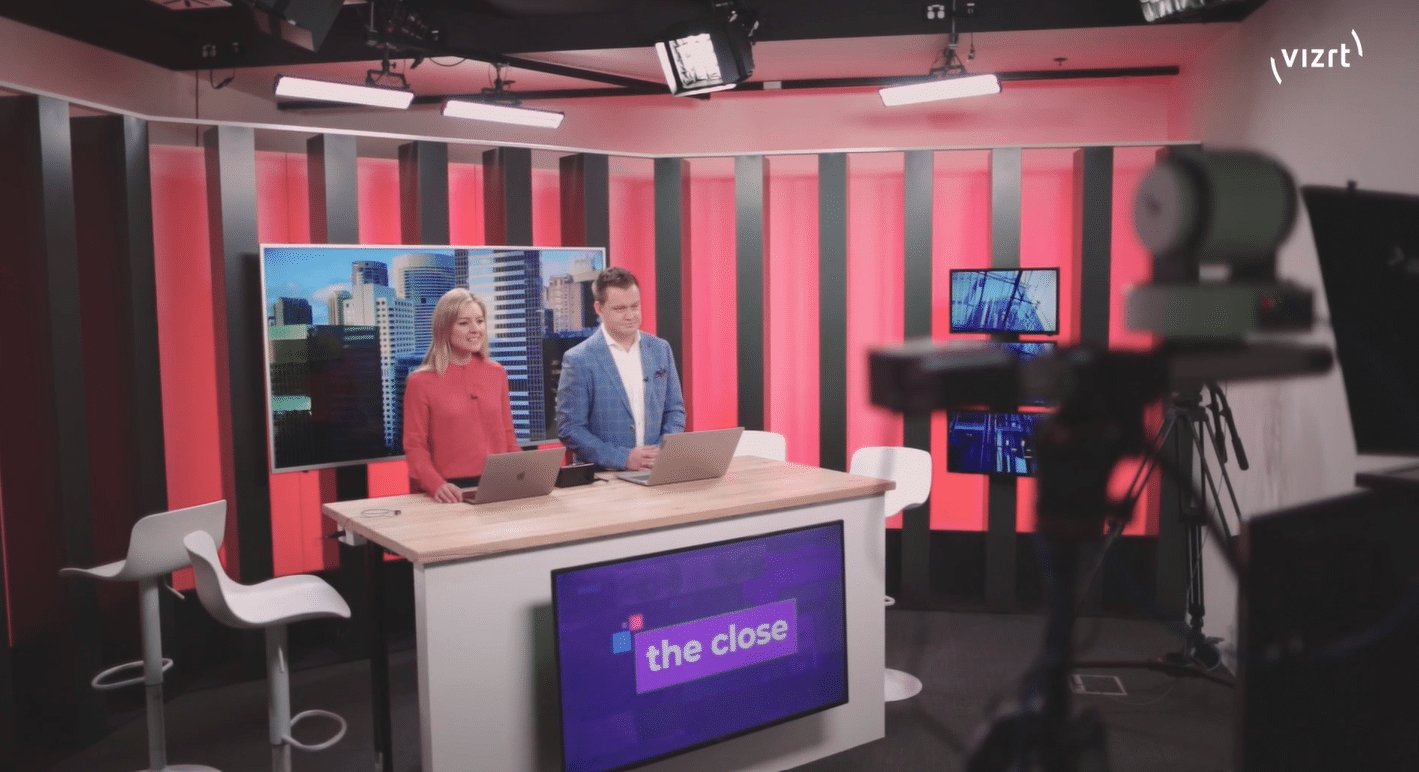 Australian business channel's IP-based NDI® infrastructure allows journalists to create stories from start to finish, reducing complexity, getting content published faster.
Bergen, Norway—6th October 2020—Vizrt announced today that ausbiz, a business and financial news channel based in Australia, has embraced Vizrt studio automation and graphics tools in their journalist-driven production workflow. Within a year of launching, ausbiz has become the leading provider of live news and video-on-demand covering Australian business, markets, economy, and startups.
Originating from a studio at the Barangaroo International Towers in the heart of Sydney's financial district, ausbiz conducts about fifty interviews per day and produces dynamic and fast-paced programing with a wide variety of data-driven graphics.
"Many of our journalists did not have television backgrounds. Vizrt provided remote training for our journalists prior to launch," said Kylie Merritt, founder and managing director for ausbiz. "Within the first week of going live, they were driving the entire system by themselves."
To meet the basic operational goals, ausbiz chose a combination of Viz Verdi powered by NDI®, Viz Pilot Edge, and Viz Engine. These powerful software-driven solutions allow ausbiz journalists to create dynamic programming from start to finish without needing a large, on-premise installation requiring expensive studio crews or technical engineers.
"While there's background support in the newsroom, it really is a one-person show," said Nadine Blayney, head of Content at ausbiz.
Viz Verdi is a cutting-edge studio automation tool and a powerful, 44-input, software-based production switcher. Viz Verdi with IP-based infrastructure and NDI enables ausbiz to efficiently produce and re-purpose more content on more platforms.
Viz Pilot Edge is the latest version of Vizrt's innovative newsroom template graphics solution. It helps journalists create, manage and deliver high volumes of top quality Vizrt graphics, videos, and maps. All elements are rendered by the ultimate real-time compositor, Viz Engine, which visualizes complex financial data in highly informative and visually appealing graphics.
Click here for more about ausbiz's journalist-driven production powered by Vizrt tools and NDI.