TriCaster Anywhere, Viz Flowics, and 4x Awards: An NAB recap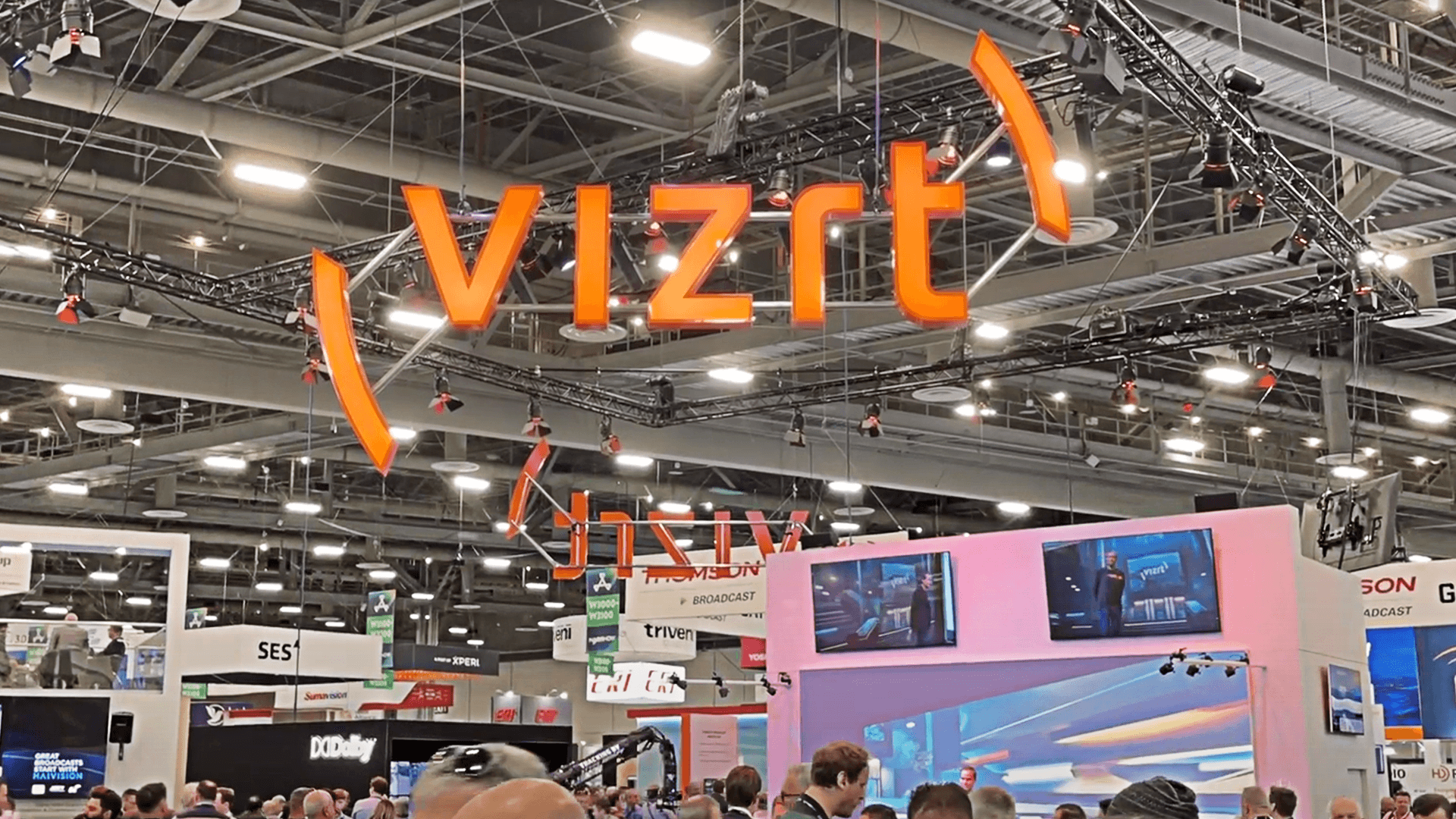 We've been participating in NAB for over 20 years, providing real-time graphics and live production solutions for storytellers, and over the years we've introduced innovations, wowed our audiences with the Big AR Show, AI programmed painting robots, announced acquisitions like NewTek in 2019, and much more… this year, it was no different.
NAB 2023 was the first time introducing Viz Flowics, sharing our 'TriCaster Anywhere' concept, as well as showcasing the latest advanced capabilities of Viz Engine 5 via Chris Black's Vizrt Experience Las Vegas edition. Add to that the brand-new Viz Arena 5.2 in the cloud, and Viz Social 2.0 with Flowics-backed social capabilities, and Flex Control Panel and there was no shortage of news from Vizrt at the show.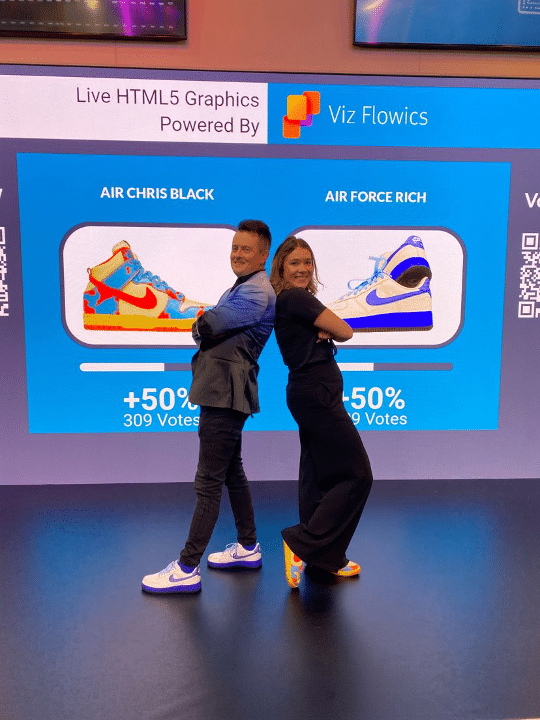 Across the days of NAB 2023, we won four awards, conducted hundreds of meetings with customers, held over 60 public shows with 618 audience votes for whose shoes were better, made close to 1,000 coffees for our visitors, and demoed our latest solutions live for an endless stream of curious customers, partners and prospects.
If you didn't go to the show this year, and you were unable to make our post-NAB webinar where Chris and Gerhard dove into the graphics workflow behind the public show (watch on demand here), we've compiled a brief recap below: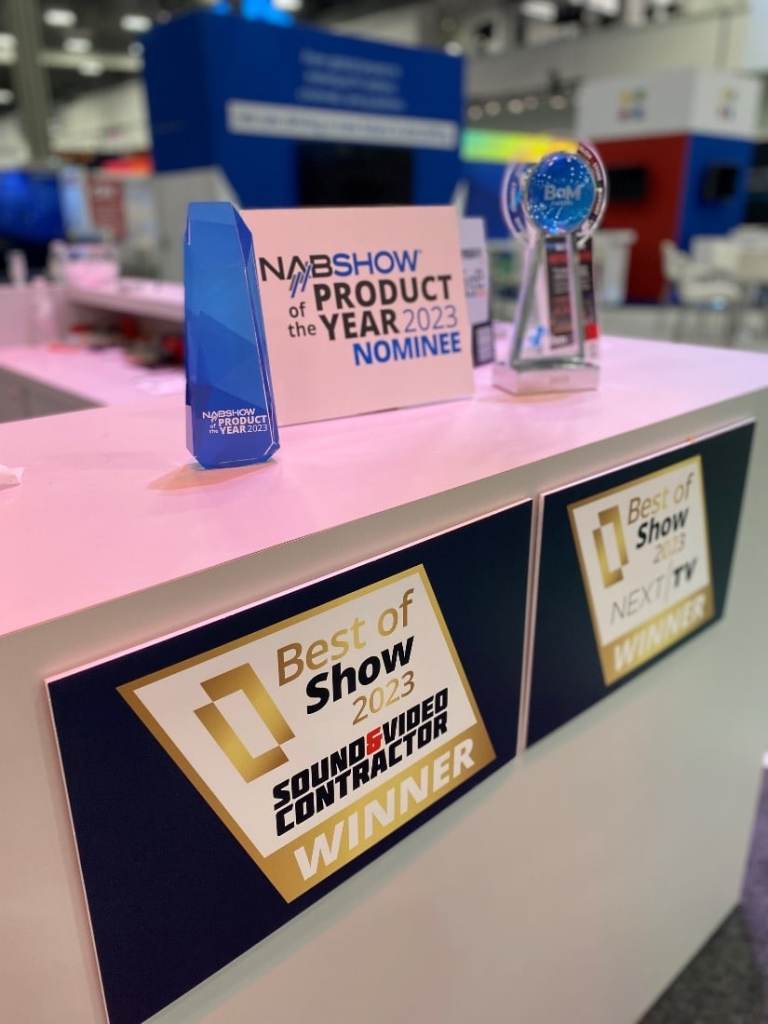 An award-winning portfolio
Every year at NAB, industry experts vote on the best technology and the results are shared during the show. We are honored that our market leading products were recognized in four different award programs:
Making virtual production magic with ROE Visual and GhostFrame
Vizrt and ROE Visual came together to make magic for the 100th anniversary of the iconic broadcast technology show, combining leading technologies in real-time broadcast and virtual production: GhostFrame and Vizrt's Viz Engine 5.
Viz Engine 5 + Unreal Engine 5
This integration offers artists a range of new powerful features for creating breathtaking visuals. Viz Engine 5 enables artists to leverage Unreal Engine 5's latest features and use live workflows to bring their chosen graphics to life on air. This lets graphics artists seamlessly combine Unreal Engine 5's impressive capabilities for outdoor environments with photorealistic Viz Engine objects, data-driven graphics, and beyond.
Combining cutting-edge LED and camera technology, GhostFrame enables creative and innovative use of video and broadcast technology. Uniting with Viz Engine 5's advanced rendering capabilities, ROE Visual's Ruby RB1.9Bv2 high-frequency video wall, driven by HELIOS® LED processing will be used to achieve new possibilities in virtual live production. Read more on the partnership here.
All new advances within Viz Engine 5
A live XR demonstration dubbed the "Vizrt Experience Las Vegas", showcased the possibilities of the real-time 3D rendering platform – including an interactive aerodynamic presentation.
Viz Engine 5 was combined with Viz Virtual Studio, our comprehensive toolkit used to create and control virtual set environments. With this union, operators can make fine-tuned adjustments through the Advanced Keyer – automatically producing a quality key from the start. Servers can also make fine-tuned adjustments, such as spill matte and color wrap, blending the presenter into the scene seamlessly.
This was all demonstrated on the show floor, by 'sending' out PR and External Comms Lead, Amisa Saari-Stout, to Japan… from in our Austrian office, then demoing it in Las Vegas!
TriCaster in the Cloud?
The TriCaster Anywhere Show, presented by Senior Content Producer Richard Evans explored how the TriCaster line is an essential system for any size visual storytellers to tell a story from anywhere and make any show, pro.
NewTek TriCaster Anywhere Show at NAB 2023.
Not only was the world's most powerful live production system showcased, but other award-winning NewTek products too – including the new Flex Control Panel, and CaptureCast.
CBS News takes virtual graphics to Times Square
A brand-new case study aired at NAB 2023: CBS News combined the real-time compositing and rendering power of Viz Engine 5 with Epic's real-time 3D creation tool, Unreal Engine 5 – and the result was extraordinary.
For the 2022 US Midterm Elections, CBS News placed AR graphics, virtual set design, and election data visualization at the heart of their coverage, while also connecting these elements and their viewers to CBS News' unique Times Square location in New York City.
Providing dynamic coverage of the election day, CBS News relied on Viz Engine 5 to create an enhanced experience for audiences tuning in for analysis and results.
Cloud Production and Playout with Imagine Communications
In partnership with Imagine Communications, Viz Vectar Plus was integrated with the Imagine Aviator™ Make TV cloud playout solution to demonstrate an advanced, end-to-end cloud workflow at NAB.
The Vizrt Live Production system runs in the cloud and is operated via web browser or via a physical control panel. The user can access incoming live streams uplinked from on-prem and remote locations for contribution, which, along with clip and graphics resources accessible to Viz Vectar Plus, are combined to deliver the final production output. This output is available to Aviator, which switches on the production feed based on a schedule, or as needed, with its master control solution to break into live programming.
The partnership between Imagine and Vizrt brings dynamic live production and playout in the cloud together in a well-orchestrated solution.
At the AWS booth…
Our long-time partner, AWS, also showcased Vizrt's software-based solutions available on AWS. It includes near-real-time 3D graphics, video playout, studio automation, sports analysis, media-asset management, and storytelling.
With AWS, our Live Production in the Cloud solution, which includes Viz Vectar Plus, expands the possibilities of a cloud live production. Broadcasters enjoy the capabilities of Vizrt's industry-leading visual storytelling tools – all with the additional benefits of cloud.
New cloud offerings to serve better content creators everywhere
To simplify production workflows even further for all customers, from broadcasters to service providers, streamers, and YouTubers, three new products are now available – Viz Flowics, Viz Data Connectors, and Viz Social, after integrating Flowics' unique offerings into the wider Vizrt product portfolio which first launched at NAB 2023.
The new additions showcase Vizrt's offerings, evolving due to the changing demands of content creators. With Vizrt, you get everything from HTML5 graphics to cloud solutions, adaptive graphics, augmented reality, and AI-driven virtual sets.
But this is just the beginning – exciting news and updates are expected ahead of Amsterdam.
Stay updated with Vizrt news at the press center, and follow us on social media: