Broadcasters have their heads in the Cloud and are reaping the rewards for it
Better quality content, reduced climate impact, decreased time-to-market – exploring the benefits of cloud-based live production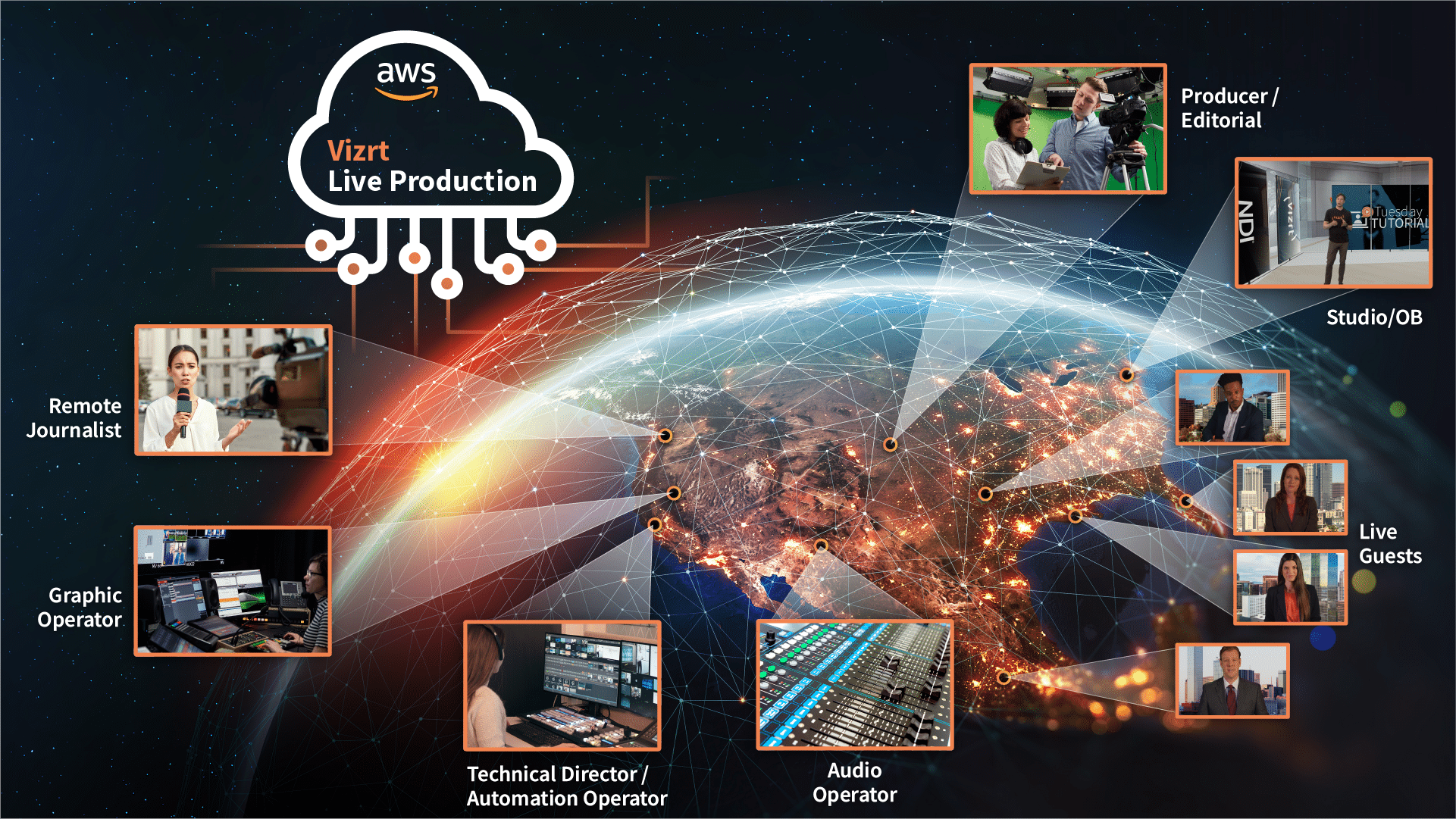 Why do broadcasters have their heads in the Cloud?
There are many reasons organizations have turned their focus to the Cloud for the future of their live production needs. Sure, flexibility and scalability in your technology stack is a big deal and is undeniably a key pillar of cloud computing, but the cloud offers so much more when it comes to producing live broadcasts.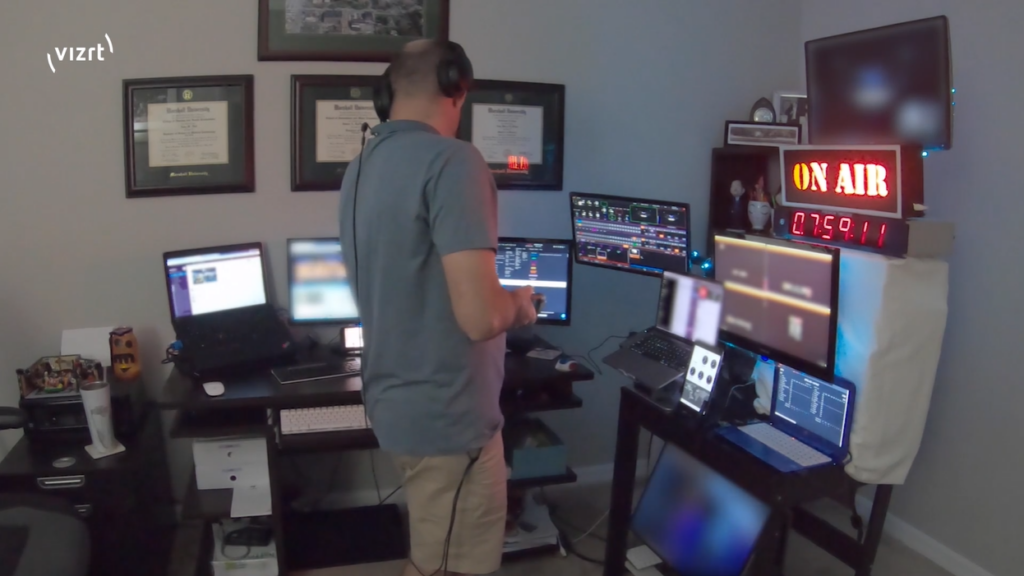 1. Wow your audiences with better quality content
All the cloud benefits in the world won't matter much if your audiences are losing interest in your content. It's no surprise then that one of the key driving factors for choosing software-based live production tools is that it helps you produce better quality content that wows your audiences wherever they are, on whatever device they want to watch it on.
Image Credit: Media.Monks
Use your best team for each production – not the most local team
Putting your live production tools in the cloud makes remote collaboration far easier, ensuring you can use the best team for the job, not just the most local team. Attract and retain the best permanent and freelance staff, regardless of location in the country – or the world – so you know your productions are as good as possible. In a perfect illustration of this, Media.Monks remotely produced 20 sports games where the action was happening in New York, the Technical Director produced from their home office in England, audio was controlled from Brazil, and operators from all over the US got involved where needed.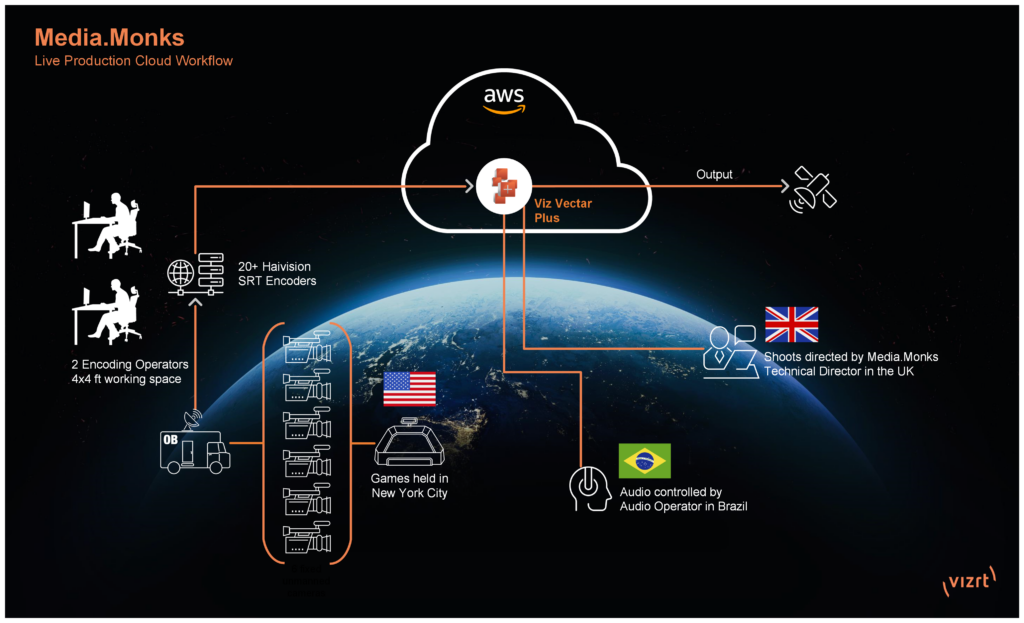 More sources = more interesting content
Switch to NDI®-native live production software tools (such as the Vizrt Live Production Solution) and you open the world of NDI® and the ability to add literally millions of NDI sources into your content. More sources = more interesting content, so keep your audiences engaged by easily adding video and audio feeds from any mobile device and video conferencing apps.
Cost-effective enterprise-grade software
By adopting the OpEx cost model that cloud- and software-based solutions like the Vizrt Live Production Solution provide, you enjoy more cost-effective access to enterprise-grade software – such as 4K switching, studio automation, sports analysis, and cutting-edge graphics – that is often seen as out of reach for smaller broadcasters when faced with large upfront capital investments.
Ready to learn more about Vizrt?
Take your production to the next level with the right tools.
2. Sustainability and reduced climate impact
Climate-conscious broadcasters are keen to combat environmental impact and are relying on cloud-based production to achieve this.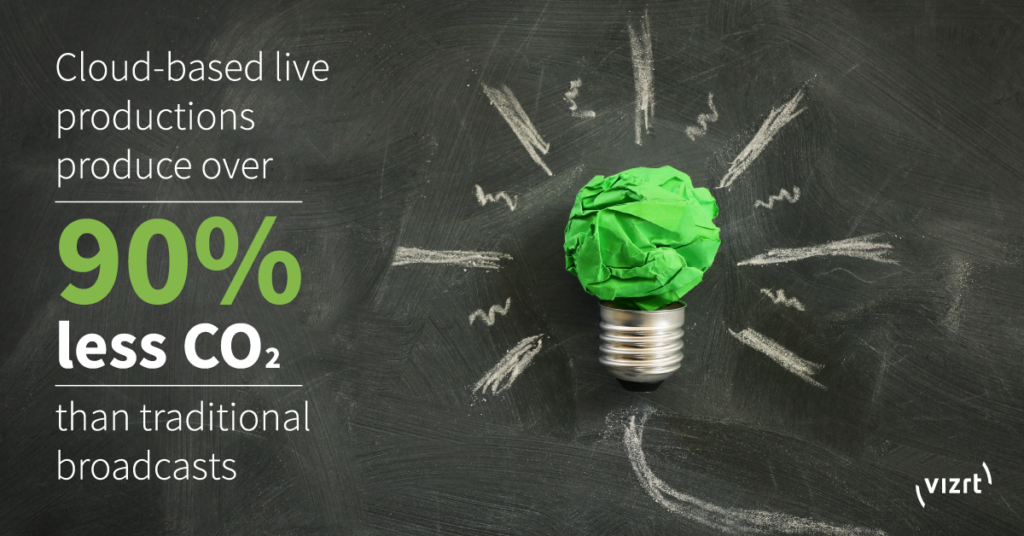 With the goal of becoming net zero carbon by 2030 and as a sponsor of the COP26 climate change event, Sky News wanted to lead by example and create the most sustainable production yet. They opted to produce the 12-day coverage of the COP26 eventi using cloud-based live production tools. This meant that not only could they remotely produce from the main HQ in London, despite the action happening in Glasgow, but they could also reduce the CO2 footprint by over 90%.
Speaking at the Amazon Web Service (AWS) EMEA Media & Entertainment Symposium at the end of 2021, David Travis, Group Director of Content, Broadcast & Platforms, explained how Sky News' cloud-based broadcasts produce just 10kgs of CO2 per 9 hours of programming, versus 119kgs for traditional programmingii – and this comparison doesn't even account for the additional CO2 produced by the need to leave traditional on-premises hardware running 24/7.
Live and Interactive Online Demo
Join us for a FREE live monthly demo and see how Vizrt can help you tell more stories, better told. #SDVS
3. More manageable technology costs, and improved IT resilience, TCO, and staff productivity
Technology is a high and unavoidable expense for broadcasters and media companies. Ask IT pros whether "the cloud" is a cheaper option than traditional hardware and you'll have a good, potentially fierce, debate on your hands.
Working out TCO of on-prem vs. cloud hardware setups is undeniably difficult as they aren't like-for-like comparisons. But while each business will have differences in how they calculate TCO of IT systems, it's hard to ignore the 61% TCO savings made by Discovery, Inc. when it moved its playout infrastructure to AWS. Additionally, two independent and in-depth studies of 1500 AWS customers found an average 42% reduction in IT cost-per-user.
And while some IT pros may struggle to accept the overall relative cost of using the cloud, it represents significant savings over a pure hardware purchase. It also certainly provides a more manageable cost model that allows an organization to flex IT needs up and down as needed and enables access to the latest (virtualized) hardware. These capabilities just aren't possible with a traditional hardware setup.
Only cloud-based live production setups allow organizations to spin up new production abilities whenever they are needed and turn it off again when it's not. As a result, cost efficiencies improve, and you avoid having to leave hardware on 24/7. Therefore, you save running costs AND reduce carbon footprint simultaneously!
Staff productivity

The IT benefits don't stop there, though. By reducing or eliminating tasks that are no longer needed, IT teams are freed to work on higher value activities. Not only does this represent a linear "man-hour" saving, but more importantly provides an exponentially valuable reduction in total IT cycle time, with enterprises reporting a 50% reduction in tactical IT tasks leading to 10x the number of projects supported.
Improved IT resilience, security, and agility

Using cloud infrastructure also provides you with much higher availability, infrastructure operations, and security. While AWS's 99.999% availability vs. the commonly accepted 99.9% availability of on-prem systems may not sound like much, in an industry where a single frame of black-to-air can be disastrous, these fractions of percentages matter.
By exploiting the benefits of infrastructure-as-code, a broadcast system is not built once and then updated over time (with the associated risks and downtimes), but rather built from scratch every time you need it, the exactly the way you need it – automated, fast, and repeatable.
With clear monetary and productivity savings by switching to the cloud, broadcasters can repurpose that time and money into innovation projects, helping to maintain a competitive edge.
4. Decreasing time-to-market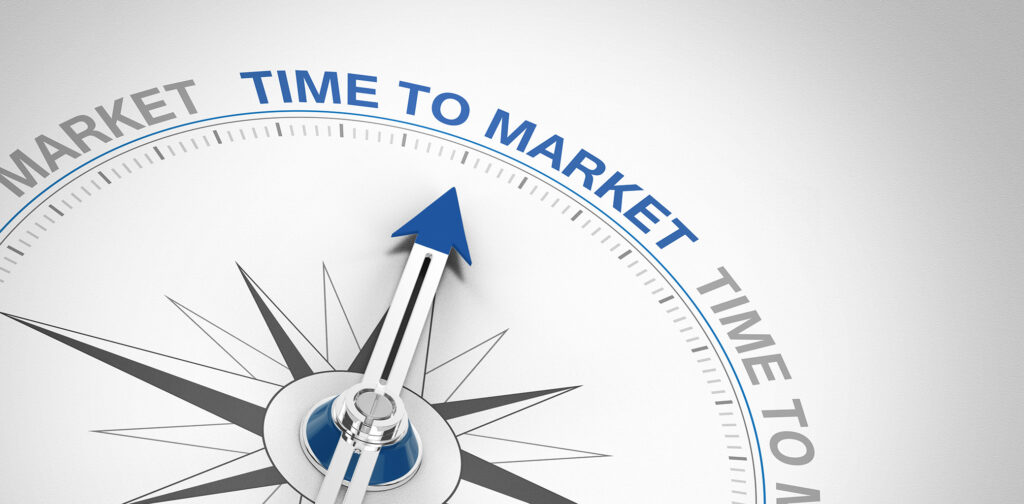 Cloud-based live production environments can be spun up in minutes. Compare this to the weeks or months it can take for a traditional setup and the appeal is obvious. Creating new channels for core or peripheral on-demand programming becomes so much simpler, allowing you to focus on keeping your audiences informed and engaged instead of the IT side of things.
Want a real-world example of the difference the cloud can make to channel deployment times for a national broadcaster? Kevin McCue, Director of Group Production Platforms at Sky recently explained how they reduced their time-to-market from 6 months for traditional channel deployment to just 3-4 weeks for the COP26 cloud-based programmingiii .
Production Control Group Demos
Join us for a FREE live monthly demo and see how Vizrt can help you tell more stories, better told. #SDVS
5. Test. Fail quickly and cheaply. Test again. Repeat.
"We love the Cloud because we can test new things, fail fast, learn from it, and go again until you get it right"

David Travis
Sky UK, speaking at the AWS M&E Symposium (2021)
In traditional broadcast technology stacks, you only really get one shot to get it right, and any form of failure is a serious problem. With software-based production tools and the flexibility and scalability benefits of cloud computing you can test new things. If all fails, it fails quickly and cheaply. It isn't the end all be all, simply change it up, and test it again. Cloud as a platform enables broadcasters to easily see what works and what doesn't until it meets their exact needs.
The ATP Tour project is an example of trial and error until success. Orchestrated by ATP Media, the broadcast and media arm of the ATP Tour, along with Gravity Media and AWS, the project covered seven tennis matches a day over the first four days of the Rolex Paris Masters (an ATP Masters 1000 event).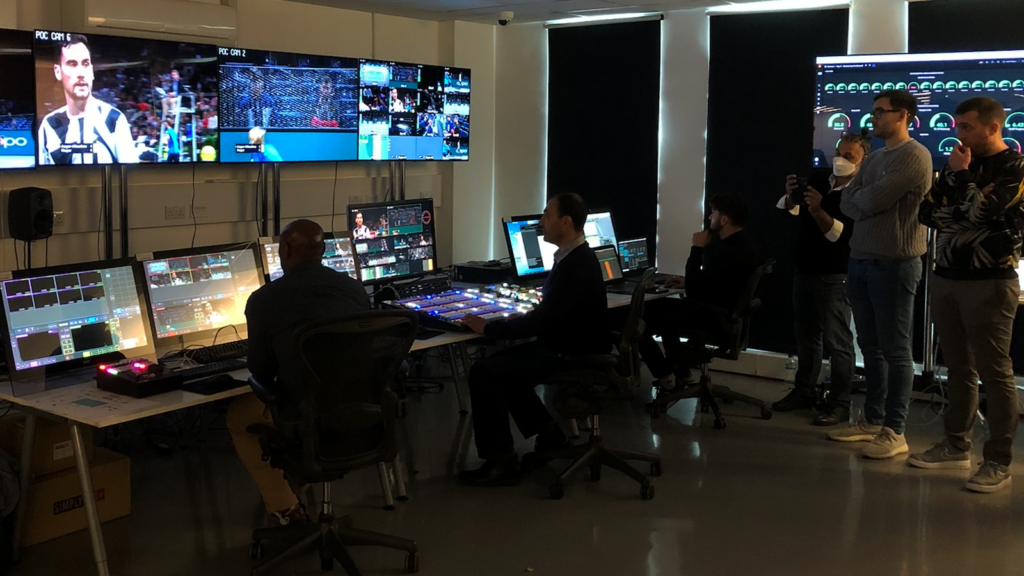 Bringing an NDI®-native Vizrt Live Production Solution to the table, Vizrt collaborated with other software vendors in an AWS cloud environment to give ATP Media a unique opportunity to test various cloud-based live production tools. The Vizrt technology also gave ATP Media the ability to understand how multiple vendors could work together to provide the best solution.
"This is all about finding out what does work, what doesn't work, and start to build, test, break, and fix"

Shane Warden
ATP Media CTO
Produced by one of ATP Media's best freelance Directors, this project saw multiple freelance broadcast experts test various AWS-hosted live production solutions. In a real testament to just how far virtualized production environments have come, David Sabine at AWS commented that the freelance experts reported they "could not notice any difference [using cloud-based live production tools] than what they would expect in traditional setups".
"To have the time to be able to experiment with combinations of Vendors interoperating with each other and to understand the benefits and limitations of the single Vendor solutions is so invaluable as we look to create our roadmap to this exciting future and all the benefits it can bring," said ATP Media CTO, Shane Warden.
"NDI was essential… using a protocol like NDI across the board was really important and gave us the opportunity to see how the gluing of [different vendor] products together could work."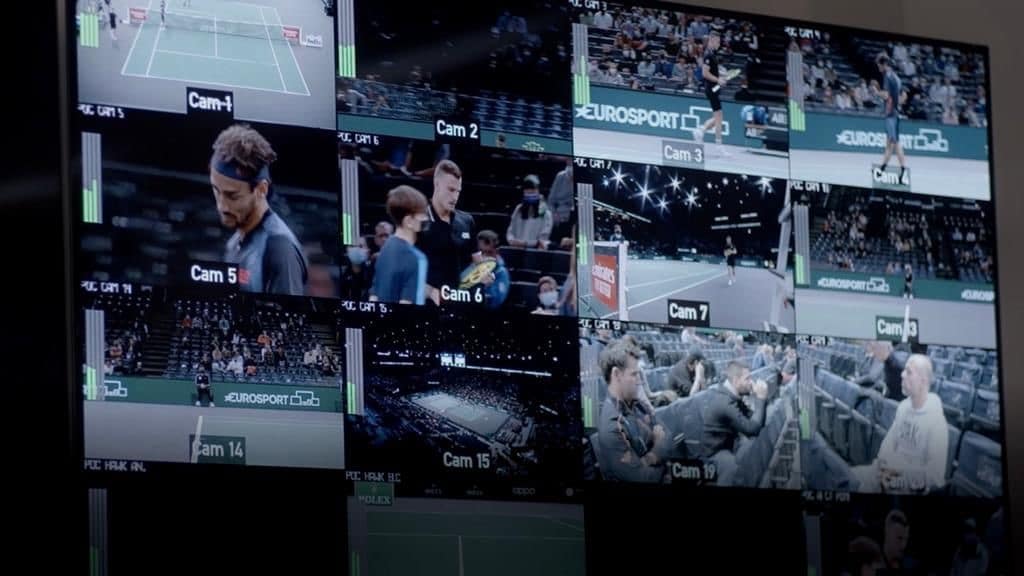 The video below – a 3-minute showcase followed by a group interview by SVG of those involved in the project – shows how ATP Media, Gravity Media, AWS, Vizrt, and other software vendors all collaborated to bring this to life, providing ATP Media with the perfect platform to test many new things in their quest to find their perfect future setup.
Speaking on behalf of Vizrt's involvement in the project, Ulrich Voigt, VP Product Management for Vizrt Cloud Solutions said: "It's so impressive and encouraging that ATP Media and Gravity Media are embracing cloud-based live production and that they're choosing Vizrt to help them on that journey. Vizrt is in a unique position as the market leader but also the main innovator in the live production space, having built our solutions around NDI® and open APIs to operate in multi-vendor environments so broadcasters can build the best solution for their needs".
Cloud-based production isn't just the future – it's now, and for good reason
Better quality content, vastly improved sustainability, notable cost savings, decreased time-to-market, improved productivity and efficiency, higher operational resilience, increased agility and the ability to test, fail quickly, and test again; it's no wonder broadcasters have their heads in the cloud. They have even bigger plans for the future, with Sky going as far as to say a sporting event as big as the UK's Premier League Soccer (Football) Championship could be produced entirely in the cloud in under 5 yearsiv .
However, based on the myriad of benefits and advantages discussed above in several case uses, it's clear that cloud-based production isn't just the future – it's now. The question you must consider now is: when will you reap the rewards?
Citations
i AWS EMEA Media & Entertainment Symposium 2021 ("Working Backwards from Audience Engagement" segment): David Travis, Group Director of Content, Broadcast & Platforms at Sky explains how Sky News opted to produce their 12-day coverage of the COP26 event completely in the cloud. Register here to watch.
ii AWS EMEA Media & Entertainment Symposium 2021 ("Working Backwards from Audience Engagement" segment, 12 minutes 5 seconds): David Travis explains how Sky News' cloud-based productions produce 10kgs of carbon vs. 119kgs for traditional broadcasts
iii AWS EMEA Media & Entertainment Symposium 2021 ("Smarter Production and Data-Driven Insights" segment, 43 minutes): Kevin McCue, Director of Group Production Platforms at Sky how they reduced their time-to-market from 6 months to 3-4 weeks with cloud-based live production
iv AWS EMEA Media & Entertainment Symposium 2021 ("Working Backwards from Audience Engagement" segment, 25 minutes): David Travis explains how the Premier League could be produced entirely in the cloud in 5 years (or less)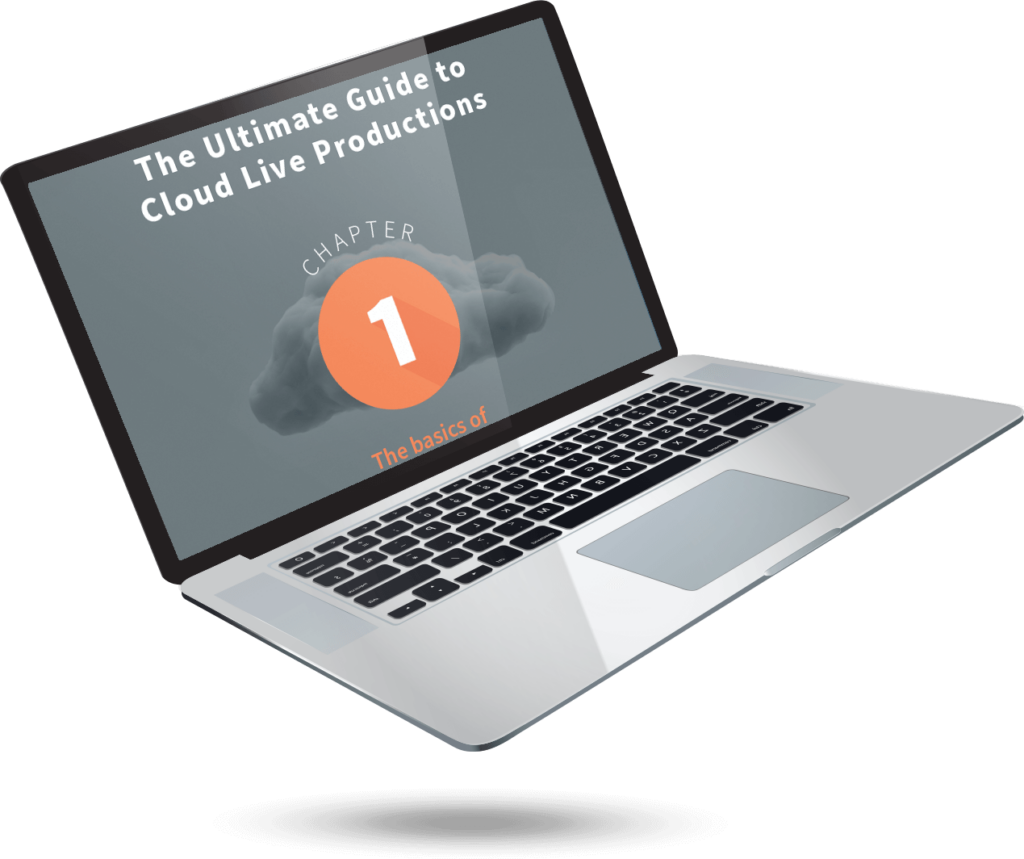 Ultimate Guide to
Cloud Live Productions
Get a comprehensive understanding of cloud live productions with Vizrt's Ultimate Guide. All you need to know about innovative technology for successful live productions. Download now and enhance your live production.