NewTek and Panopto form a technical partnership with CaptureCast™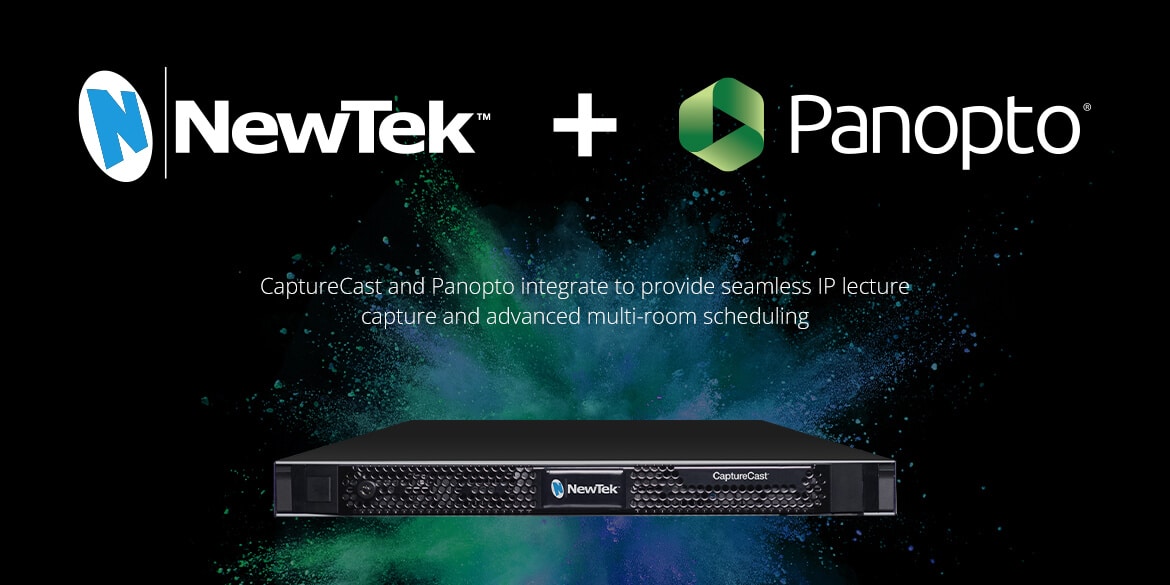 — Aligning on AV-over-IP workflows for education and enterprise, CaptureCast is Panopto endorsed, offering a powerful integrated tech solution that solves problems, saves time and money —
San Antonio, TX, – 11 April 2023 – NewTek, the leader in IP-based video technology and part of the Vizrt Group, today announces a new technical partnership with the leading video management system provider, Panopto, regarding NewTek's CaptureCast.
CaptureCast is an automated, IP-based, distributed lecture capture solution that connects any room, whether a classroom or a meeting room, to any other space – anywhere in the world via the power of NDI®.
As a Panopto-endorsed capture hardware device, CaptureCast has been jointly engineered and extensively tested to ensure the best integration and performance.
"Worldwide, we see an increased demand for AV-over-IP in education and business. Hybrid teaching and working are driving changes in communication, and rapid technology changes in AV mean many customers need the flexibility of AV-over-IP. Collaborating with organizations like NewTek on products like CaptureCast, brings class-leading AV-over-IP options to all our users," states Rene Karras, Head of Marketing, Panopto EMEA.
CaptureCast, when combined with a powerful and flexible scheduling tool, automates the lecture or presentation capture, freeing the storyteller, presenter, or educator to focus on the content.
With this seamless and integral part of the lecture capture workflow, users gain a flexible scheduling tool via Panopto, and Panopto customers can implement CaptureCast with no additional hardware. Users simply plug and play, and CaptureCast can be set up as a remote recorder quickly and efficiently for any classroom or boardroom.
A unique integration with Panopto's Remote Recorder feature supports configuring, scheduling, and recording sessions from CaptureCast all over a web browser.
CaptureCast is also fully accessible and controllable through an easy-to-use web interface, offering enhanced AV room management. Video content then automatically stores in Panopto's cloud-based video management system for easy management and distribution.
"AV integration is vital for our customers – they take real pride in their implementations which are at the forefront of the latest workflows and standards. They have told us loud and clear that they need AV-over-IP. Technical collaborations help us provide them with market-leading options – this is why we are delighted to be working with NewTek to provide a total solution for professional, high-quality, and high-scale video capture and delivery," adds Neil Burdess, Product Manager, Panopto.
Together, the organizations offer a complete AV-over-IP workflow. No SDI or HDMI is needed to facilitate multi-room network device interface (NDI) setups. Panopto also includes pre-existing support for NDI tools. Users can seamlessly set up high-quality capture via NDI-enabled devices and distribute through the cloud quickly and efficiently.
This unique capability enables organizations to synchronize physically separate video sources in the cloud and stream them as a single production. For example, Panopto and CaptureCast can synchronize an NDI-enabled camera at the back of an auditorium with a demo laptop on stage, capturing both feeds simultaneously and streaming them to a live audience without the need for physical connections between the video sources.
Beyond a single room, through CaptureCast's Virtual Recorders capability, a single unit can capture multiple rooms simultaneously, then be pushed to Panopto. As such, CaptureCast servers can live in the data center, not physically in each room, offering untold flexibility and scalability when delivering lectures, meetings, and event capture.
"AV-over-IP is the future of recording and moving video. This partnership with Panopto ensures both our tech support experts can work together to introduce innovative solutions and additional, integrated capabilities so our joint customers across education and enterprise can have the top tech in AV-over-IP available," concludes Liam Hayter, Product Manager, CaptureCast and Micro-broadcasting, Vizrt Group.
For more information on CaptureCast: Click Here