Visualising the globe
How a Norwegian technology firm is helping the largest broadcasters stay relevant in the digital age.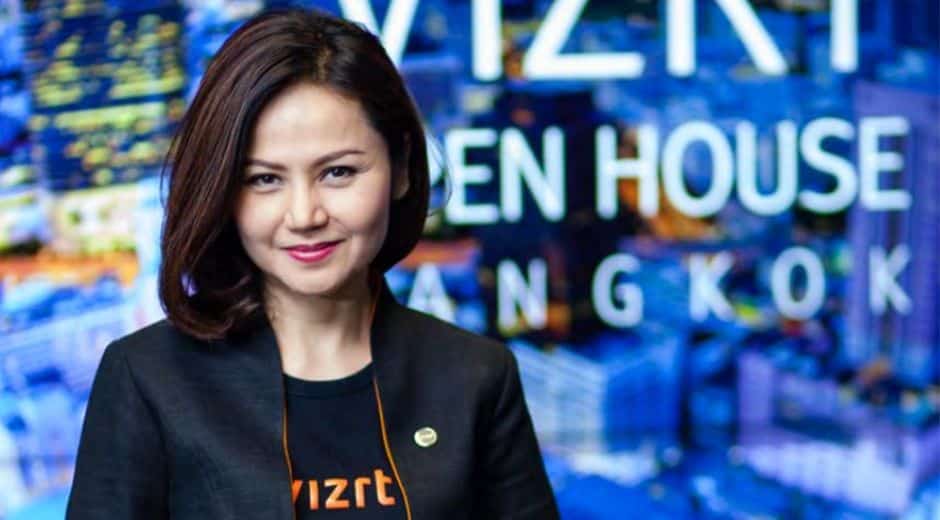 Originally published by the Norway-Asia Business Review
As the world continues to embrace digital technologies, traditional television broadcasters are turning to software companies in order to gain a 'digital edge' and help retain the younger, 'cord-cutting' generations. Norwegian Vizrt – short for visualization in real-time – is one of the companies they turn to.
Vizrt is a worldwide market leader in the areas of real-time 3D graphics, studio automation, sports analysis and asset management tools for the media and entertainment industry. This includes interactive and virtual solutions, animations, maps, weather, story and video editing, compositing, and multiplatform VOD (video on demand) and live playout tools. It has customers in more than 100 countries worldwide and the list keeps growing each day.
This is made possible by the 600-strong workforce in in 40 offices around the world, working with many of the world's leading media companies, including CNN, CBS, Fox, BBC, BSkyB, Sky Sports, CBS Sports, Fox Sports, Al Jazeera, NDR, ITN, ZDF, VICE, The Washington Post, TF1, CCTV, and NHK among others. Furthermore, many world-class production houses and corporate institutions such as the London Stock Exchange use Vizrt systems.
"Digital media is starting to play a major role in digital broadcasting since the changes in consumers' media consumption behaviour, meaning they are moving away from television to second screens, demanding access to content anytime, anywhere," says Yupapak Tawanna, Managing Director, Greater Thailand. "Since our new CEO Michael Hallen joined the company in August 2016, he has been actively revising the global business plan and strategic policy to align the company with these market changes in order to deliver the best tools for our clients."
Thailand serves as the headquarter for the Asia-Pacific region, which the company considers to have higher growth potential in relation to mature markets in Europe and the US. In Thailand and Asia-Pacific, Vizrt is targeting an annual revenue growth of 20% within 2017, and to double its revenue over the next three to five years globally.
The way Vizrt intends to achieve this is by reducing complexity, increasing efficiency and transparency, all the while offering complete solutions and one-stop services to support the media and entertainment industries.
"One of our current key offerings is Viz One, a cutting-edge media asset management platform, which creates a solid backbone for TV channels and helps manage all digital media assets that can be repurposed via multiplatform channels, depending on necessity," Ms Yupapak says.
Viz One makes it easy for teams across entire organisations to find, upload, preview, log, cut, send, and manage media.
The primary tool, Studio, is web-based and accessible from any desktop, so users can edit and approve media remotely. Assets are searchable within seconds of ingest, and can be browsed and edited directly on a laptop or desktop using proxy-based video editing tools. According to Vizrt, many customers do more than 90% of their editing with Viz One proxy-based video editing tools.
"Another solution we're really focusing on in Thailand and Indochina is Viz Opus, to help automate workflows, increase efficiency and lower headcount in production control rooms – cutting down from 20 to 4-5 people."
It is an all-encompassing system to provide all vital components for the production control rooms, such as error-free automation and highly configurable user interface, providing users with the ability to store and instantly recall interface configuration settings. Story elements such as cameras, clips, and graphics are assigned to buttons, allowing quick and easy access. Designed with multi-channel/multi-platform news delivery in mind, Viz Opus is the heart of the TV station of the future.
"In moving towards new media, there are several pros and cons, especially in developing regions like Southeast Asia, where internet bandwidth speed is still a massive hurdle to overcome for broadcasters that want to stream their content to second screens."
The numbers certainly seem to back it up. According to Akamai's State of the Internet Report in Q2 2016, Thailand's broadband bandwidth averages 13.7mb and mobile at 5.8mb, Indonesia at 5.9mb and 6.9mb respectively, and Vietnam at 5.1mb and 2.8mb.
"We at Vizrt still believe that the presentation and the overtall quality of content are crucial factors that broadcasters and media companies have to focus on in order to retain their audiences in the long term, especially the younger generation who expect great quality and information presented in a fast, accurate and interesting way – and this is where we definitely can provide the most value to our clients."
Apart from having a professional TV-programme production team, stations are now tasked with building social media teams to create and publish compelling stories, utilising video and interactive, high-quality graphics which can be repurposed from on-air to online and social media channels, such as official websites, Twitter, Facebook and Instagram.In Thailand, Vizrt is already working with most of the major broadcasters, such as Channel 3, which has been their client since they were and analogue channel and Vizrt is now offering one-stop solutions for four of their channels. Other clients include Channel 5, Channel 7, True Corp, PPTV, and Thai PBS.
Ms Yupapak jokingly refers to Thairath TV as their national showroom since they have already implemented most of Vizrt's latest technologies.
"One of our faster growing countries in Indochina is currently Myanmar. Since they opened up the country we've been observing several improvements to the infrastructure and their media capabilities. There are significant growth in the country, which will help it become a regional powerhouse in the long run.I'm personally very excited to be working with our partners there and one of our key projects is currently the rebranding of MRTV, the only state-owned TV channel. The first phase of the rebranding started two years ago because we had already been a technology provider to them, so they asked for our assistance. The project covers everything from logo design to modernising how they present graphics. We've now entered the second phase with the support of the newly elected government and the Ministry of Information."
In eyeing the future, Ms Yupapak considers digital publishing as a key driver for growth, and says Vizrt is developing an online production suite, which can serve as a digital publishing platform and a content production tool.
"We believe that augmented reality and virtual reality will become even more important in the media landscape in the near future, and we are also implementing artificial intelligence in our product line. The media industry continues to develop and so must we keep innovating and developing our products, growing alongside our partners. Their success is ultimately what will determine our success, too."