Viz Now: Breaking down barriers to cloud live productions
Discover how award-winning Viz Now overcomes common cloud challenges to enable cloud at the speed of live.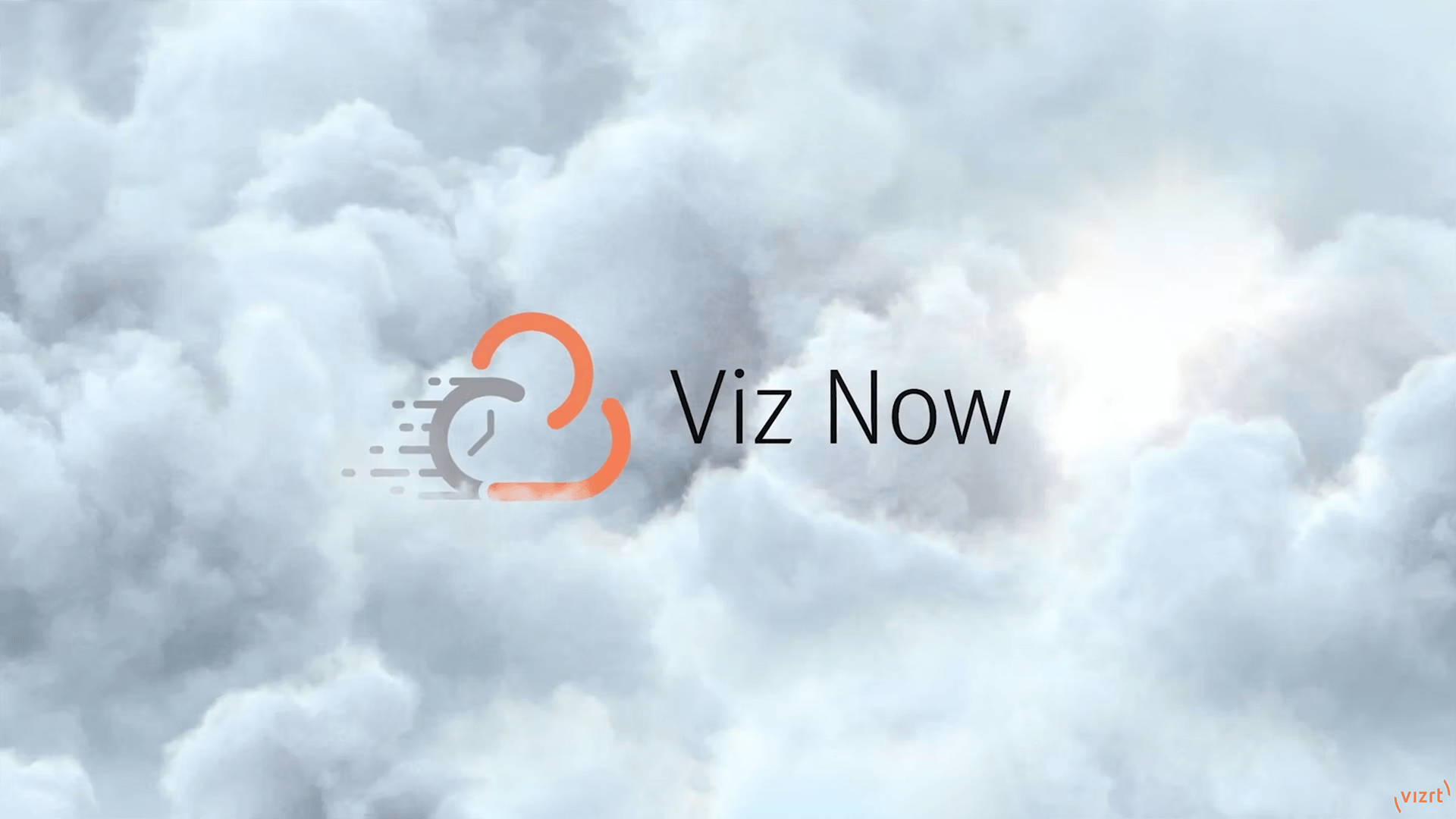 The problem with cloud
The cloud offers clear and proven benefits for live productions. From the ability to produce content from anywhere in a cost-effective way through to carbon footprint reduction, it's obvious why so many content creators are turning to the cloud for core and on-demand/peripheral programming.
Despite the many benefits, it's seen as a major challenge to get off the ground and into the cloud, meaning many content creators are falling at the first hurdle and abandoning their cloud ambitions.
So, what are the common barriers to the cloud?
Lack of in-house cloud experience and expertise
The cloud poses new technical challenges for IT teams and often requires specialist knowledge and experience that broadcasters and content creators simply don't have in-house. Training courses or the use of external consultants might be deemed impractical or too expensive to bother going cloud.
Lack of IT time for new projects
Even for those with in-house cloud IT skills, allocating what has traditionally been a significant amount of time required to set up a cloud-based live production environment and all the testing properly and securely, can be a serious challenge. Without scripting the deployment – which takes months of work – your IT teams can easily lose weeks investing in these projects.
Internal resistance
"If it's not broken, don't fix it" is a mantra that holds many businesses back and the same applies for broadcasters. Without fully understanding the benefits of "going cloud", it's easy to understand why some internal stakeholders may question the need to adopt the cloud for live productions. The best way to convince internal naysayers would be to offer a trial project, but this is traditionally impractical due to the complexity, time, and cost of doing so.
Combined with a potential lack of in-house cloud expertise or IT time to undertake the project, internal resistance can keep cloud plans firmly on the ground.
Security concerns
Done properly, the cloud is more secure than traditional IT setups. But we've all heard the horror stories of big corporations getting hacked and, understandably, it can feel more secure if IT is somewhere, where we can physically see and touch it. Properly understanding cloud security quickly removes these fears, but a lack of understanding keeps it as a legitimate concern for many.
Whatever your barriers are, they are preventing you from making full use of the value the cloud brings. Until (Viz) Now…
What is Viz Now?
Viz Now is a software-as-a-service (SaaS) portal hosted by Vizrt that enables anyone involved in live productions – even non-technical staff – to deploy templated and pre-configured end-to-end live production capacity quickly and easily at the click of a button through its intuitive user interface.
While groundbreaking in its capabilities, it is purely a tool to automate the secure deployment of live production tools and the provisioning of the Amazon Web Services (AWS) cloud services required to run them. It's a means to an amazing end – deployment of and access to all the live production tools needed to produce stunning shows, from anywhere, in minutes.
Through Viz Now, you can:
Deploy complete end-to-end live production capacity automatically in minutes, not weeks
Select the specific Vizrt and 3rd party tools needed for each live production, every time
Automatically provision all the cloud services needed (i.e., compute power and storage)
Automatically roll out the cloud's best security practices every time with no risk of human error
Connect tools and talent on the ground to the cloud with NDI® Bridge
Create new production capacity as and when needed and delete them when finished
Easily access deployed tools through the Viz Now user interface from simple and secure remote access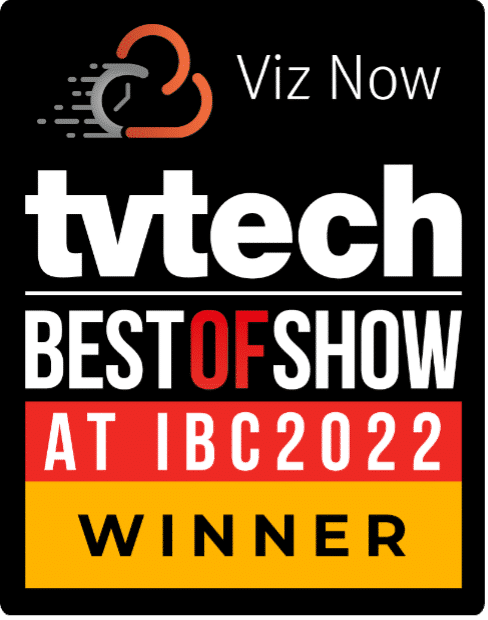 How does Viz Now work?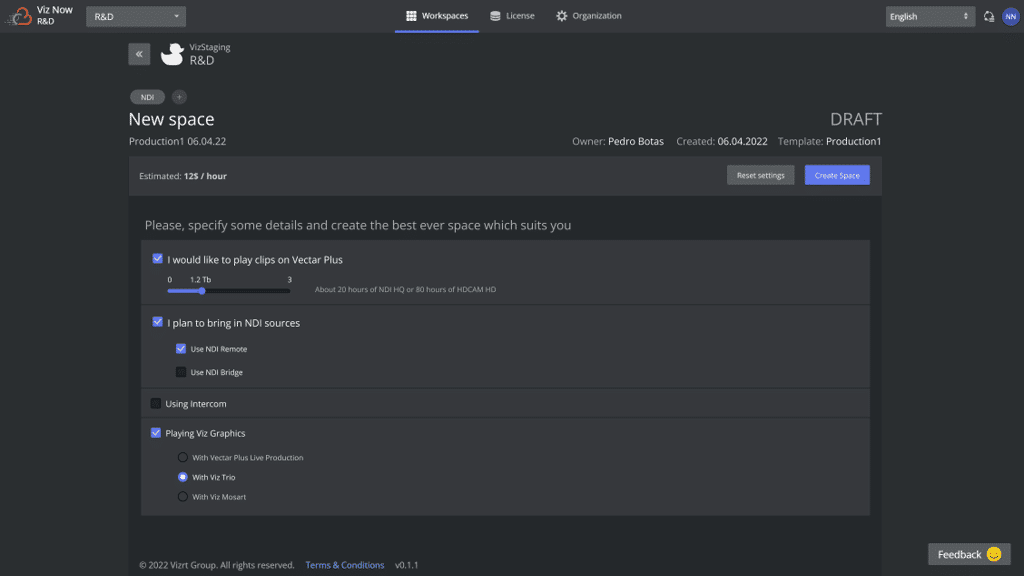 Simply login to your Viz Now portal through your browser, and then you are guided by a set up assistant to connect Viz Now to your AWS cloud account (ask your IT team about this)
Select the pre-configured solution template you want to use – i.e., which Vizrt and 3rd party live production tools you need for this production – and then click "Deploy"
Viz Now then creates and configures a dedicated VPC (Virtual Private Cloud) in your AWS account, provisions all the AWS compute and storage services required, optimizes the security settings, and installs all the Vizrt and 3rd party live production tools requested, including NDI® Bridge for connecting tools and talent on the ground with the cloud – automatically, in minutes
Once the automated deployment is finished, the live production environment is ready to produce stunning live content and can be easily accessed from anywhere through the Viz Now portal which provides remote desktop access to the tools.
Døds Federation breaks through barriers to cloud-based live production with Viz Now

Rapidly growing niche sport, Dødsing, dives headfirst into cloud-based live productions for the "Death Diving" World Tour 2022
How does Viz Now break down barriers to cloud?
Viz Now breaks down barriers to cloud by making automatically deploying the cloud live production tools you need for every production without the IT headaches and cost.
Viz Now overcomes IT resource/experience issues
By automating the deployment process, Viz Now removes the need to involve IT engineers for every live production deployment, saving weeks of IT team time. For broadcasters with the necessary cloud experience in-house, this means their skills can be better used for other projects; for those without the in-house skills or experience in cloud, this makes going cloud possible without extensive training or bringing in external consultants.
Viz Now guarantees a fresh production system every time with no concerns about aging legacy environments, expensive maintenance, and the monetary and environmental cost of leaving traditional production environments running 24/7.
Viz Now overcomes security concerns
Built with complete security in mind, Viz Now automatically deploys and configures cloud security best practices as standard, as recommended by AWS. Automating the process avoids the risk of human error, guaranteeing your live production environments are as secure as possible, locking your productions down to only those who need access.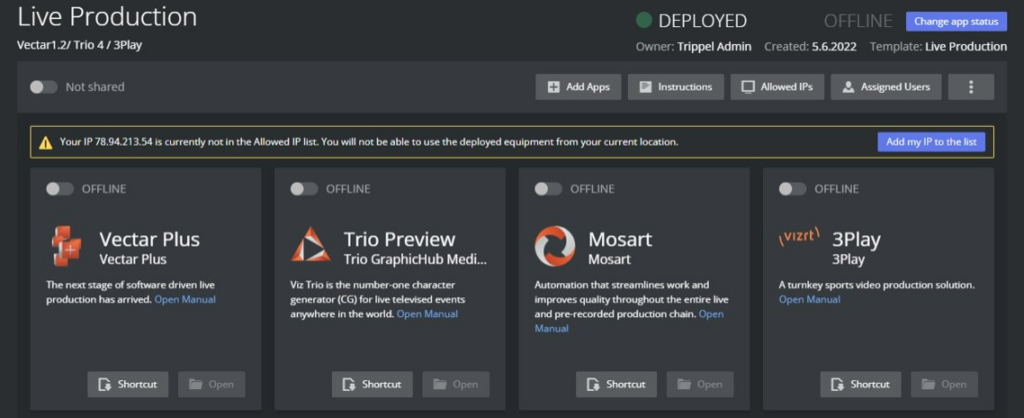 Viz Now overcomes internal resistance
Automating the deployment process makes it as easy as clicking a few buttons to deploy new live production capabilities – in turn, making it quick, easy, and cheap to run test projects that prove going cloud is a wise move.
Viz Now makes it easy to produce more content for more audiences in a cost-effective way, opening the doors to more content monetization and increased viewership. By enabling "pop up" live production capacity at the click of a button, on-demand and peripheral programming – such as event coverage, niche sports, etc. – can be remotely produced in the highest quality without the usual production costs and logistical challenges.
Which Vizrt and 3rd party tools are available through Viz Now?
At launch, Viz Now is designed to deploy the live production tools detailed below – but other Vizrt and 3rd party tools will be added in the future.
Viz Now takes all the elements needed for a full end-to-end live video and audio production and automatically deploys them, including:
NewTek's 3Play 3P2 by Viz Now for IP-native 4K, 8-channel input and 2-channel output replay and slow-motion
Harrison Mixbus VBM for workflows that require a full audio mixing console, seamlessly integrating into the NDI workflow
Talk to an expert about breaking down your barriers to cloud live production
Whether you're new to cloud-based live productions or involved already, Vizrt and Viz Now can help you produce your best quality content from anywhere without the usual IT headaches.