Check out Vizrt's live blog from US election night to find out how broadcasters brought the predictions, updates and results of U.S. election to billions of viewers globally. Facebook, Instagram, LinkedIn, Twitter, and the hashtag #voteviz to see the latest.
As America voted in the 2022 US Midterm Election, broadcasters in the US, and across the globe, showcased the story to billions of viewers via Vizrt's technology. Throughout election night Vizrt covered how broadcasters use our software-defined, visual storytelling tools to look at the real-time data-driven polls and predictions, to share interesting and immersive analysis as America chose.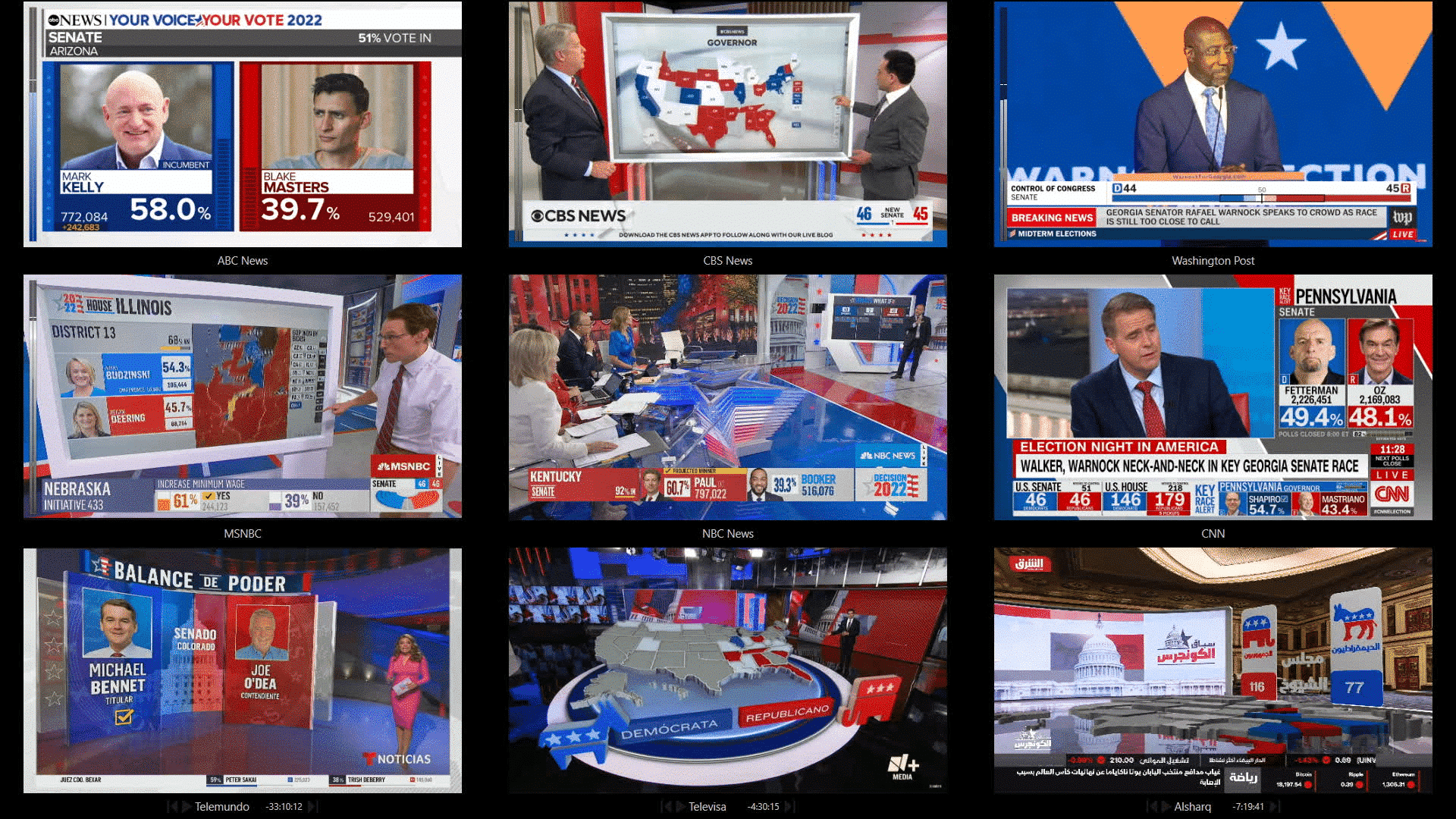 What an election night!
Nov. 8th at 10:59 pm CT
Thanks for tuning in with Vizrt on election night 2022 and seeing the new innovative ways broadcasters around the world are using our software-defined, visual storytelling tools bringing immersive experiences to you real-time!
Courtesy of Vizrt
Televisa's 3D AR map rendered in Viz Engine
Nov. 8th at 10:06 pm CT
Using a combination of AR graphics and virtual sets driven by Viz Engine and stYpe for mechanical and PTZ tracking plus follower camera and talent tracking. Televisa's modern news set in Mexico City aims to immerse its over 14 million viewers in the latest action for the U.S. midterms coverage.
Courtesy of Televisa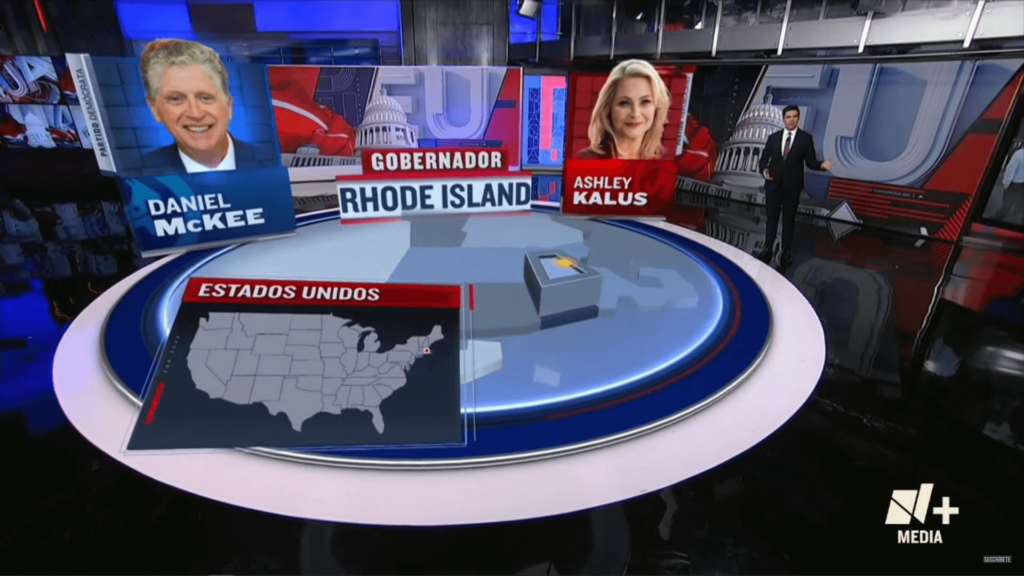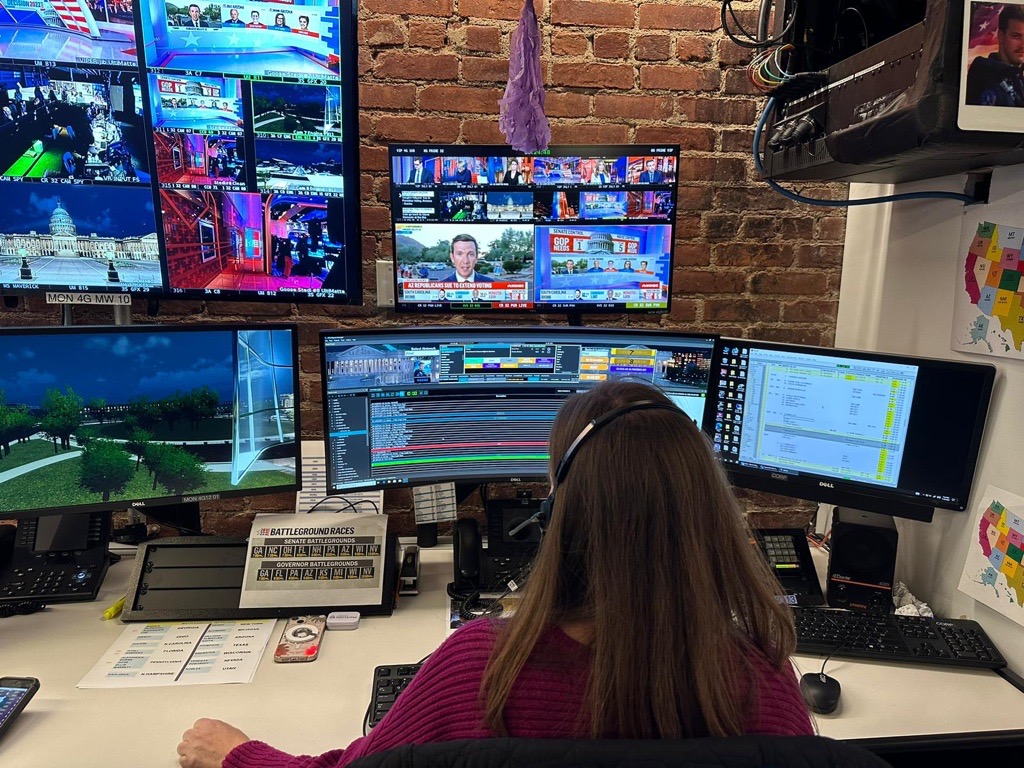 NBC covers the latest results in the US midterms with Vizrt
Nov. 8th at 9:52 pm CT
NBC News is using Viz Virtual Studio to create photo-real AR graphics as part of its AR election coverage for the US midterm elections. Large video walls featuring data-driven real-time graphics display the latest results and analysis while also opening up for remote guests. Camera tracking for the AR elements are done with stYpe's RedSpy optical camera tracking.
Courtesy of NBC News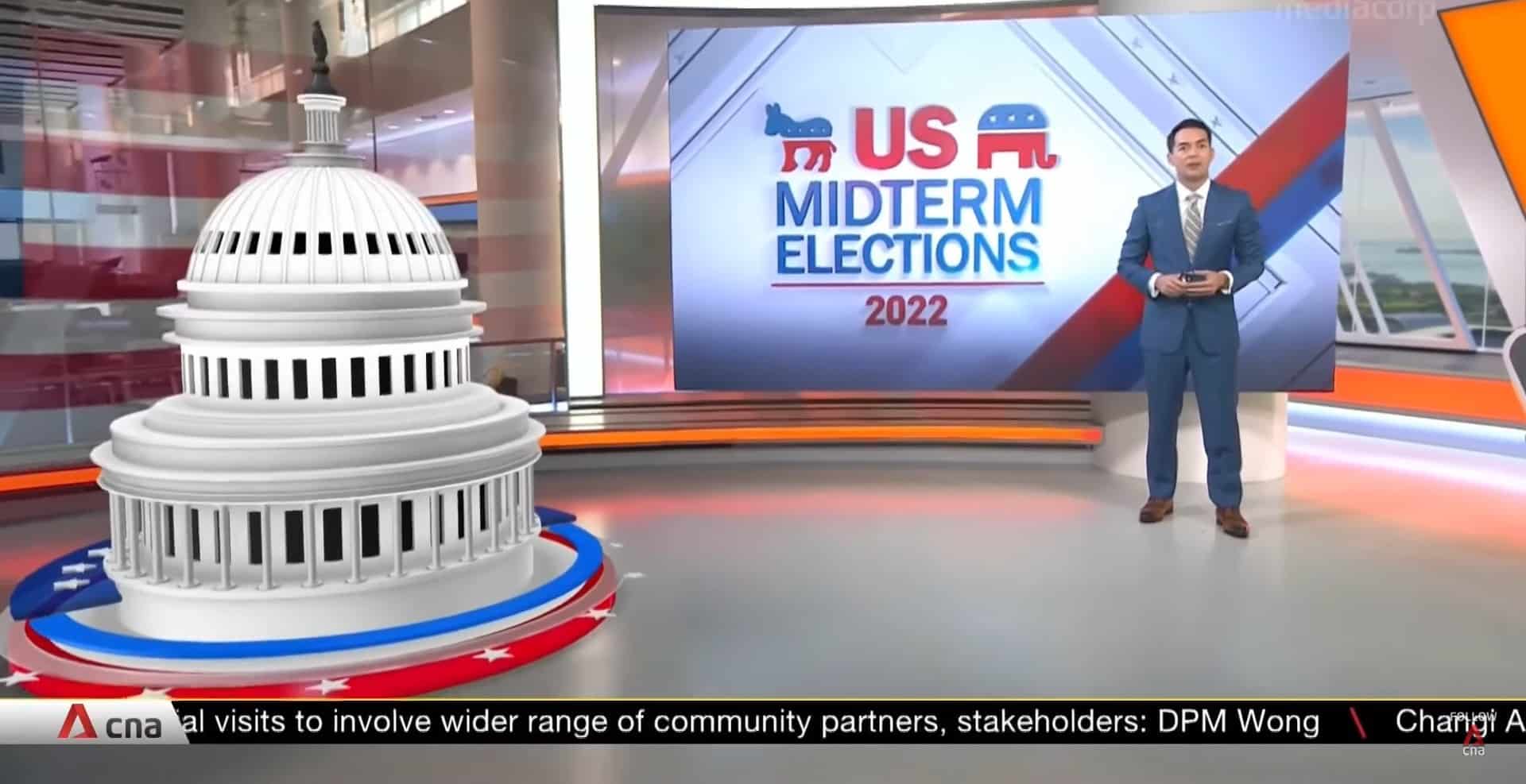 Channel News Asia outline the US midterm elections with Viz Engine
Nov. 8th at 9:49 pm CT
The US is facing a head-to-head between Republicans and Democrats for the US Midterms, but how does this affect Asia? Channel News Asia explores just that for this year's election coverage using Viz Engine to drive AR graphics in Virtual Studio, as well as using Viz Opus, Viz Multiplay, Viz Pilot and Viz One to handle the other elements of broadcast control from automation to content delivery.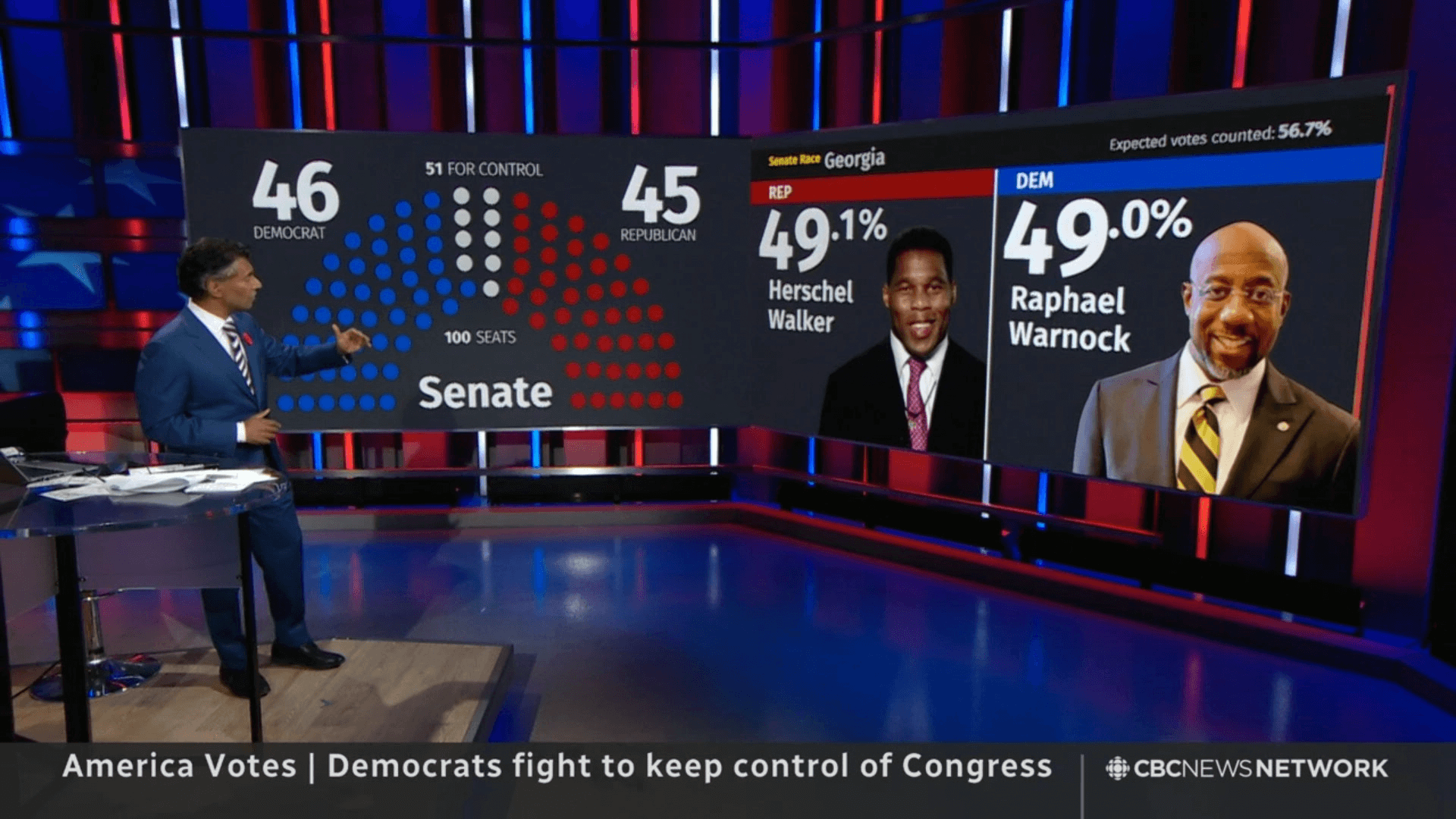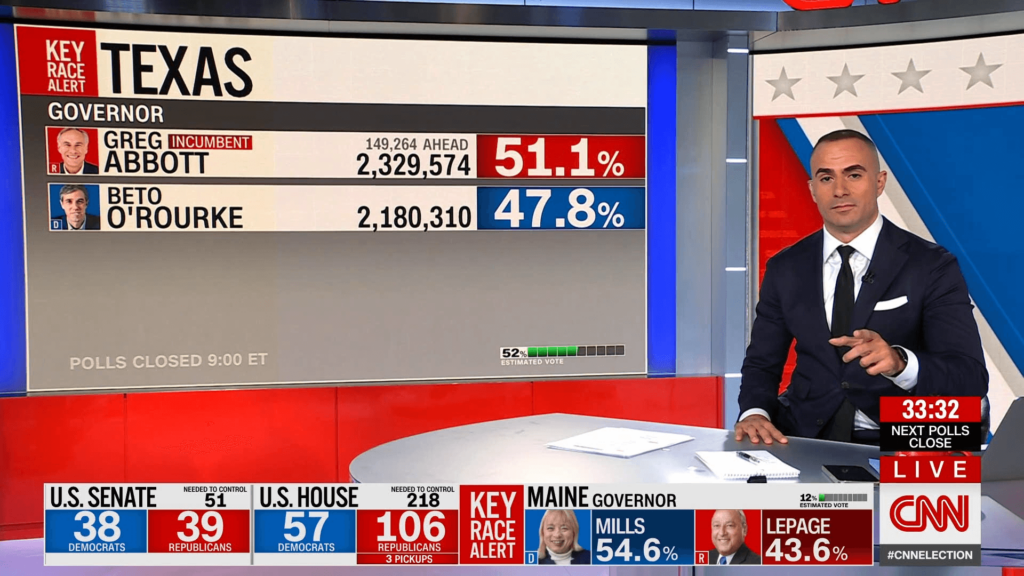 CNN advanced election coverage with simplified graphics control via Viz Multiplay
Nov. 8th at 9:32 pm CT
CNN has been using Vizrt tools for daily news coverage for many years. With the addition of Viz Multiplay and Dynamic Channels controlled by CNN's in-house election system, as results come in, the election system triggers content to video walls, lower thirds, full screens, and many other graphics. This ensures that data is syncronized across all platforms. Viz Multiplay controls the many videos walls in both the Hudson Yards studio in New York, as well as the D.C. studio. Viz World is also being used to create maps on each surface and Viz Engine is rendering all of the graphics throughout the production.
Courtesy of CNN
Fox votes Viz Engine 5 to highlight midterm elections
Nov. 8th at 9:05 pm CT
Data is the name of the game for Fox News as they turn their Studio F into election HQ for coverage. Fox's Presidential Race Scoreboard, National Popular Vote, and Electoral Vote count take live data and visualize it in virtual sets, AR, and multiple video walls including a 14-foot diameter video wall suspended from the studio ceiling. All graphics rendered in real-time by Viz Engine with camera tracking supported by stYpe's RedSpy optical tracking and a HumanCrane.
Courtesy of Fox News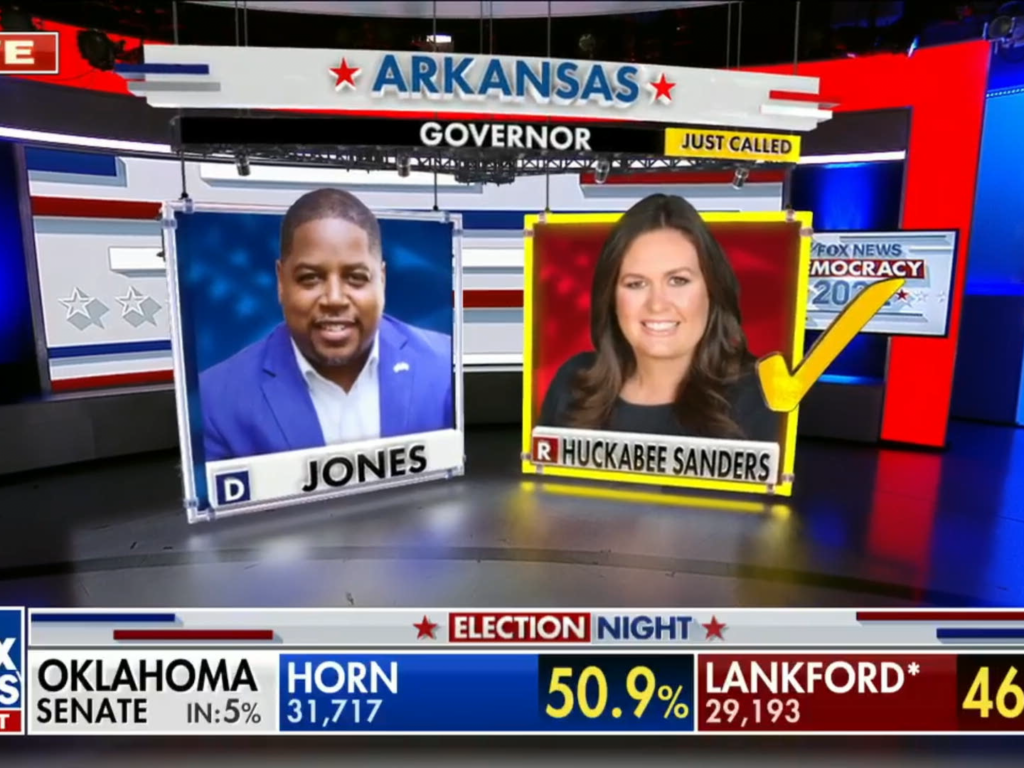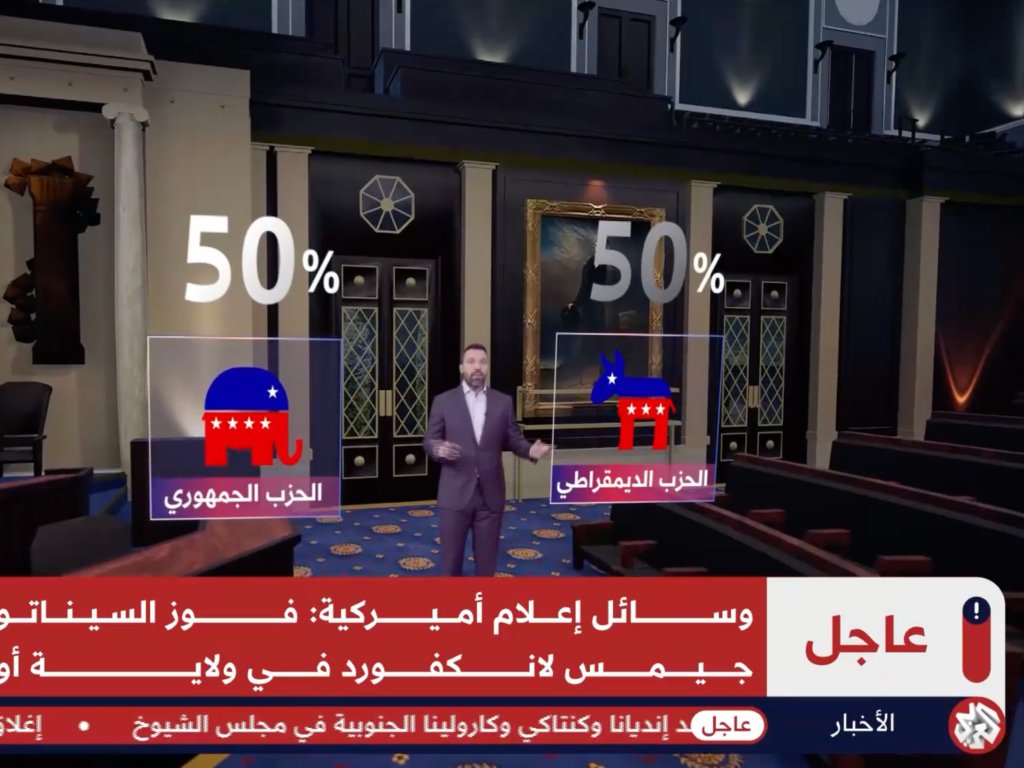 Al Araby bets on virtual sets and AR graphics to cover 2022 US election
Nov. 8th at 8:45 pm CT
Virtual sets and augmented reality are telling the election story in the US this year. Viz Virtual Studio rendering with Viz Engine – the world's most powerful real-time graphics engine and video playout server – creates seamless and interactive graphics, while keeping the newsroom workflow efficient for journalists.
Courtesy of Al Araby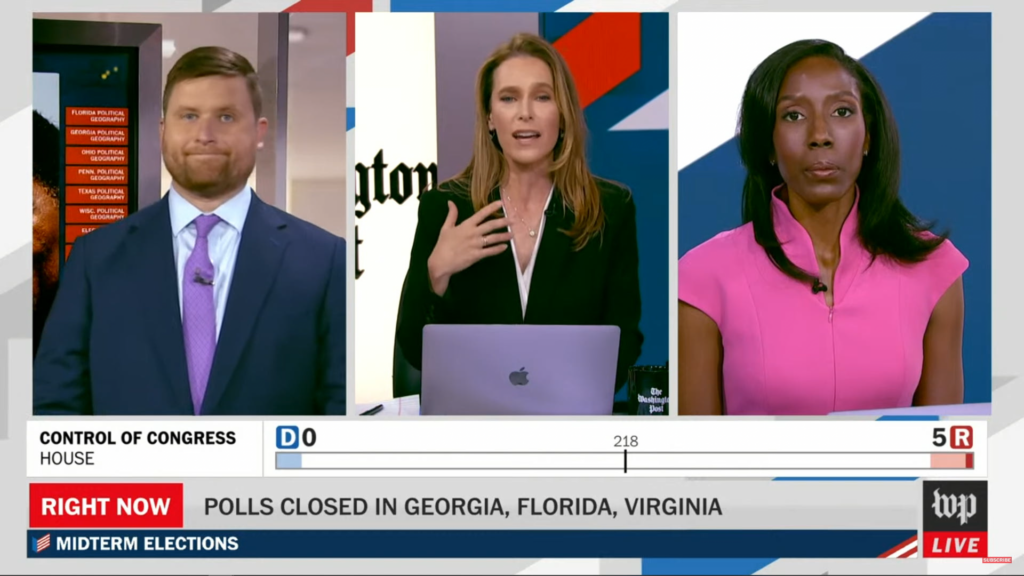 Washington Post shares live coverage of US election results with Vizrt graphics
Nov. 8th at 8:16 pm CT
The Washington Post has brought back its live stream with hosts analyzing the election as data comes in. The production keeps it simple focusing on getting information to the viewers with insightful analysis. The graphics are all controlled by Viz Trio where the operator has a simple interface to trigger the live graphics that are rendered by Viz Engine.
Courtesy of The Washington Post
Telemundo uses Vizrt AR and virtual sets to highlight US midterm results
Nov. 8th at 6:16 pm CT
Spanish language network Telemundo uses Vizrt graphics again this year to highlight the election results in an elevated way with AR graphics. The use of Viz Virtual Studio and Viz Engine, combined with easy control using Viz Arc helps Telemundo achieve a dynamic look for analysis and results combined with an easy way to control the AR elements all tracked with styYpeKit mechanical camera tracking.
Courtesy of Telemundo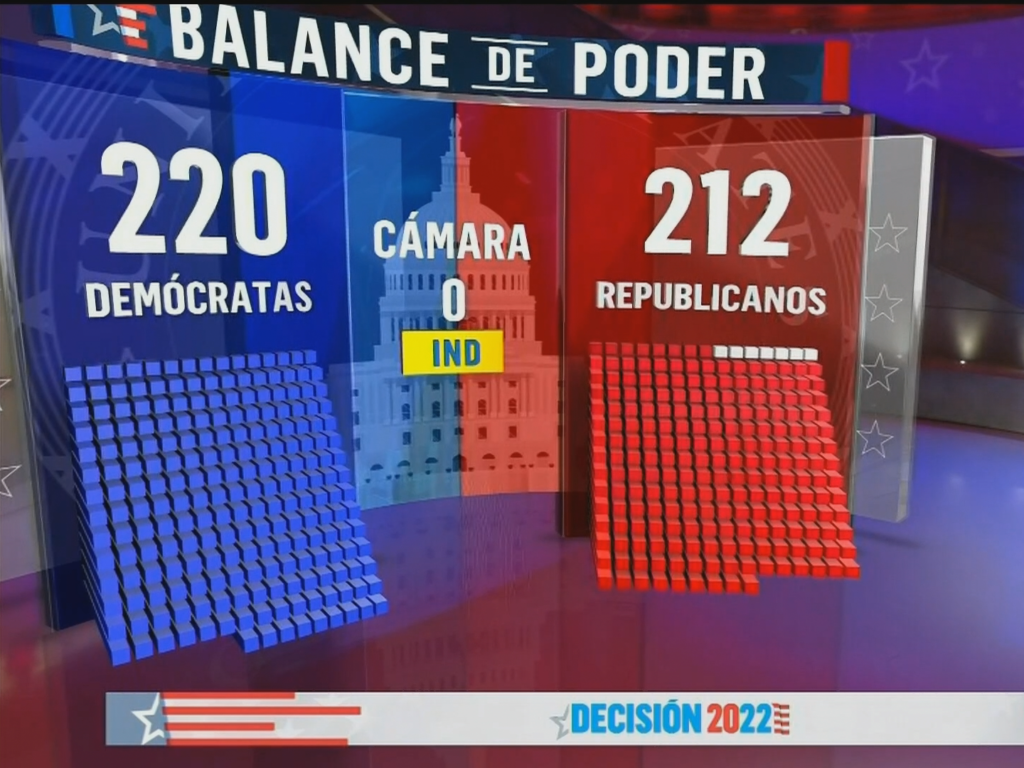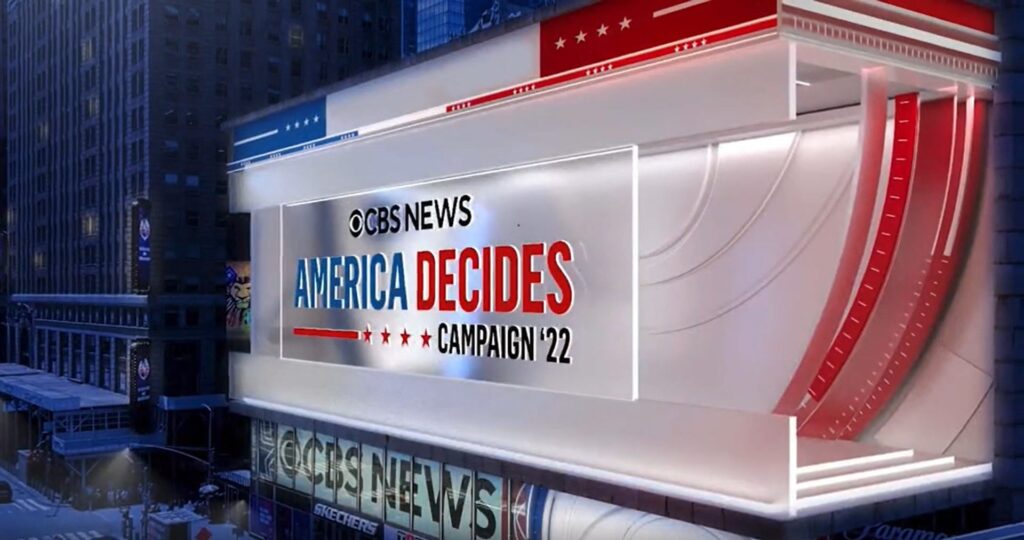 CBS News relies on Viz Engine 5 and Unreal Engine for election coverage
Nov. 8th at 2:14 pm CT
To keep pace with the US election results, CBS News uses the pioneering integration of Viz Engine 5 and Unreal Engine 5, building the largest AR screen in Times Square.
Special thanks to Fadi Radi and the team!
Asharq News uses Viz Engine and Viz Virtual Studio to cover US elections
Nov. 8th at 12:15 pm CT
For an impeccable visualization of the 2022 US elections, Asharq News chose Viz Engine to composite and render scenes, and Viz Virtual Studio to build the live virtual set and AR production.
Courtesy of Asharq News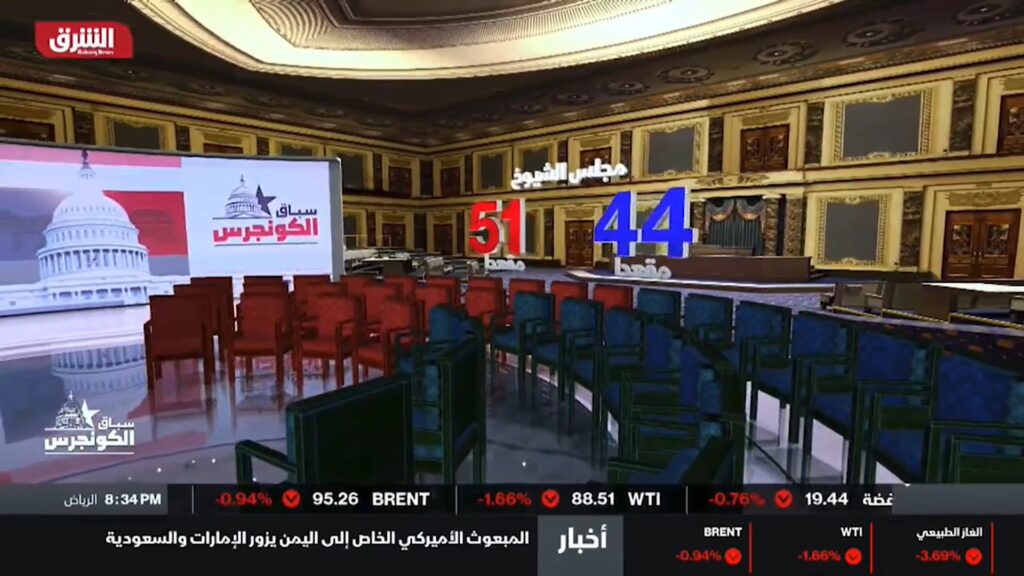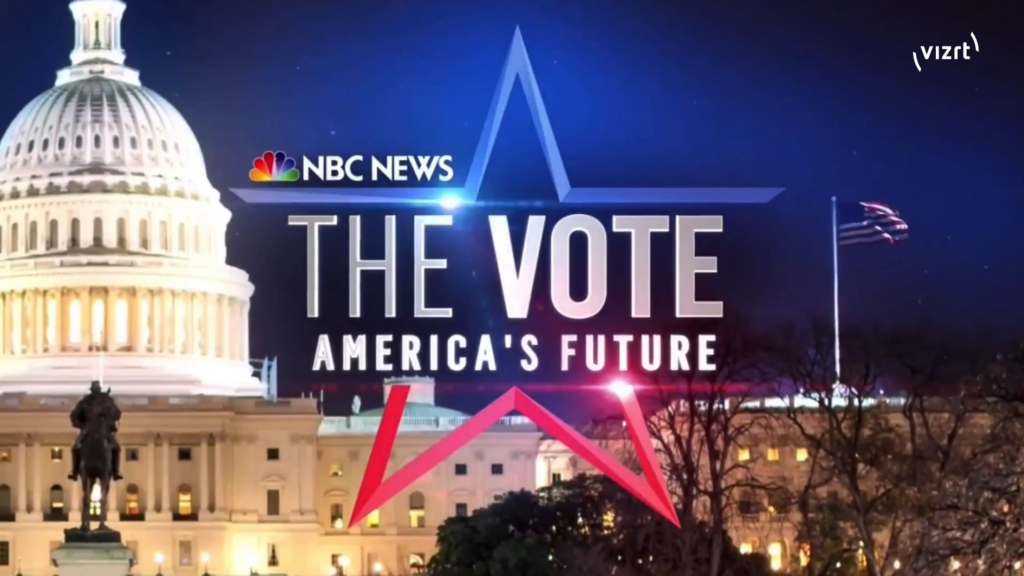 Find out how broadcasters covered the 2020 US election
Copyright Disclaimer under Section 107 of the copyright act 1976, allowance is made for fair use for purposes such as criticism, comment, news reporting, scholarship, and research. Fair use is a use permitted by copyright statute that might otherwise be infringing.