Oklahoma State University Simplifies Live Video Production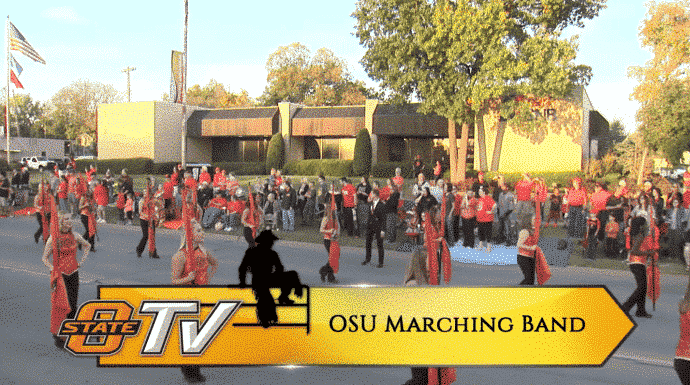 From the Miss OSU Pageant to groundbreaking veterinary health research to its annual homecoming parade, there's a lot happening at the Oklahoma State University five-campus system based in Stillwater. To document and share it all with the world online, the University established the OStateTV production team and dedicated video portal, OState.tv, in 2012.
With veteran TV broadcaster, Andy Wallace, at its helm, OStateTV has since greatly streamlined its production process by adding new equipment that maximizes their small staff and allows them to easily produce live events.
OStateTV covers events throughout the campus with three full-time employees and the help of many student volunteers, as well as the university's video production center — the Institute for Teaching and Learning Excellence. The team has uploaded and published more than 6,000 videos to its portal since it was established and broadcasts live about 110 events per year, including many lengthy commencement ceremonies.
The University's main campus in Stillwater has a student population of nearly 25,000, which Wallace describes as a small city with a lively arts scene, Greek system, and major collegiate athletics.
Prior to implementing a new live video production workflow, covering the University's many events was a challenge because of the manpower required just to move equipment to venues and set it up for events.
"Like universities across the country, we're on a budget and trying to do more with less so we had to figure out how to make things work with a limited staff," said Wallace, OStateTV associate director. "But it still has to be simple enough that student workers can pick it up fairly quickly."
A Flexible Solution
During its first year of operation, OStateTV struggled with live productions because the University's camera switching, graphics, and video playout equipment limited the team to a few pre-selected locations and required extensive manpower.
To remedy this problem, Wallace set out to find a streamlined solution that would allow them to easily produce live events from anywhere. After seeing how well the University's NewTek TriCaster 860 and 8000 performed, Wallace introduced the TriCaster Mini to OStateTV's workflow two years ago.
"It gave us the flexibility we need without having to have a lot of equipment or people," Wallace said. "If we wanted graphics or wanted to roll video during a live event before, then we had to really plan ahead and utilize a lot of extra resources. It's much easier now."
He says that although they have existing infrastructure and access to equipment on campus, the TriCaster Mini has become a favorite because of its compact size and ability to fit in a Pelican Case and be taken across campus quickly to produce a live event.
"It's a switcher, graphics machine, and video playback server," he said. "It allows us to produce a high-quality production without maxing out our resources. One person can easily operate everything — audio, playback and graphics."
The OStateTV team primarily uses the TriCaster Mini, four Sony cameras (including one PTZ), up to five microphones, a Behringer 12-input audio mixer, lighting, a communications system, and cabling. They also have an external monitor and control surface for the TriCaster Mini, which they're able to easily haul and store in Pelican Cases.
"Because it is self-contained, it's easy for students to understand," Wallace said. "We use it as a laboratory for our students in the School of Media and Strategic Communications to learn on since it's not a switcher that's so big and confusing, but it still delivers a high-quality broadcast."
For some larger events, such as the Miss OSU Pageant and a basketball pre-game show hosted off campus, OStateTV has used the NewTek TriCaster 860 and 3Play instant replay system, which are owned by the University's media school.
For covering other large events with a full staff from remote locations, such as broadcast political debates, Wallace says they use a TriCaster 8000 that belongs to the campus video production team.
"Each live event is different, so our game plan is flexible based on the event, our available staffing and any existing resources from the venue," he said.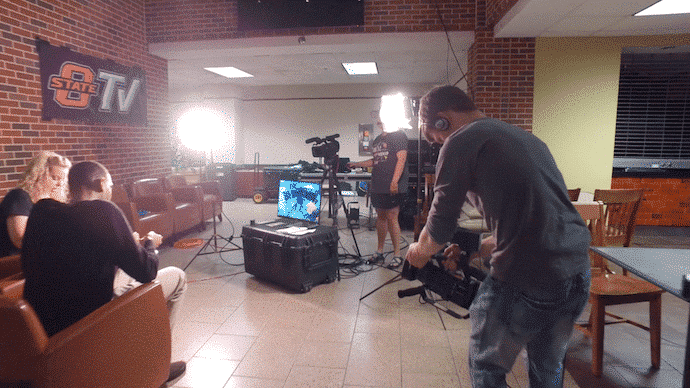 Gaining Live Viewership
OStateTV's primary mission is to support academics, but occasionally it will be given the opportunity to cover athletic events. One such occasion was the Oklahoma State versus Penn State wrestling match from the University's Gallagher-Iba Arena in 2015.
The match was OStateTV's most notable live broadcast, which they covered using the TriCaster 860, LiveText graphics software and 3Play instant replay.
"It looked smooth as silk," Wallace said. "And the student production team was able to pick it up quickly and easily."
That wrestling match was one of many live streamed events that have gained international audiences from as far as Seoul, South Korea. Wallace says that Greek events, like the Freshman Follies and Varsity Review skits, are their most popular live event videos and have the highest viewership.
Other popular live streamed events include, the Miss OSU Pageant, Mr. and Ms. International Pageant viewed around the world, and the University's annual homecoming parade, which it calls, "America's Greatest Homecoming Celebration."
Many of these events are produced by students in the live field production class, who earn credit for producing two to three live events per semester. The students use the TriCaster 860 and 3Play to produce both events.
"The 3Play does a great job of allowing us to catch the reaction of the Miss OSU winner," Wallace said.
Overall, Wallace says the TriCasters have allowed OStateTV to amp up their live content since it reduces the time for set up and break down.
"It's greatly simplified the process," he said. "There have been times where we don't intend to push an event live, but we still use the Mini to cut the event on the fly."
At a Glance
Oklahoma State University is a land-grant public research university located in Stillwater, Oklahoma with a system-wide student body of 35,703
Oklahoma State University's Stillwater campus offers nearly 200 undergraduate degree majors through six colleges
The University has a large annual homecoming celebration, which draws more than 40,000 alumni and more than 70,000 participants each year**Gear **
TriCaster 8000
TriCaster 860
TriCaster Mini
3Play instant replay system
Sony HXR-NX5R NXCAM professional camcorder with built-in LED light
Sony HXR-NX5U NXCAM professional camcorder
Sony SRG-300H 1080p desktop & ceiling mount remote PTZ camera
Sony UWP-D11 integrated digital wireless bodypack lavalier microphone system
Sony UTX-B2 bodypack transmitter for UWP Series wireless microphone systems
Sony UTX-H2 wireless handheld transmitter
Dell U2515H 25" widescreen LED backlit LCD monitor
ikan IB508-v2 Bi-Color LED 3-light studio kit
Behringer XENYX 1204USB – 12-Input USB audio mixer
LiveText graphics software
Pelican hard cases
Workflow
OStateTV routinely uses the TriCaster Mini, four cameras, up to five microphones, an audio mixer, lighting, a communication system and cabling. They pack an external monitor and control surface all in cases to easily move to event locations
A TriCaster 8000 and 3Play is owned by the video production team, while the media school has a TriCaster 860 and 3Play
Four Sony cameras are used for most events, including one PTZ, as well as Sony bodypack and handheld microphones
Equipment is transported easily using Pelican padded hardshell cases
Article by Heather Halsey