TriCaster® is the real deal for leading Singapore real estate agency
A TriCaster® Mini 4K video creation system and NDI® network infrastructure is integral to the powerful new video production studio designed by Ideal Systems on behalf of their client, PropNex.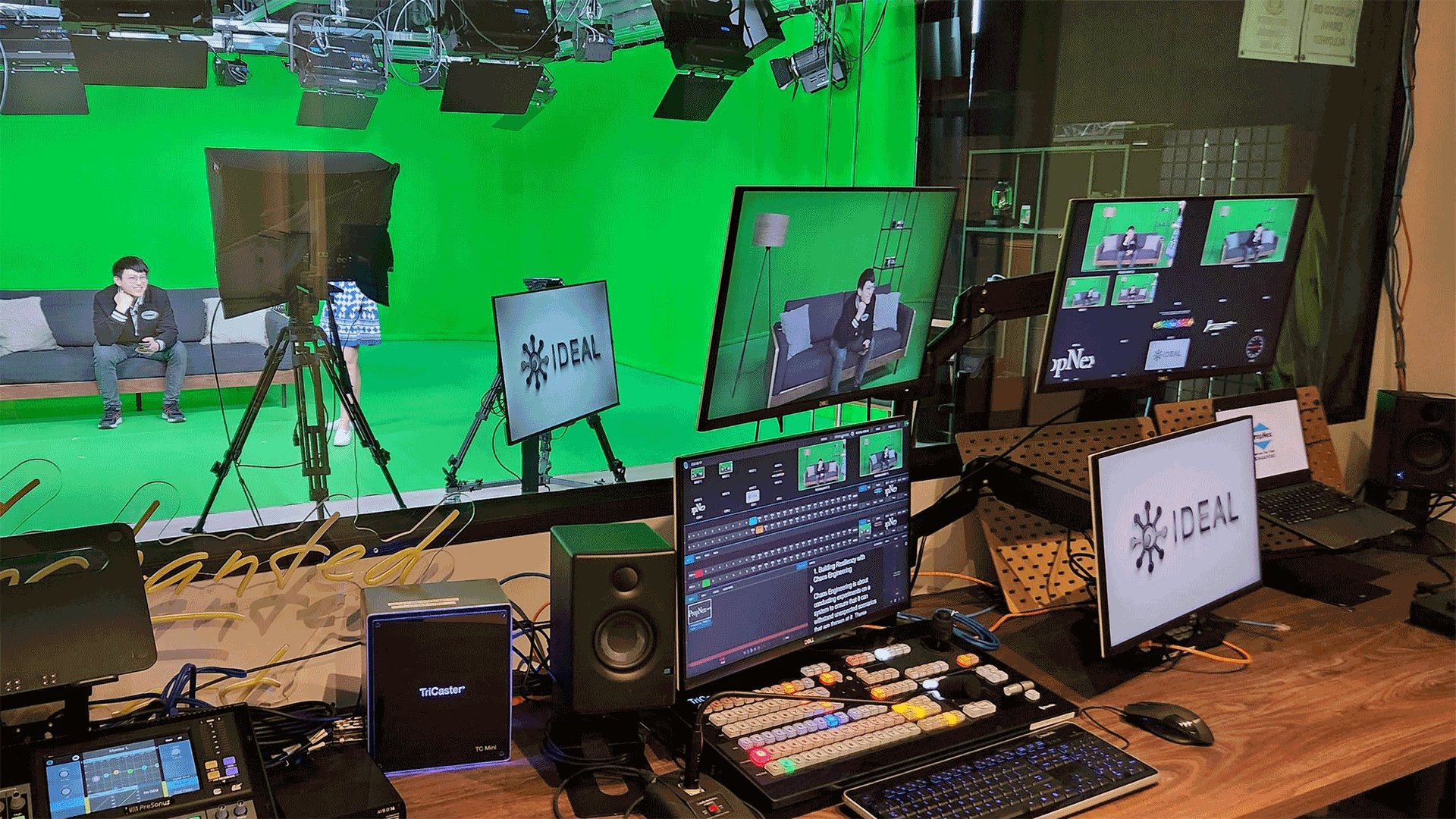 When leading Singapore real estate agency PropNex decided to convert one of its office spaces into a video production studio to produce content for streaming, it knew that it would need to partner with companies able to deliver a superb-quality live video production facility. Enlisting Ideal Systems – which is one of Asia's most successful systems integrators for broadcast, cloud, and professional AV – helped them achieve this. Ideal Systems focused on designing and building a studio that is configured around a TriCaster Mini 4K video creation system and comprehensive NDI network infrastructure.
Based in Singapore's HDB HUB district, PropNex saw a growing need for high-quality video content. Having identified a 1,700 sq ft space in its offices that was suitable for conversion, the PropNex team initiated a transformation that would enable it to record, produce and stream content in superb quality.
The result is a versatile production environment that includes a main studio, control room, and two multi-purpose spaces used primarily for podcasting.
TRICASTER FUNCTIONALITY
The solution devised and installed by Ideal Systems supports end-to-end 4K over IP from the cameras through production to distribution. The workflow makes extensive use of the TriCaster Mini 4K's Virtual Studio application to support the full range of corporate applications – including video calls on platforms such as Zoom or Microsoft Teams, using either the studio's 'hard set' or chroma key-enabled 'virtual space'.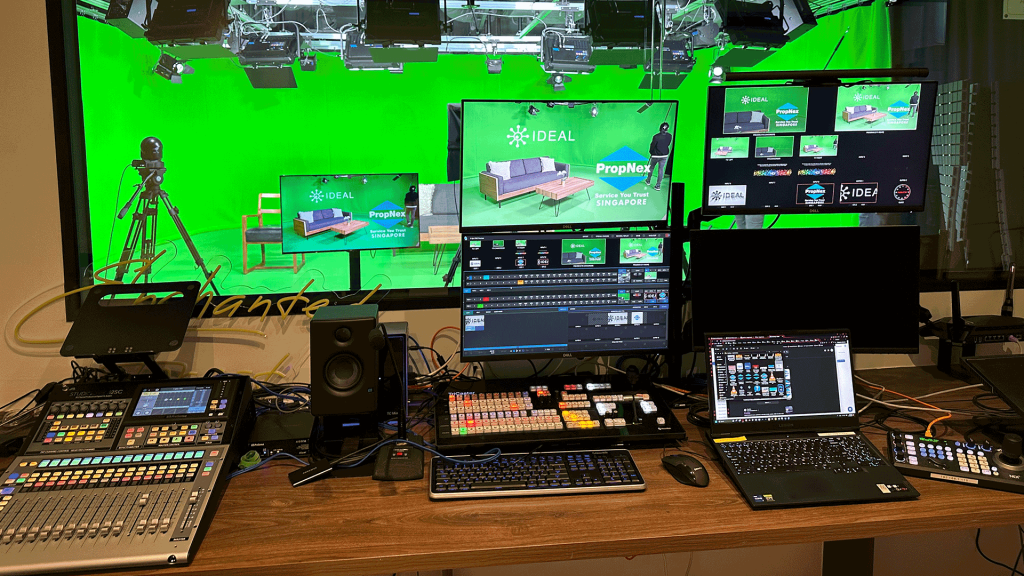 The PropNex team is also finding the TriCaster's Live Story Creator featureinvaluable. Providing a whole new way to streamline productions using document-based automation, Live Story Creator, is being used in conjunction with Microsoft Word. Consequently, content creators can put together a script in Word and then use its comments to trigger actions on the TriCaster system as the presenter reads from the teleprompter. Once the document has been loaded into the TriCaster, the system takes care of the rest, fully automating and timing picture-in-picture, graphics and switching in accordance with the script.
The end result is that the work of presenters, production operators, and assistants is made easier and more efficient.
COMPREHENSIVE NDI ENVIRONMENT
The TriCaster is also part of a comprehensive network based on NDI technology, which enables high-definition video to be delivered, received, and transported over a computer network with very low latency. The Ideal Systems team was keen to push the boundaries of what could be achieved with native NDI systems, and to this end there is no use of legacy SDI equipment or cabling in the entire studio.
Along with the TriCaster, other equipment connected with the technology includes an NDI teleprompter and NDI native studio monitors, both made by Telescript International, as well as native NDI BirdDog PTZ cameras and Kiloview converters.
All the feeds from the studio are carried on standard Ethernet cables, while the BirdDog cameras also employ PoE (Power over Ethernet), which leads to a dramatic reduction in the cabling requirement because each cable for a PTZ is effectively a 5-in-1 – providing power, control, tally, video, and audio.
EXTENSIVE VIDEO CONTENT
The collaboration between Ideal Systems and PropNex to develop the latter's new studio facility has resulted in several significant creative and commercial benefits for the real estate company, including the ability to:
Create high-quality, visually appealing video content. Examples of this content include property tours, promotional videos and other material that can enhance the company's marketing efforts and overall brand image.
Produce immersive property presentations. PropNex now can create immersive property presentations that allow potential buyers or renters to virtually experience a property as if they were actually physically present. This can help to speed up the decision-making process for clients who can explore properties remotely without having to visit them in person.
Work quickly, efficiently and at high-volume. The combination of the TriCaster and NDI technology means that content can be produced, edited and distributed in a fast and trouble-free fashion. With the ability to work more quickly, PropNex can create a higher volume of video content without putting pressure on its resources.
Share content across multiple platforms and outlets. The new set-up makes it much easier for PropNex to share its content across the full range of channels and platforms, including websites, online listings and social media. This greater outreach also allows the company to engage with a larger audience, including international clients, resulting in an increased likelihood of generating leads and securing sales.
Engage with new and existing clients in real-time. The new studio supports high-quality, low-latency live production, which makes it extremely easy to interact with clients and partners in real-time. PropNex is already using these capabilities to undertake live property tours, Q&A sessions, and virtual open house events. It's the kind of in-depth, personalized interaction that inevitably builds a deeper connection between realtor and client.
READY TO FACE THE FUTURE
PropNex now has one of the most advanced corporate studio facilities in the region, providing it with all of the tools it requires to create compelling video content – and reinforce its status as one of Singapore's most prominent and forward-looking real estate companies – for many years to come.
Speaking in a recent video about the studio, PropNex studio producer Phua Li Tat remarked: "PropNex is Singapore's largest real estate agency and we decided to engage Ideal Systems to build this broadcast-level studio because we wanted to bring our media production to another level."
The multi-faceted facility to have resulted from this process, he added, means, we have the freedom and the flexibility to film almost anything that we want.
Download a copy of the case study