The Baltimore Ravens have qualified for the National Football League (NFL) playoffs 11 times since 2000 and earned two Super Bowl victories, four conference title berths, and five AFC North division titles. Now they're making good on a goal to make M&T Bank Stadium the very best place in the U.S. to experience football.
Now nearing completion of a three-year, $120 million renovation, the team selected Vizrt's Viz Arena live sports enhancement solution as part of the upgrade. Both a fan enhancement tool and monetization solution, Viz Arena enables the addition of augmented reality graphics, including virtual ads, through image-based tracking. The solution complements a sweeping stadium renovation that includes a high-density WiFi network, larger, higher resolution in-stadium video screens, and completely overhauled control room.
"What's surprising is how much Down & Distance has changed the way we produce our content. It gives us in the control room information in real time, which is vital to enhancing the in-stadium fan experience and obtaining more value from our programming."

Jay O'Brien
Vice President of Broadcasting and Gameday Operations, Baltimore Ravens
A broadcast experience inside the stadium

Equipped Viz Arena, the Ravens' can flex their creative muscle and give fans greater insights and an even more immersive in-stadium experience through cleaner, more professional programming and on-screen replays with first-down line capabilities, which they didn't have previously.
With Down & Distance, a software application of Viz Arena, Vice President of Broadcasting and Gameday Operations, Jay O'Brien and his production staff can insert a yellow first-down marker. The technology makes the line appear painted on the field rather than digitally imposed, bringing fans a precise and up-close look at the action on the stadium screens. Viz Arena's Down & Distance is the first application of its kind available in 1080p or 4K without any upscaling or complex image processing.
Monetization opportunities

While Down & Distance is used primarily as a fan enhancement tool, the Ravens can also add locked-in virtual ads, seamlessly and unobtrusively, in different areas around or on the field of play. Graphics, including team branding or sponsor logos, can be fully integrated into a production, at a specific location or tied to the lines so it can move with the them. This versatility allows multiple sponsors and graphics to change throughout the game.
Increasingly brands want to be associated directed with the storytelling, sponsoring plays of the week for example. Ravens in the Red Zone is an example of this more professional, visually appealing integration directly into the game, a boon to sponsors and partners and a source of revenue for teams.
The yellow line is now ubiquitous in television broadcasts, giving viewers a live, intuitive guide to action on the field. "It's become the standard for watching football and has completely changed the viewing experience," explains O'Brien. "Fans aren't looking at sticks and the chain any more. They look to the video boards. The yellow line has changed fans' viewing patterns, so it has to be accurate and reliable. We can't afford any mistakes."
Quality, reliability, value

Any solution also had to meet O'Brien's exacting quality standards. "I had a bad experience with another product, so I wasn't a fan of this sort of solution," he admits. "I was concerned about both the reliability and the operation. Plus, shadows can be a challenge. Our stadium may have the harshest shadows of any in the league, so I had to be convinced."
In addition to image clarity, dependability and precision, the team was impressed with its operational ease and value. Using live or archived footage, Down & Distance provides a similar result to broadcast solution first-down lines but with far easier set up and operation and without costly, labor-intensive deployment.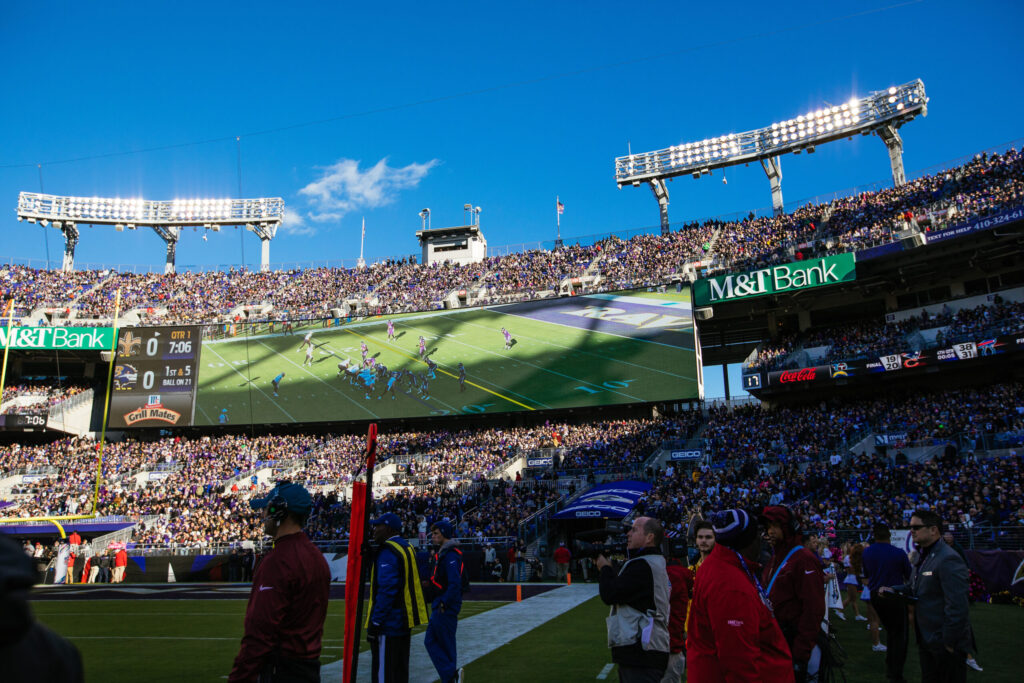 Fast set up and easy operation

Set up is quick and seamless on game day. "With camera-based solutions you need a set-up day and an entire crew, as opposed to Down & Distance, which only requires 20 or 30 minutes of calibration then it's ready to go," says O'Brien.
"Vizrt wants to innovate with us. They want a larger footprint in the NFL space and that's sure to happen as more teams become aware of what Viz Arena and its applications can do. I've been a cheerleader for this product, and we want stretch our use of the solution even further next year."

Jay O'Brien
Vice President of Broadcasting and Gameday Operations, Baltimore Ravens
The solution also requires little training. Most users can operate the system in as little as 30 minutes and master the finer points within a day. And while the software helps significantly adds to the fan experience, it also delivers unexpected results. "What's surprising is how much Down & Distance has changed the way we produce our content," he says. "It gives us in the control room real-time information that's vital to enhance and get more value from our in-stadium programming."
For more information Vizrt's Viz Arena and Down & Distance application, please visit www.vizrt.com.