Vizrt Experience in Seoul
August 30 – September 1, 2023 | 4th floor, Nuriccum-Square Business Tower | Sangam-dong, Mapo-gu, Seoul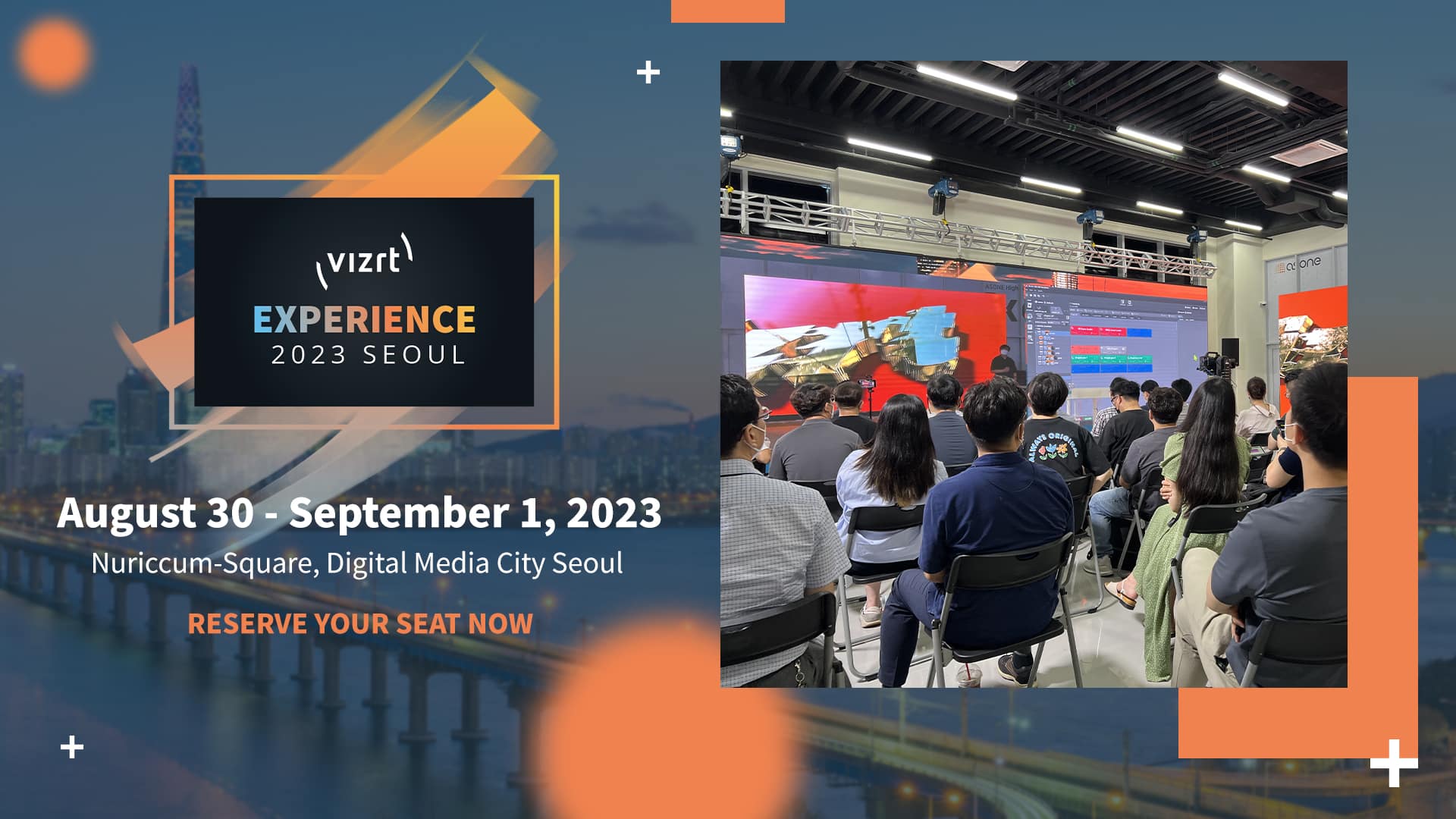 We're excited to bring the "Vizrt Experience" to Seoul again this year! This much-awaited event will be held for three days from August 30th to September 1st at the Nuriccum-Square Business Tower, Sangam-dong, Mapo-gu, Seoul.
Vizrt's trusted and industry-leading solutions for broadcast productions as well as our latest innovations will be presented and demonstrated at this exclusive event. With two large LED videowalls and a 30-meter ribbon LED display, you'll experience a real-time AR/XR show, and see our graphics, sports, and live production tools in action.
We will also be joined by Girraphic, a multifaceted broadcast and advertising centric design/branding agency with a specialty in virtual production and augmented graphical integrations. They will showcase their world-class graphic content created by Vizrt tools for various sports, news, and elections.
In this exciting 3-day event, we are going to showcase our visual storytelling solutions in two different sessions each day.
Morning Session:
Global cloud live sports production trends
Viz Arena, the leading image-based AR graphics and virtual advertising solution designed to keep fans engaged, sponsors satisfied, and costs low.
Viz Libero, the fastest and most complete turnkey sports analysis and graphics platform that can combine video, telestration, 3D flights, photorealistic AR, unique player perspectives and live data.
Viz Flowics, the most comprehensive cloud-native, web-based live HTML5 graphics platform with native data integrations and audience engagement tools. No downloads, no hardware, no coding, no local installation, all cloud.
TriCaster® powered by NDI®, the most complete video production platform that puts an entire suite of media production capabilities at your fingertips.
Afternoon Session:
AR/XR Show
Girraphic's Creative Work Presentation and Demonstration
Viz Engine 5, the superior compositing, real-time 3D rendering and video playout platform in the media industry that includes adaptive graphics and Unreal® Engine 5 integration.
Viz Multiplay, the flexible and easy-to-use studio display controller that provides dynamic control of graphics, video, live sources, streams, and stills with seamless transitions on every studio display through a single interface.
Due to limited venue space, we can only accommodate a certain number of people each day, so we encourage all participants to sign up early and choose your preferred date and session. Please fill out the registration form with accurate information to express your interest in joining us at this event. A representative from Vizrt will reach out to you to confirm your seat.
August 30 – September 1, 2023
4th floor, Nuriccum-Square Business Tower
Sangam-dong, Mapo-gu, Seoul