Viz Mosart 5.4
Introducing Viz Flowics graphics control, editing of Viz Pilot Edge graphics, remote control of Viz Mosart features from 3rd party systems, and more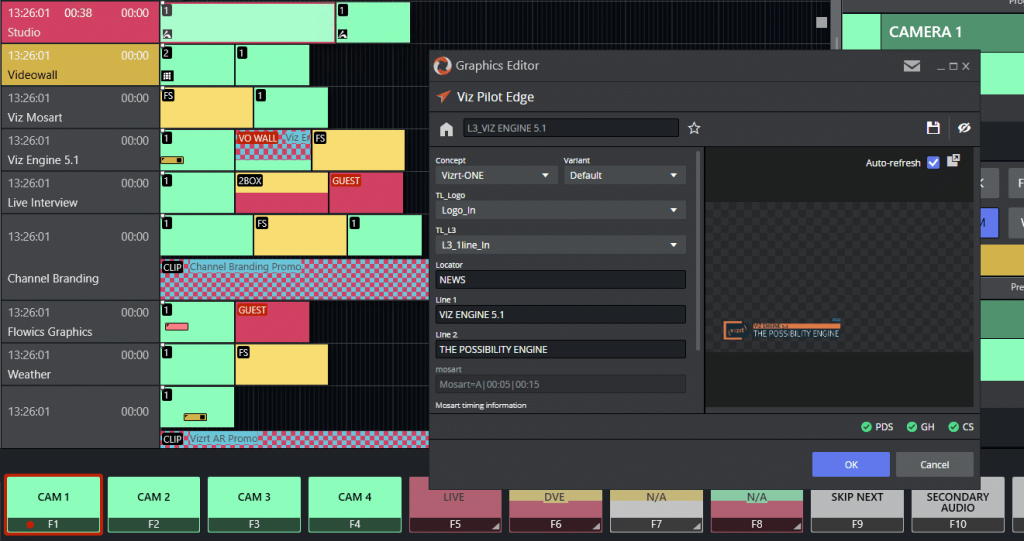 October 23rd 2023: The latest release of the industry-leading studio automation solution, Viz Mosart 5.4, further reinforces Viz Mosart's role as a powerful graphics control client for live production assistance. HTML graphics from Viz Flowics can now be added to and controlled directly from the Viz Mosart rundown, and Viz Pilot Edge graphics event data can be edited directly in the automation interface to allow last-second changes to be made.
This release also brings other workflow and UX enhancements, such as the ability to remotely control some Viz Mosart features from third-party systems through a secure REST API, an improved keyboard shortcut design, and a preview of new Timeline and Story script windows.
Viz Flowics support
Further expanding Viz Mosart's graphic control abilities, this update makes it possible to control Viz Flowics HTML overlay graphics through the Viz Mosart UI, adding them to your Newsroom Control System's rundown through the new Viz Flowics NRCS Plugin. This fantastic addition means that Viz Mosart now has native control of all types of Vizrt graphics and is therefore the ideal production assistance tool for maximum end-to-end flexibility.
Editing Viz Pilot Edge graphics in Viz Mosart
It's now possible to edit Viz graphics data directly in the Viz Mosart user interface. The Viz Pilot Edge plugin can now be opened inside the automation UI to give operators even greater control to fix errors and make last-second changes before stories go to air – particularly useful for highly dynamic operations with smaller production teams.
Remote Control API
It's now possible to remotely control features of Viz Mosart through a secure REST API, meaning you can trigger Viz Mosart from external devices. For example, a TriCaster video switcher could trigger template playout, or operators in the Master Control Room (MCR) can trigger playout of the first Viz Mosart story in a rundown to avoid freezing on-air.
For details on how to use this new interface, please consult the  Mosart Remote Control REST API section in the Viz Mosart Administrator Guide.
New Timeline and Story script windows (PREVIEW)
For a while, a read-only Rundown Viewer has been available as part of Viz Mosart Web Applications. As a preview for how rundown control in the future could migrate to a web-based interface, we have introduced two experimental windows in the regular Viz Mosart client: "Timeline – Web" and "Story script – Web".

These are available for trial usage both as floating windows and as docked windows (through the Workspace editor). These are in early development stages and we are keen to get user feedback.
Other improvements
Download to upgrade now
Active customers can download the installation files and release notes for Viz Mosart and related web apps from the Vizrt FTP site: /products/VizMosart/Latest Versions/VizMosart-5.4.

Enroll today | Learn Viz Mosart
Training and other useful resources
While you're here, have you checked out our range of Viz University training courses covering all Vizrt products, including an extensive course on Viz Mosart? Vizrt customers get free access to all courses, and freelancers get free access to a selection of them. Enroll now to get the most out of Viz Mosart!
Looking for quick training materials for specific Viz One workflows and features? Check out our handy Viz One Viz Minutes videos!