Viz Social 1.1
Now integrated with Telegram and WhatsApp
Harness audience generated content from Telegram and WhatsApp with the latest version of Viz Social.
Social media is a valuable source of viewer content for broadcasters. It is also a great way to engage directly with viewers and boost brand recognition and awareness.
The past Summer and Winter Games have been described as the most connected games ever with social media helping fans get the inside scoop from athletes and experience the games despite pandemic restrictions.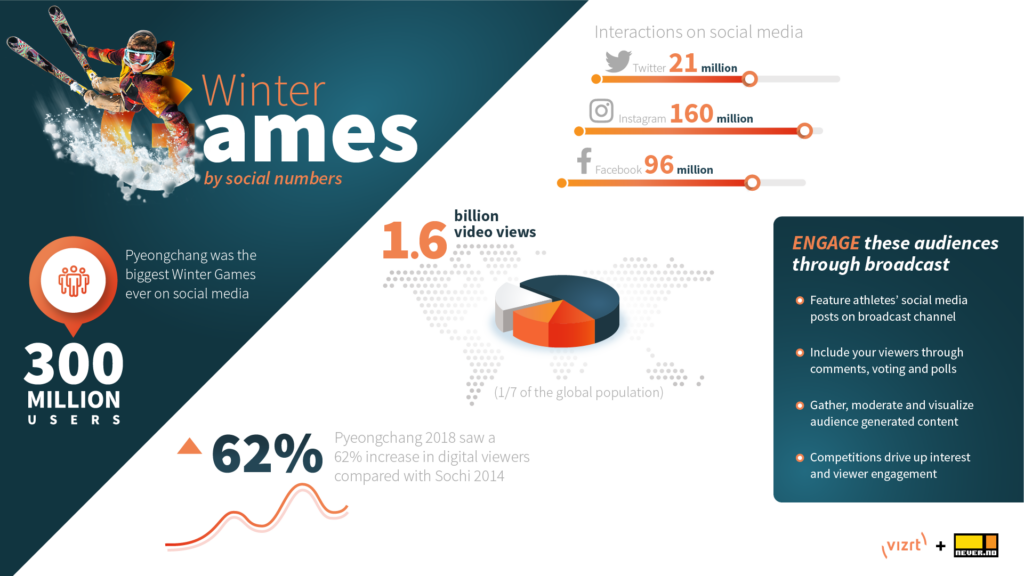 And with 2022 being a year of international sporting competitions – Beijing Winter Games, Commonwealth Games and Football World Cup finals – why not leverage the power of social media to connect even better with your audience, while at the same time having the ability to filter out unwanted content and have a direct channel for one-to-one communication with viewers?
Viz Social already makes it easy to gather, build, filter and publish on-air from multiple social media sources such as Facebook, Twitter, Instagram and YouTube using intuitively placed icons for each social media platform. This release includes WhatsApp and Telegram integration for customers who want to have the added possibility of curating audience comments from their own dedicated channels.
WhatsApp workflow
The WhatsApp integration helps broadcasters directly connect and curate content from a dedicated WhatsApp channel, instead of only relying on public social media accounts. Note that the registered WhatsApp number is unique to the relevant broadcaster. It will never be used for any other organization. Broadcasters can register as many numbers as required, and each number can be associated with a specific production or campaign.
How this works:
The WhatsApp number is connected to Viz Social by our agents. Broadcasters publish the registered WhatsApp number or a QR code on their channels for feedback and comments. When viewers respond, they can receive an instant automated reply confirming that the message has been received.
All search management functions and the 'Filter' are available. Once captured by the platform, the posts from WhatsApp can be used like any other Post sourcing Carousels, Polls and other formats.
A search on Twitter for instance is a public search, whereas with WhatsApp an audience member can send a message privately to the broadcaster. This makes it a great way to connect and interact with an audience who may not want to share their views on a public platform (for fear of being trolled for instance), but rather directly communicate their views with the broadcaster and its audience.
This workflow can also be used for the broadcaster to share explicitly viewer-related information, such as terms and conditions for contests.
(The WhatsApp integration is a paid add-on. For more information, please contact your Vizrt Sales representative or get in touch with a Vizrt specialist.)
Telegram workflow
This new feature integration allows individual Telegram users to send messages to a dedicated Telegram bot which passes them on to a Telegram Search on Viz Social. These posts can then be used in Carousels, Polls and other formats like any other social media audience generated post.
The intelligent design listens to real users in the Telegram universe and forwards messages received to Telegram Searches running on Viz Social. It can also capture data live from a Telegram Group / Channel. Telegram users can also look up a broadcaster's bot by its name and start a dialogue with it.
Like WhatsApp, bots are unique to broadcasters and each customer can have as many bots as required. The Telegram integration also supports autoresponses.
Improved integration with Viz Pilot Edge
The Viz Social workflow integration with Viz Pilot Edge has been improved further to make it easier and quicker to publish content. This has been done by adding the ability to use the Dynamic Content Scheduler (DCS) as a web server to push feeds and media content of the local DCS cache over HTTP and HTTPS connections.
Viz Social 1.1 was released on 27th January 2022 with these new functionalities, bugfixes and other improvements. For the full release notes and other documentation, please visit the Vizrt Documentation site.