Automation via Vizrt helps GB News do more with less
Free-to-air channel scales new heights with unique Viz Pilot Edge, Viz Mosart, Viz Flowics, and NDI set-up
"Vizrt isn't just important. It is critical to the success of our channel and our news operation. Vizrt provides the tools, efficiencies, and support to let us achieve our mission."
Stephen Willmott, Head of Technology and Operations
GB News is a British free-to-air television news channel offering news, opinion, and debate that began broadcasting in June 2021.
"GB News is the first British news channel to launch into the UK market for 34 years, breaking up a duopoly of BBC News and Sky News. There was a gap in the market for a news channel that speaks to the people and for the people, particularly those non-metropolitan audiences who felt left out of the national conversation. GB News is growing fast and aims to be the Number One news channel in the UK by 2028," says Stephen Willmott, Head of Technology and Operations at GB News.
GB News has led the way as a multi-media digital start-up and embraced new working practices from before launch. The lockdowns were a reality check for many broadcasters. Remote working, previously unheard of in newsrooms, became the norm. Extended restrictions spurred the need for flexible solutions, resulting in greater adoption of cloud-based technologies. For GB News, born in the midst of the pandemic, it made complete sense to switch to a digital focus and tread new ground as a full IP-based station, with NDI® at the core of the system architecture.
"As a start-up, our challenge is to operate more smartly and efficiently than legacy broadcasters. NDI® offered us the ability to execute production quickly and efficiently. We have software tools that we can implement in hours, whereas in other formats, like SDI and SMPTE 2110, it would take a much larger team and much longer time to implement. NDI gives us the flexibility that can't be matched in other formats," adds Willmott.
NDI® powers the studio – all the cameras, autocue systems, graphics, and monitors, and for sending and receiving audio-visual material. With tools like NDI Bridge, users can securely share NDI® sources between local or remote sites anywhere, reducing complexity and cost.
Embracing a visionary digital-first identity
From launch, GB News has had an integrated approach to multiple platforms. It is much more than a linear TV channel as it also broadcasts on DAB radio nationally, and live on its website and YouTube.
As a major online publisher, GBNews.com is the fastest-growing news website in the UK, with further seamless news and video content across Twitter, Facebook, Instagram, and TikTok. On linear TV alone, the channel is now reaching more than 3 million viewers each month.
Dynamic solutions that drive forward-thinking news production
"We want to be the newsroom of the future. We want to put technology in place that will support our growth now and into the future. So, embracing NDI, the cloud, and IP-based technologies enables us to grow into the future.
"One of the key drivers for our system selection was that it needed to be cloud-ready. Viz Pilot Edge is an HTML product. It integrated seamlessly with our cloud-based DiNA newsroom solution, and really there was nothing else in the market that could compare to it," says Willmott.
GB News runs a lean, compact newsroom with innovative new workflows where news producers are fully responsible for their stories and building the rundown. Viz Pilot Edge provides them with the templated graphics for any story, so they can independently get on-brand content on air quickly and efficiently.
hours of continuous content per day
production
efficiency Boost: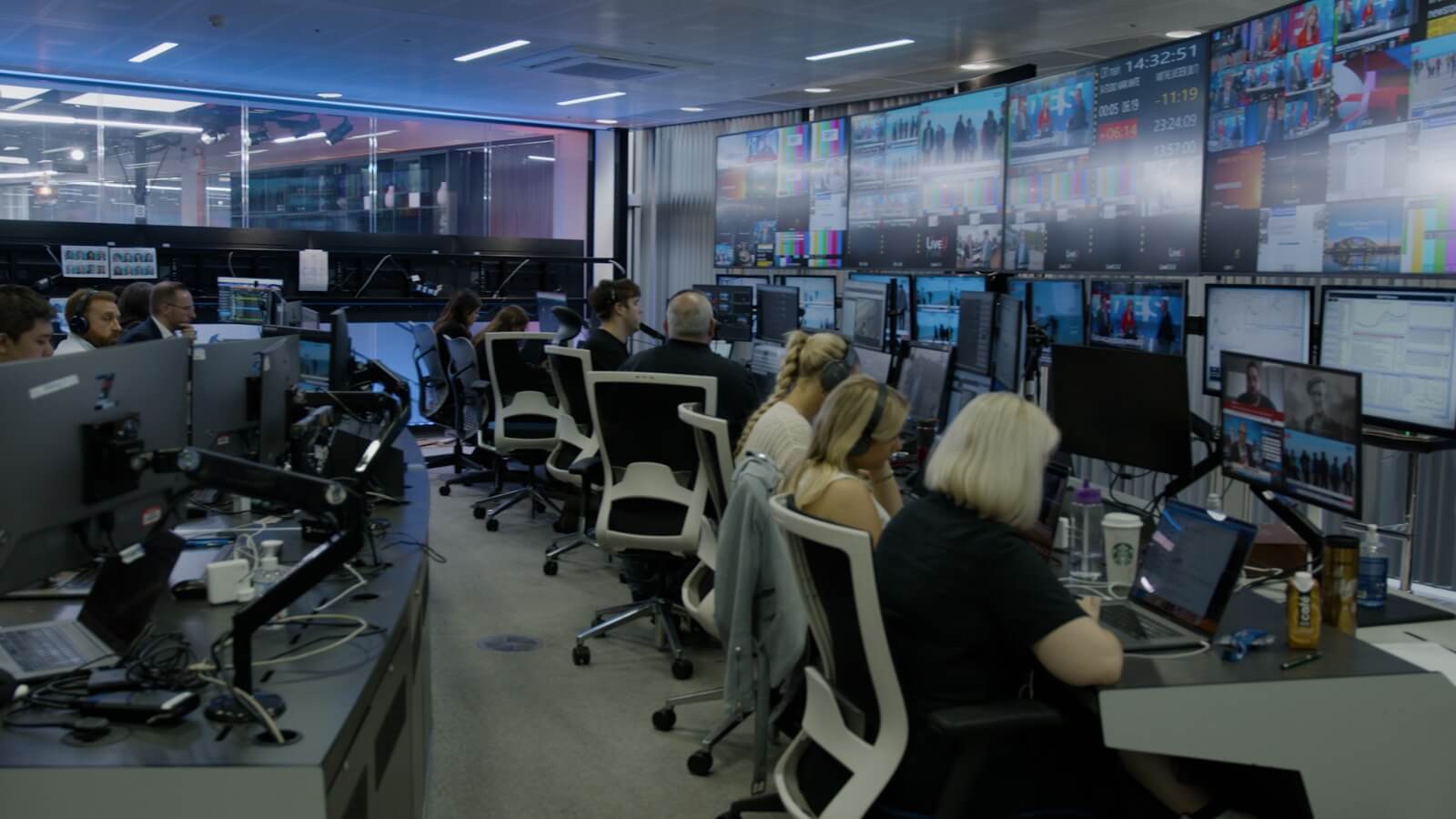 "Everything that we do is in conversation with our audience. So, our on-screen look has to also reflect that. Our graphics should engage the viewer in a way that evokes an emotion in them," explains Ben Briscoe, Head of Programming at GB News.
"All of our producers use Viz Pilot Edge. The templated graphics allow them to be autonomous and empower them to produce much of the content on their own. They can preview all these graphics on their laptops, so I am confident that what we are putting to air is correct."
No 'rain checks' – Viz Flowics delivers with quick integrations
"We were looking for ticker technology that could seamlessly integrate with 3rd parties. That was key to choosing Viz Flowics – the ability to integrate with external providers. GB News had a strong need to present weather graphics and weather information from very specific parts of the UK. At the time we were looking at Viz Flowics, they didn't support the UK Met Office's integration and they built that from scratch for us to show the specific weather conditions for where our viewers are," explains Willmott.
The Viz Flowics R&D team got to work as soon as the request came in from GB News. They were able to deliver a new data connector for the UK Met Office within a week, including the automation and city filter specifications that were unique to GB News.
"This is a clear example of how we work on the development of new connectors based on customer needs. Now, we have a connector in our catalog that not only GB News can use, but also other customers across the UK," says Gabriel Baños, co-founder of Flowics.
Automating the control room to do even more with less
GB News broadcasts live 18 hours of continuous and original live news, analysis, and opinion-based content every day. All output comes from just two identical production control rooms. These galleries are equipped with Viz Vectar Plus, Viz Mosart, Viz Pilot Edge, and Viz Engine so graphics can be created during any stage of the news production workflow.
"We need to do a lot with very little. For us, Viz Mosart means we can run an entire control room with just two operators and a producer, whereas traditional systems would require up to a dozen people to deliver the same. This makes a huge difference to us and allows us to produce 18 hours of live content a day as efficiently as possible."
Stephen Willmott, Head of Technology and Operations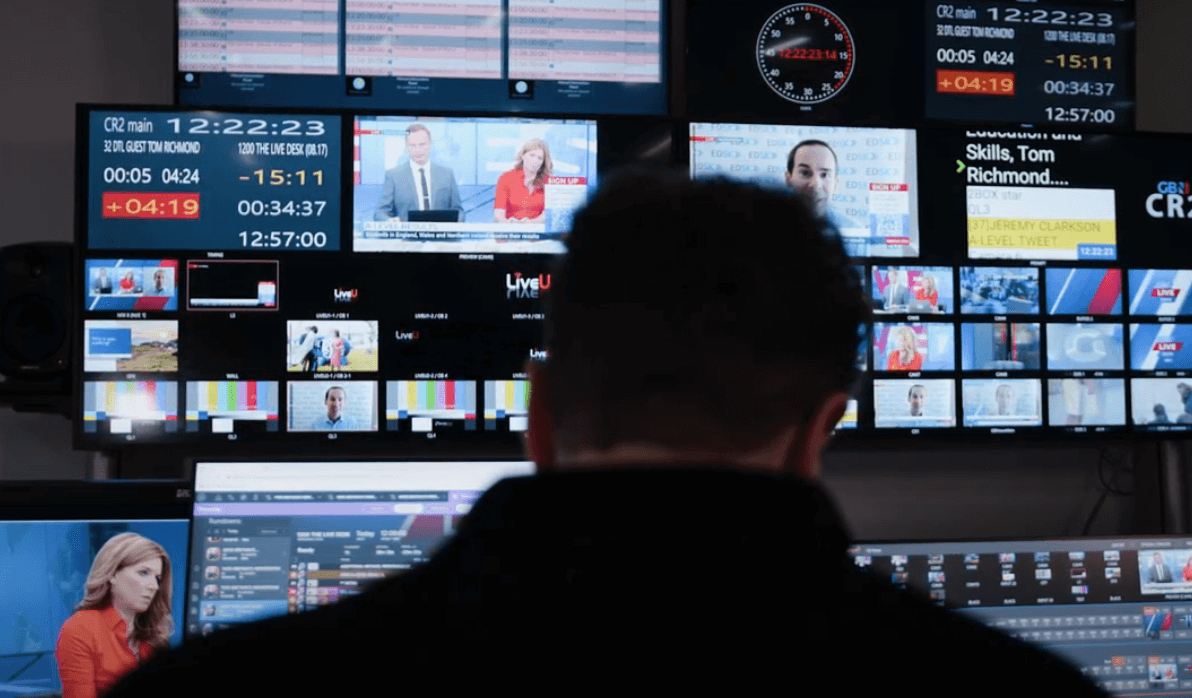 Remote controlled connectivity
The channel has grown by 4% a month since launch, while year on year it's grown by 37% in 20232. A new studio facility in Westminster will open later in 2023.
This new studio will be completely remotely controlled and connected to the GB News headquarters in Paddington via NDI. The editorial team in the new facility will be able to access the same tools and use them in the same way as their counterparts at the main center through the connectivity of web technology.
"GB News strongly believes in working with partners who share our vision for the future. Vizrt presents a range of products from Viz Mosart to Viz Vectar Plus, Viz Pilot Edge, Viz Flowics, and NDI that embrace the automation ethos which is a strong driver for how we want to run our newsroom now and into the future," adds Willmott.
1, 2 Data from GB News